HEBER — When Executive Director James Zorn of the Payson Habitat for Humanity affiliate got a call asking for help for Bill Fye and Deborah Wyckoff of Heber, he just couldn't say no.
Though their home location was an hour and twenty minutes away from Payson, and out of his territory, their need for a ramp was a medical necessity he could not ignore.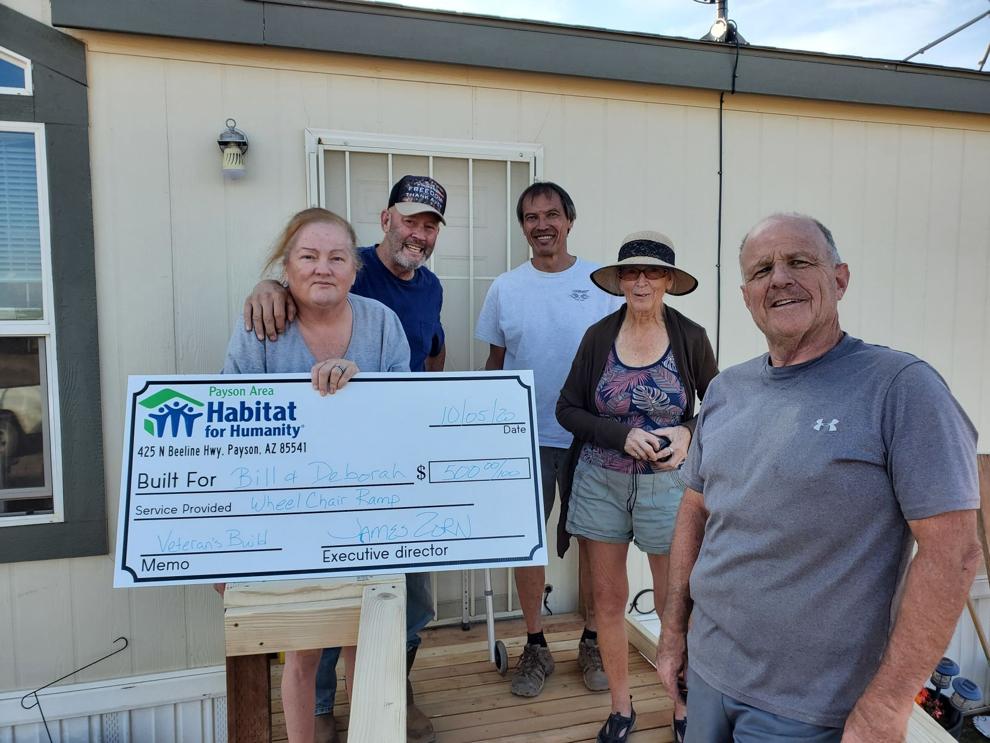 Reaching out to Steve Mayer of Star Valley and Bob Weeks of Payson, two Habitat volunteers who had already built two ramps this year, he asked if they would be willing to go between Heber and Snowflake to build the ramp. They said yes, especially when they heard the story, and they arranged to do the job on Oct. 5.
Fye is a retired veteran who is on disability due to a traumatic brain injury and has physical and cognitive limitations. His wife had a stroke, is diabetic and post hospitalization has to have physical therapy. With only four narrow steps coming down from their mobile home, it was almost impossible for them to get in and out of the dwelling safely. Fye had already spent around $360 from their limited income on lumber for the ramp project, but could not do it himself.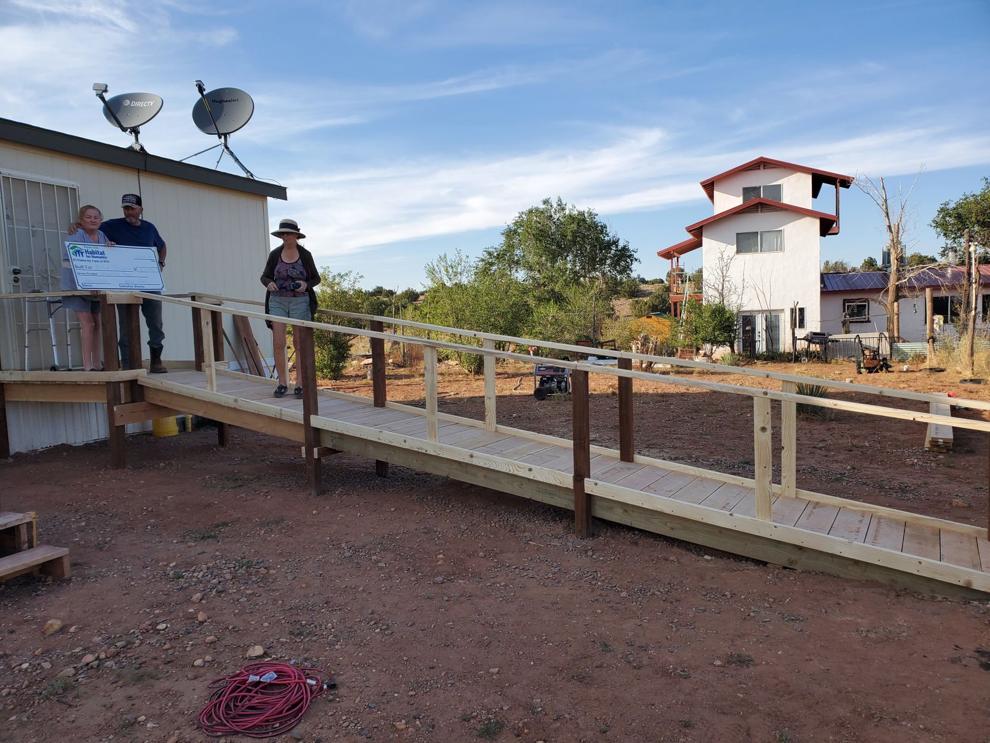 They built the 24-foot ramp to the American with Disabilities Act specifications in only one day, which included a 5-foot by 5-foot landing at the front door. Zorn said, "These two men barely spoke above a whisper all day. They were the consummate professionals."
Zorn said he came along to help in any way that he could, believing that an extra hand, even if only grunt work, would allow the job to go faster. He also watched the steps the men took in building the ramp in hopes of learning what would be needed in the future so that the Habitat might be able to put ramp kits together to make a project like this more efficient.
He also added that one of the most expensive parts of a ramp project, which many are unaware of, is the hardware, the deck screws.
When the ramp was finished, "Deborah was in tears walking down and up the ramp," said Zorn. "All day Tuesday I had a glow. There are just certain things you cannot buy or fake and seeing their joy and appreciation and gratitude was priceless and amazing."
Since the completion of the ramp Zorn has reached out to the businesses where Fye bought the lumber in hopes that he might be able to get a reimbursement of some kind for them.
According to Zorn there are only 10 other Habitat affiliates in Arizona besides Payson. Each has a dedicated area and all have been hard hit due to COVID-19.
"There are big gaps and Northeast Arizona is one of those gaps," said Zorn.
Like all Habitats, the Payson Habitat is a non-profit and they depend on local businesses and volunteers to help fill the needs for their area.
Zorn said it is ideal when they find those who are hobbyist, or natural born tinkerers, who like to build.
Right now their focus is on three programs.
One is "Aging in Place." It is a one of the newer programs which fits in with the ramp project they completed for Fye and Wyckoff. It is designed to keep people in their houses by making it livable. In this program they do such things as widening doorways and raising toilets. Ideally they can work with home health people to make things safe.
The next program is the "Vet Building Program" where the primary goal is to enlist a group of vets to do projects for other vets.
"That is the Norman Rockwell ideal," said Zorn.
He said that usually the vets in need are disabled and it becomes more about saving the vet who needs the services.
The third program is the "Women Building Program."
"Instead of Bob and Steve," said Zorn, "you have a Susan and Joan. Women are very handy and you have women creating a bond together to do those kind of projects, even if you have to take time to teach them how to use a skill saw or a drill, young or old."
The original idea for Habitat for Humanity came from a community farm just outside of Americas, Georgia. The vision was that everyone should have a decent place to call home.
The concept was for those in need of a house to build it with the help of volunteers at no profit. No interest loans would be obtained and through fundraising "The Fund for Humanity" would be used to build more homes. That was 1976 and 50 states today have Habitats and also 70 countries.
The ramp for Fye and Wyckoff still needs to be painted. Zorn is hopeful that someone local might learn of their need and volunteer to do the job. He said it is a sizable job that could be done by using something like gray gravel paint.
Zorn has already received another request from the White Mountains from a lady whose house was built in the 1950s and says it is extremely cold. He said the house likely needs insulation and she is also in need of electrical work. Again, he hopes to find someone locally that can help this lady.
Anyone that would like to help with the deck, or would like to be a volunteer or be able to donate materials for projects can reach Zorn at (928) 474-4247.