PINETOP-LAKESIDE — Even the skeptical Nobel Prize winning author Anatole France acknowledged the importance of love of animals. He wrote, "Until one has loved an animal a part of one's soul remains unawakened."
Three White Mountain residents, along with 100-plus volunteers, have made that statement come alive for what will be the 14th annual Happy Tails Auction & BBQ for the Humane Society of the White Mountains.
Mark Sterling and Michelle Carter, owners of High 5 Design, are both former board members for the Humane Society of the White Mountains (HSWM) and actually started the Happy Tails event in 2006, born out of sort-of-a-dare.
The HSWM had just completed one of their badly-needed fundraisers around 2005. Mark, who had helped raise funds for organizations like the Rocky Mountain Elk Foundation, Angler's United, and the White Mountain Safe House, attended and listened intently as 35 cherry pies were being auctioned off for a mere $8 or $9 — a far cry from what fundraiser desserts go for these days.
When Fundraising Chair Kathy Tucker came into Mark's office, she declared the event a success. Mark acknowledged the success, but just had to say, "But, you left money on the table." She replied, "If you can do any better, prove it."
Well, Mark and Michelle went to work with the intent of creating an event "that would be the best event ever."
"Those other organizations Anglers, Rocky Mountain Elk had great fundraisers," said Mark, "but they bought a lot of stuff and they got great deals, of course, and then auctioned it off or re-sold it. We wanted everything 100 percent donated."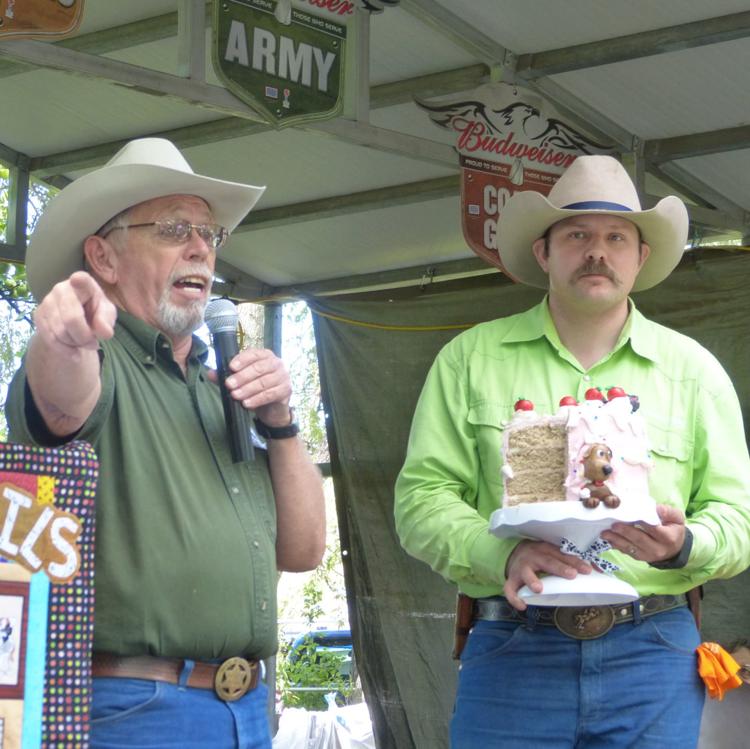 The first year went pretty well. They were pleased, but didn't take a breath and began working immediately on Happy Tails number two. And now, with number fourteen staring them in the face, they not only have the formula down pat (they actually put together a Happy Tails fundraising manual), but they also have the volunteers and the donors that have made the event what Mark and Michelle had hoped for.
"We do not buy anything," proudly stated Mark. "It is all donated. We are up to over 100 volunteers that help put the event together, and I believe it is the event on the Mountain."
"Bill Wilsynski, who has kept up with all the bids, has not had one error in 15 years. There are so many people who have helped."
Michelle added, "We get donations from all over. People come from Utah, California, Colorado, Texas and Georgia … they drive out here for it. They get online to see what we have and come."
Happy Tails is a rain or shine event.
Michelle recounted one year when it was a downpour and people stayed, hovering under the tent. "They even spent more money than usual because they were afraid we were not going to make it for the animals," she explained.
Now they have a stand available which holds around 20 umbrellas for anyone that needs one. They also purchase about 100 disposable ponchos because the event is advertised "rain or shine," and they mean to honor what they have printed.
Michelle printed out the first Happy Tails booklet and put it along side the 2018 booklet. What a difference 13 years makes. The first year they had about 40 volunteers on the fundraising committee and last year there were 111. There were 25 live auction items in year one and in 2018, there were 55. They had 76 silent auction items in year one and in 2018, 235. Of course, the Blitz, the Dessert Auction and Raffle Buckets which began that first year also continue. The donations have also grown in number and in value.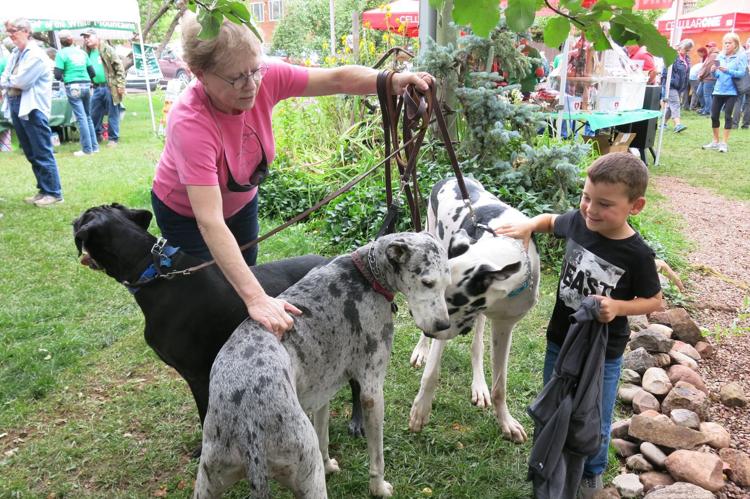 "We begin working on the next (Happy Tails) event in January," said Michelle. "As soon as it ends we secure the date for the next year for the third Saturday in August – always the Saturday before Labor Day. And, when we close out, we are not done. We still have work to do."
Director Deena Pace could not say enough with regard to thanking the community for embracing what is a community problem. "It takes a village," said Pace.
"We are not funded by any national organization," said Deena for about the one hundredth time. "We get our funds from The Dog House Thrift Shop, fundraisers, donations and a minimal amount from grants." That means the dollars from Happy Tails are critically important.
This year Mark and Michelle have continued with the same enthusiasm for this event that they began with. But, someday they are going to pass on what they started to someone else, along with the how-to manual.
If you are one of those awakened souls Anatole France spoke about, no doubt you will be at The Orchard at Charlie Clark's Saturday, Aug. 24 from 11 a.m. to 5 p.m. for Happy Tails. Admission is free, but tickets for the BBQ lunch and auction sign-up are $18 (members) and in advance or $20 at the gate. More information can be found at www.HSWM.org.