HEBER/OVERGAARD—Mogollon High School science teacher Melinda Porter, 36, of Heber/Overgaard was arrested Monday on five charges arising from an alleged "inappropriate relationship" with a student, according to the Navajo County Sheriff's Office Investigations Division.
In a news release on October 21, NCSO says that they began investigating allegations made by a student on September 3 against the science teacher at Mogollon High School. She abruptly resigned. After a six-week investigation, detectives arrested Porter on three counts of furnishing harmful items to a minor, one count of aggravated assault of a minor, and one count of kidnapping, which usually means restraining someone.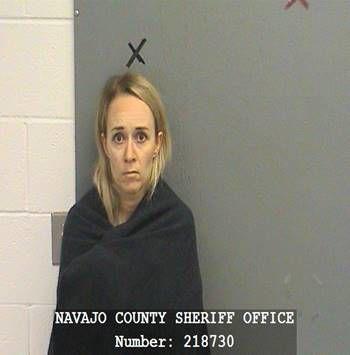 They are all felony allegations. The furnishing harmful material charge is a Class 4 felony. There are different kinds of aggravated assault and kidnapping charges, so the class of each felony alleged against Porter is not yet known. She is presumed to be innocent.
Porter was booked into the Navajo County jail in Holbrook on Monday, but as of press time, according to jail records, she does not appear on its roster. That suggests that she posted a bond and was released pending trial.
There are two scenarios about what happens next.
Police officers and detectives are not allowed to file felony charges against anyone — they can only file misdemeanor charges. Porter faces five felonies. Because felonies are serious charges that could result in a long prison term, the law says that a prosecutor — a trained and licensed attorney — must review the evidence gathered so far and determine if there is probable cause to believe Porter committed the crimes.
If so, the county attorney's office can file a direct complaint sometimes called an "information" with a justice court. To add to the safeguards afforded to an accused felon, the justice court would then set a preliminary hearing to see for itself if the state is correct about its probable cause determination. If the judge finds that there is indeed probable cause, the case will be transferred to superior court for all further proceedings, beginning with an arraignment.
The county attorney can approach it a different way, by taking the matter to a grand jury. The grand jury will hear what the detectives have to say and decide if there is probable cause to charge Porter — either with the charges the prosecutor is seeking — or charges that the grand jury might come up with their own.
If they find probable cause for one or more charges, the grand jury would then hand up (to the judge) an indictment, which goes directly to superior court and by-passes the preliminary hearing process in justice court. The superior court judge in turn then issues a summons, handed down from the bench, requiring Porter's appearance in court for her arraignment.
Porter resigned from her teaching position shortly after she was contacted on campus by non-uniformed officers in early September.
"This is an unfortunate situation and circumstance — one that any school district in the country would not want to be faced with," said Heber-Overgaard Unified School District Superintendent Ron Tenney in a brief phone interview with the Independent on Wednesday, Oct. 23.
"For the students and faculty, we are going to do our best to move forward and put this behind us," he added. "Our kids are pretty resilient and the staff has done a good job at handling the situation. Both students and staff are staying focused on this school year and the things they need to get done."
"We are also very blessed to have had a qualified science teacher able to step in and take over the Mrs. Porter's science class and move forward. That person was on our substitute list and is qualified. The position was offered to him, he accepted and we moved forward with the class."
The high school principal, Reed Porter, is related to Melinda Porter which has the potential to heighten the awareness within the district. In addition, Tenney confirmed that the alleged victim and two of the former teacher's children are still attending school in the district.
"We do have a guidance counselor, Mrs. Kelton, and she readily makes herself available to students to visit and work through things," says Tenney. "She has a really good rapport with the students."
"Being in a small community, this type of situation can be very polarizing but can also bring people together to fix things, to unify us and to help us work together," he adds.
Although the district office hasn't had any parents reaching out to them regarding the situation, Tenney stressed that that the administration is " ... here if they have any questions or concerns. Hopefully parents feel comfortable reaching out to myself or to any of our school principals. We encourage them to do so if needed."