ROUND VALLEY & SHOW LOW — Crossing county lines sounds like something that law enforcement might be doing to catch up with a criminal. In this case, traversing Navajo and Apache county lines is for education — American history in fact.
Round Valley High School teacher Ira Lewis led his 7th hour American History class in a special three-month assignment to learn about America's founding fathers and the period from 1774 to 1779, known as the founding era, when the nation underwent rebellion, revolution and ultimately declared their independence and drafted the Constitution of the United States.
Show Low Library Manager Lisa Lewis applied for a $1,000 grant entitled "Revisiting the Founding Era" more than a year ago and was notified of the award in March, 2019. The grant was designed to help students learn about the founding era by using hands-on activities in addition to reading assignments.
After being notified of the grant award, Lisa reached out to high schools in Navajo County, asking if they would like to partner on the project. No one took her up on the offer so, naturally, (and ironically), she moved on to the Apache County school district where her husband, Ira Lewis, teaches world history and American history.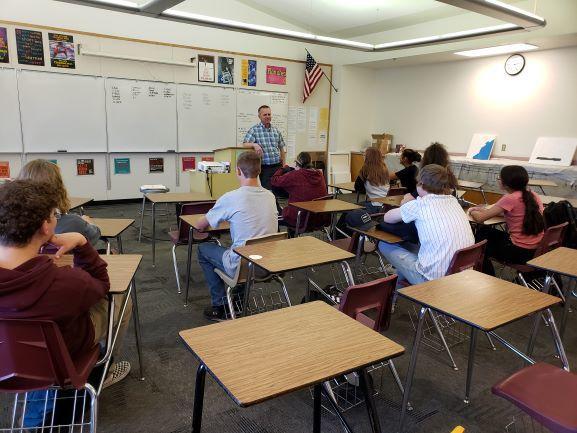 Ira happily agreed to the grant guidelines and so began a two-month history project and collaboration between a teacher in Round Valley and a library manager in Show Low.
Ira Lewis' class "… partook in a special opportunity to learn about the founding fathers of this nation," writes student Jacob Rish who was in the class. "This consisted of reading a book about our forefathers and painting different patriotic images and documents."
The class of 20-22 students used the book entitled "Revisiting the Founding Era," edited by Carol Berkin as a guide for their project. The book contains multiple documents written by the founders of the United States.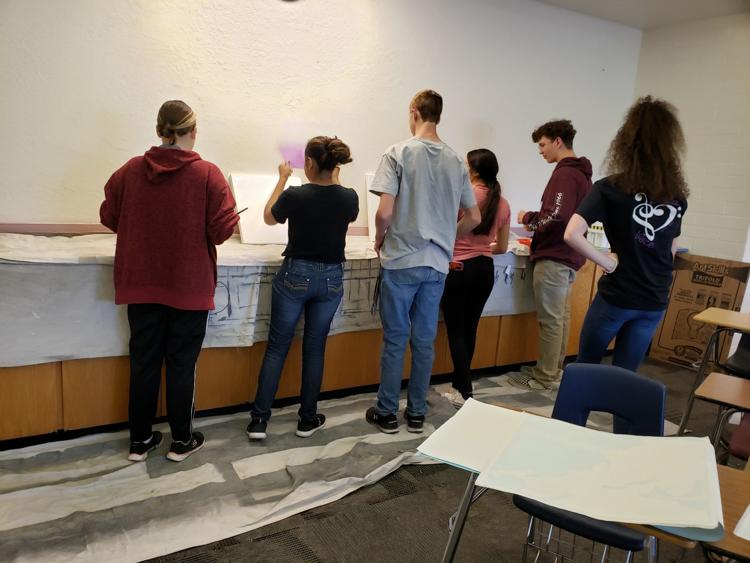 "Not only did this give students historical information, but it also gave the students the knowledge of how the ideas of independence and liberty were spread in the founding era," informs Rish.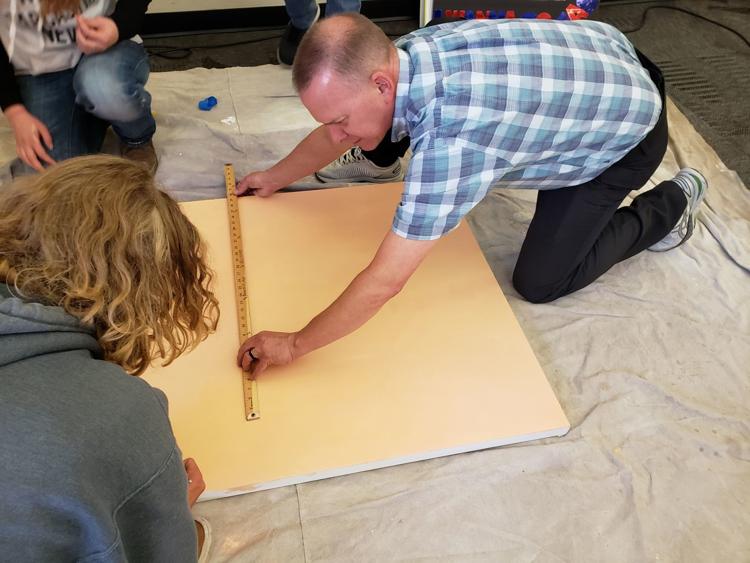 After the book was finished, the class painted a map of the 13 original colonies, the original United States flag, and the famous "Join or Die" poster said Rish.
In another activity "… other important historical documents such as the Declaration of Independence were pasted onto a painted canvas," he said. Led by Lisa, the four-week mural activity gave students hands-on experience with images and documents critical to the founding era.
"I helped facilitate, but the students did all the work," assures Lisa. "They were really excited about the projects and they took ownership of it all. Before leaving the room they would say, 'Don't let anybody else touch these!'" before they left the room."
Projects of this nature require a significant time investment outside the class, and outside the library in this case. Lisa traveled more than 80 miles roundtrip from Show Low to Round Valley at least six times to work with the class. Then, she would return home again to Springerville-Eagar where she and her husband reside.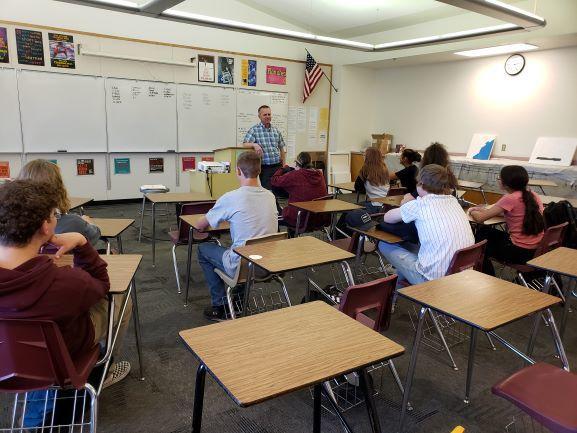 This project demonstrates Lisa and Ira's ongoing dedication to education that many teachers throughout the White Mountains are known for. Distance, inconvenience and extra work appeared to be no match for the Lewis' when it came to a history lesson.
"Lisa embodies what it means to be a public servant," says Show Low Community Resources Director Jay Brimhall. "She is constantly trying to put the library in a place to meet the educational needs of community groups, students and citizens in general. She has done a wonderful job to improve the ways in which the patrons of the Show Low Public Library can learn, grow and have a good time."
"I sincerely value Mr. and Mrs. Lewis' contribution in fostering a collaboration between our students and the Show Low Public Library," says Slade Morgan, Round Valley High School principal. "According to our students, this event provided an invaluable opportunity by engaging them in meaningful learning regarding our country's founding and instilled a deeper understanding by letting them explore new information through readings, socratic discussions and the painting of murals."
The grant required students to fill out an opinion survey about their experience with the project. The surveys were overwhelmingly positive and included the following written comments: "It was a great time;" "This was a great event and a fun way to learn about our history;" "I found it interesting how we could learn so much by doing a simple activity like painting a mural;" "Well, just learning more about our founding fathers who went through so much to make this country!"
For more information, about Show Low Public Library programs, events and activities, call 928-532-4070 or visit www.showlowaz.gov/library.