LAKESIDE — It's easy to promise hope and change but not so easy to make it happen. Walking Down Ranch Inc., a non-profit corporation, has converted an old resort in Lakeside into transitional housing for veterans. The community is called Veterans Village and is designed for those who need a hand up, not a hand out, toward becoming productive and independent citizens again.
Executive Director Maggie Heath says that they just rehabilitated their 61st veteran in the mere 22 months that Veterans Village has been operating. Not bad, she says, considering that she has only 18 cabins to work with.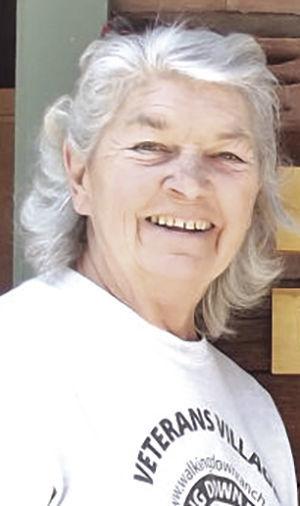 In 2014, Maggie and husband Dan Heath and Alfred and Anne Avenenti started the non-profit. Dan is a veteran with 12 years of service in two different branches of the military. He served in Vietnam. Maggie's seven uncles also served in the armed forces. The Heaths and Avenentis collectively realized that "not enough was being done to help veterans who find themselves in dire straits," Heath said, she and the others "saw the need."
They realized that government assistance was helpful, but didn't provide the recipient with hygiene products, paper products, car parts, like a windshield or a headlight — the very things needed to get to, and past, a job interview. In the early days, Maggie began showing up at food stores with free supplies like clothing and food to give out. Then in December, 2017, they came upon a property in Lakeside that had been purchased at a bankruptcy sale by the East Valley Firefighter Charities. The charity had been running into the typical problems with trying to maintain it and police an abandoned property from afar, so in stepped Walking Down Ranch.
One by one, relying on donations, the non-profit began renovating the cabins. Some were in serious disrepair, having been ruined by vandals and squatters. The work was done by the very persons who were invited to live there.
Heath takes in exclusively veterans who received a discharge from the service, as long as it wasn't a dishonorable discharge. Alcohol and drugs are not allowed on the property. Each cabin is furnished and comes with linens, kitchen utensils, flatware and plates. In fact, once a residence gets on his or her feet, they can take the furnishings with them to their new life. This serves two purposes, says Heath. One, it incentivizes the residents to take care of the furnishings, and avoids a situation wherein a persons goes back out into the world, has a place to live, but lacks the basics to start again.
A big challenge, says Health, is getting past a veteran's first instinct that it's "unmanly" to ask for help, and to take a step back from that ego. "They don't believe they deserve it," she explained. But once a veteran has a "safe place to sleep and a full stomach, they do a 180-degree turn that turns a basic human need into having a goal," she beamed.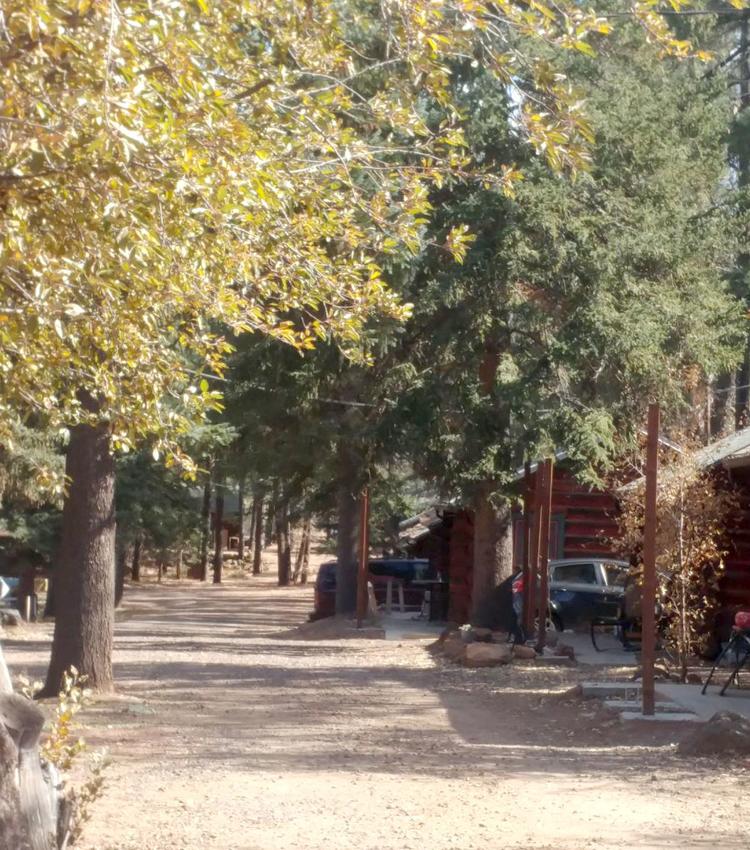 Children are allowed at Walking Down Ranch. In fact, Heath says that presently living there are 11 children including a nine-month old baby and a three year-old child. There are also three spouses. The site includes one "family home," says Heath, and another larger structure houses the thrift store which helps provide revenue. The items available at the store spill out into a fenced back yard, three Connex storage units and a tent. There's also an office on site.
If a veteran is struggling with substance abuse and/or mental health issues, typically PTSD, Walking Down Ranch works with veterans services providers as far away as Flagstaff to get the prospect clean, sober and in continuing therapy, if needed. Some providers offer house calls. Once the veteran moves in, the permanent address allows them to receive Social Security or other veterans benefits which they can accumulate over time and allow them to get out into the world again.
Residents don't pay rent, but they work at least 20 hours per week. Jobs include restoring and maintaining the structures, digging water lines and pouring concrete. And for those not capable of heavy work, there are tasks such as raking pine needles and making signs. "Everybody can do something," Heath explains. "They take pride in it."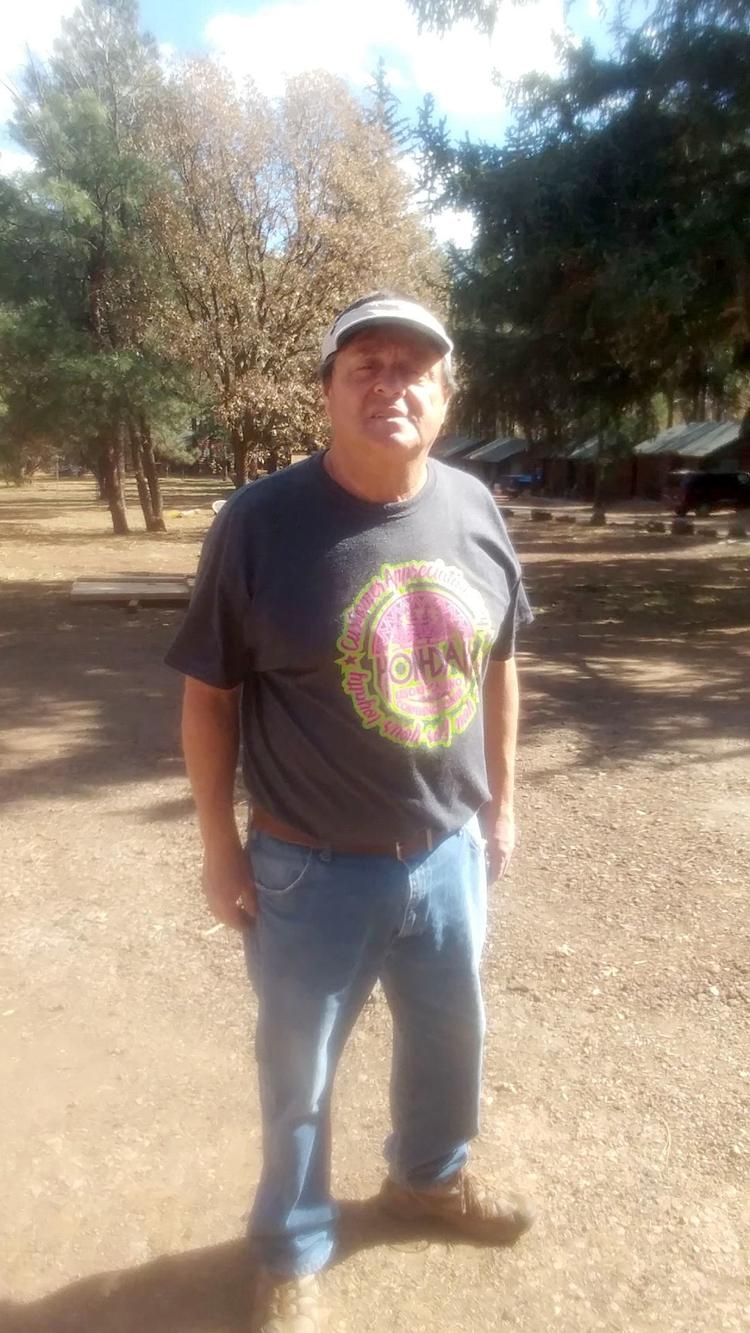 "They gave me hope," says Abel Mendoza who sipped a cup of sparkling grape juice with his neighbors. They were celebrating because Tuesday was Mendoza's last day there — he was moving out of the village to take a job out of state. Mendoza is a veteran of the U.S. Marine Corps and later, fought with the Nicaraguan Contras against the Sandanistas, a fight which resulted in free elections there. "I'm very proud of that," he shared.
This month holds a red letter day for the ranch. They have the option to buy it on Nov. 21, to provide a "forever home for vets in the White Mountains," explains Heath. But they still need about $410,000 to secure the sale — they have about twenty percent of the $575,000 purchase price. The charity which owns the property won't throw them out after that, she assures, but it makes far more sense to own rather than lease.
Thus far, Walking Down Ranch has stayed afloat through proceeds from the thrift store, donations and fundraisers. Donations can be used as a tax credit for persons who pay Arizona state taxes. A tax credit is available up to $400 per person and $800 per couple or family. Maggie's direct line is 602-689-8056. She can also be reached at walkingdownranchinc@gmail.com. Donations can be made through PayPal, Gofundme or Walkingdownranch.org. Volunteers are more than welcome, says Maggie, for everything from making deliveries to working in the thrift shop.
Why the name? Heath explains that her very first veteran, a female, remarked that the veteran's journey was "like walking down from combat to reality," Heath recalled. Hope and change, indeed.