SPRINGERVILLE – The Springerville Town Council had a special guest on Nov. 20, with Arlando Teller, an Arizona State Rep. for District 7, speaking to the town at the beginning of the meeting.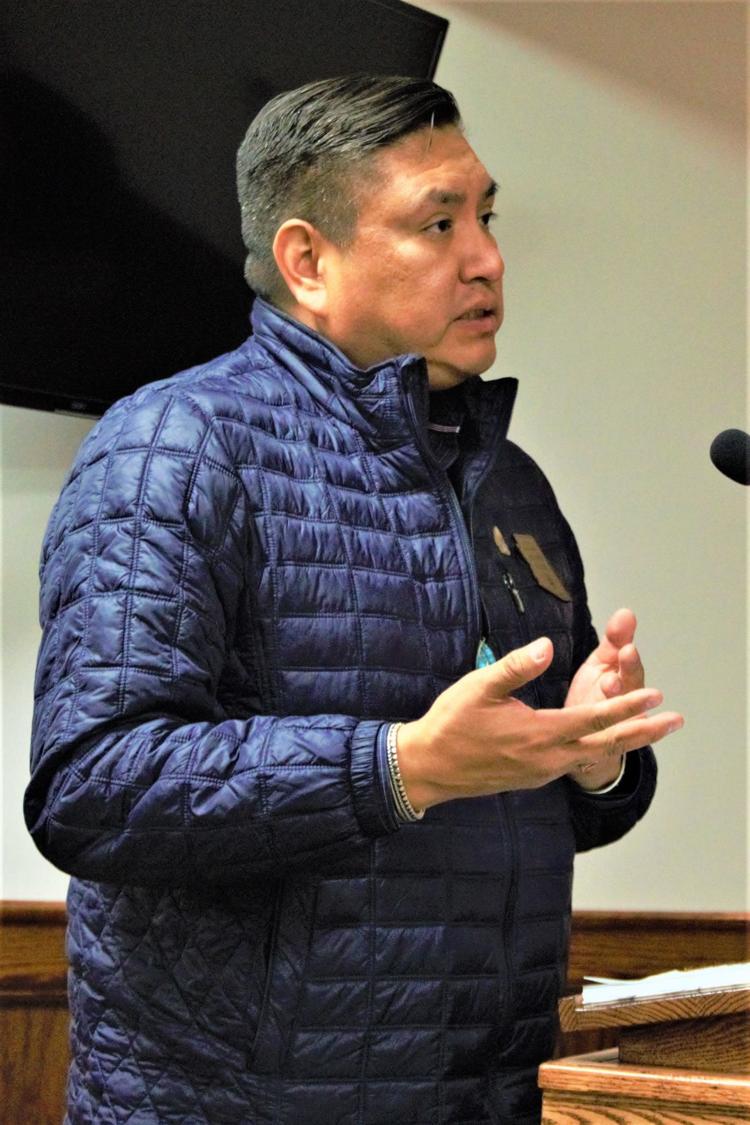 "I was elected into the state representative position in November 2018, took office in January of this year, and my last session activities, as a freshman, as a Democrat, was awesome. What I mean by that is that it was a learning experience, drinking out of a firehose," Rep. Teller said to many chuckles in the audience. "I have primed 11 bills. Out of those 11 bills, five have entered the chamber. Out of those five, one went to the governor for signing, which was the e-broadband bill."
"I apologize for not coming earlier, but I had a whole list of communities. District 7 is a very large district, so I've been making my rounds," Rep Teller said. "I am Navajo. I come from Chinle. But Navajo is not my only constituent. Communities in and of [District 7], including eight tribes, seven counties, and over 25 to 50 communities, are my constituents. And if my constituents are asking for advocacy, asking for appropriations, then I am going to do my very best to be there."
Rep. Teller spoke to many of the programs he is working on, and he spoke to the town on what they could do to assist him in some of those endeavors. For senior programs, he asked if the town could provide data on what programs are offered, transportation efforts, food concerns and senior center locations there were available. That data, he said, could help him make the case for better federal funding for senior programs. As the population of seniors grows in our rural area, those needs will become even more important in the future. "I want to make sure that I advocate for those senior citizen programs," he said.
"I'm going to reintroduce the aviation fund program," Rep. Teller said. "Airports are fundamentally an integral component of any thriving community. You can drive anywhere, but if you drive one mile [to the airport], you can go anywhere in the world. With that airport, you can bring in specialists to your hospital, to your school, or to construction companies." Teller has an extensive background in Arizona aviation. In 1995, Teller was the first Native American to graduate Embry-Riddle Aeronautical University, and he continued into aviation management and transportation planning ever since. Teller is a member of the House Transportation Committee. He encouraged the town to work on an airport improvement master plan and to communicate with the state transportation and aeronautics officials to ensure that the town stays on schedule with those improvements.
Rep. Teller continued to acknowledge the transportation needs of his rural district, and he promised to introduce legislative language that would prevent the Highway User Revenue Fund (HURF) program from being "swept" by the state during economic downturns. The HURF exchange program enables rural Arizona cities, towns, and counties with a population of 200,000 or less to design and build transportation projects using state funds, thereby bypassing the need to wait on federal funds which are generally much more time consuming and expensive to access. In essence, the Arizona Department of Transportation (ADOT) funds the transportation projects for rural cities and counties, and in exchange, the federal funds that would have been received by the towns at a later date are given back to ADOT. It's not a loan program, but more like an advance by ADOT to cities in order to get much needed work done in a timely fashion.
"At the end of the day, those HURF funds are what really help our counties keep the snow off the road, keep gravel on the dirt roads, and maintain and provide adequate transportation networks," Rep. Teller said.
Other points that Rep. Teller spoke to included working on bills that would help women in domestic violence situations (The Arizona Violence Against Women Act), short-term rental issues where companies buying homes for short-term and overnight rentals is driving up rents and pricing out area residents, and even a new tax on vaping products. "They need to pay their fair share," Rep. Teller said of vaping manufacturers. "They need to be classified as cigarettes and we need to consider that conversation."
"Overall, I have 32 bills, but I also want to make sure that Springerville's language is in part of those conversations," Rep. Teller said, in closing. "And when I talk about Springerville, I'm talking about the radius around Springerville. I want to make sure that I advocate on your behalf."
Amber Shepard is an local journalist covering municipal governments and other Apache County topics.