PINETOP-LAKESIDE – Blue Ridge High School students Dylan Baca, president and founder of the Indigenous Peoples' Initiative (Initiative), and Vice President Madeline Jones, an advocate for marginalized populations, will not be in school on Sept. 29 but are not playing hooky. They will be at a press conference at the Heard Museum at 9:30 a.m. in Phoenix celebrating a milestone in their quest to recognize and honor the contributions of Native Americans. Gov. Doug Ducey signed their proclamation on Sept. 4 declaring Oct. 12 as Indigenous Peoples' Day in Arizona.
The proclamation does not replace Columbus Day but it does fall on the same day as the national holiday.
Last year Baca recognized that many cities, towns and states across the nation were declaring Columbus Day as Indigenous Peoples' Day. Baca worked with Town Manager Keith Johnson to create a local proclamation and Mayor Stephanie Irwin proclaimed the second Monday in October as Indigenous Peoples' Day for the town at the Oct. 3 council meeting. Arizona Sen. Jamescita Peschlakai, (D) Dist. 7 and Rep. Arlando Teller (D), Dist. 7, traveled to Pinetop-Lakeside to show their support for the proclamation.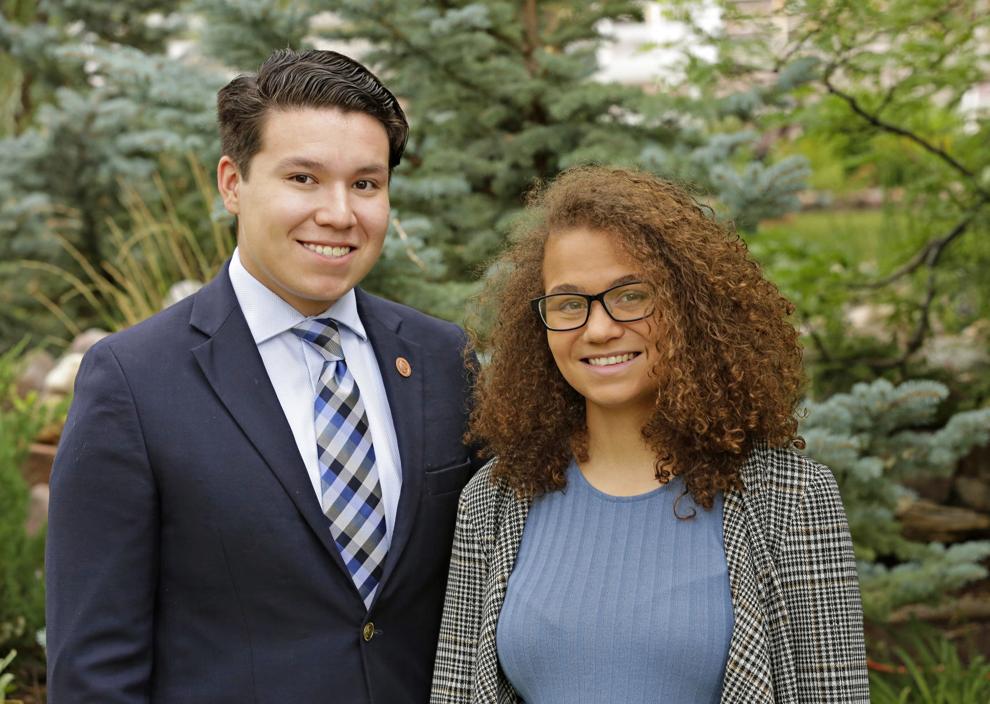 Peschlakai is a member of the Navajo Nation, a U.S. Army veteran who served in the Gulf War, the first Nativewoman senator for the State of Arizona and is a board member for the Initiative which is a non profit.
Teller is also Navajo and his grandfather was a Navajo Code Talker.
In a Sept. 21 press release, Peschlakai stated, "I'm grateful to our Governor for signing this proclamation. This has been an effort close to the hearts of many Indigenous Peoples. It is time that we move beyond Columbus Day and onto a day that celebrates Indigenous People. The story of Indigenous Peoples in America is often invisible or ignored. And so it is important that as Americans we find the opportunity to celebrate the histories, cultures, and resiliency of the Indigenous Peoples who comprise the 573 tribal nations who live today within the United States. The declaration of an Indigenous Peoples' Day for the state of Arizona and the nation will reinforce the foundation of our democracy by celebrating the rich fabric of First Americans. Our next step will now be making this a permanent change in Arizona by passing my sponsored bill in the coming 2021 legislative session."
Baca, who founded the Initiative, is a member of the White Mountain Apache Tribe and through his grandfather is also Navajo.
"I'm thrilled that this Oct. 12 will be recognized as Indigenous Peoples Day in Arizona. I founded the Indigenous Peoples' Initiative to educate and advocate on behalf of Indigenous Peoples' to ensure that Native Americas are accurately represented. Now we must work to make this a permanent holiday in Arizona," stated Baca.
Jones, who is not Native but is biracial, joined Baca's Initiative and became a board member.
Jones stated, "The first time I learned that Native Americans weren't considered citizens until 1924 was my sophomore year of high school. It wasn't in my history textbook; I learned it from one of my friends. I was so shocked that I knew virtually nothing about the Indigenous side of history in the United States. I think that Gov. Doug Ducey signing the proclamation to celebrate Indigenous People's Day in Arizona will help shed light on a more accurate version of history, and begin to put an end to harmful, racist stereotypes placed on Native Americans."
Peshlakai has also partnered with the Initiative, along with Congresswoman Norma Torres of California, to sponsor a bill on the federal level to replace Columbus Day with Indigenous Peoples' Day.
The press conference is by invitation only and due to COVID-19 is limited to 50 people who will be adhering to the CDC guidelines. A number of dignitaries are expected to attend, including Navajo Nation President Jonathan Nez and White Mountain Apache Tribal Chairwoman Gwendena Lee-Gatewood.
The Initiative, as well as Baca, its founder, will also be recognized on Saturday, Sept. 26 at the Second Annual Celebration of the George H.W. Bush Points of Light Awards which can be see at 8 p.m. EST, streaming live at https://www.pointsoflight.org/bushawardscelebration.