LAKESIDE — The White Mountain Nature Center (WMNC) Raptor Rehabilitation Facility, overseen by Jeff Wolf, released a pair of American Kestrels into the wild on Wednesday afternoon – and they had an audience.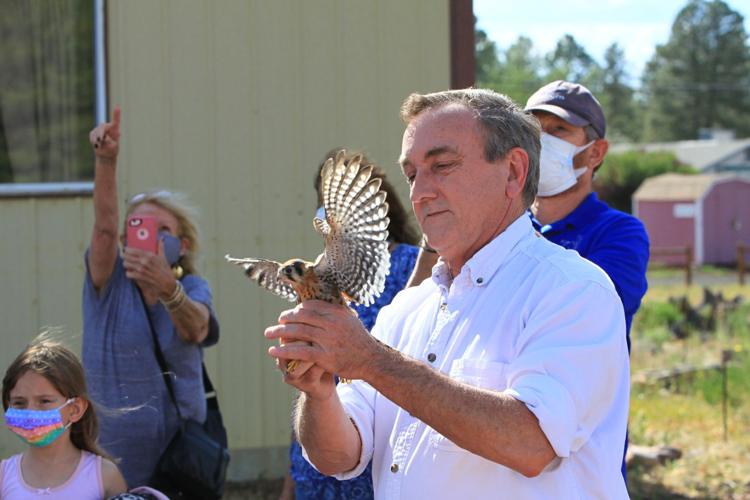 Kestrels are raptors which means they generally hunt and kill other animals for food, including small birds, fish, mammals, lizards and insects. The species is also referred to as a sparrow hawk.
The pair of birds released on Wednesday came from a family of four fledglings that fell out of a tree when a wind storm blew it over in early July. The birds were only a month old at the time.
One of the foursome was killed when the tree fell. Another sustained a head injury but survived. The three surviving birds were fostered by WMNC board member Kris VanAtten until they were healthy and strong enough to be released.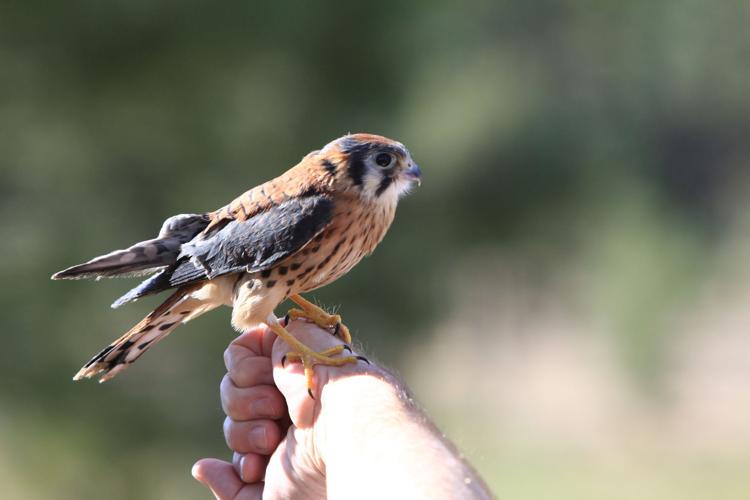 About 20 mask-wearing spectators with an interest in the species and supporters of the Nature Center were lucky enough to see the birds up close and personal inside the building before the proverbial launch.
VanAtten is a biology and mathematics teacher at Blue Ridge High School. His son, Marshall, age 14, helped care for all three birds. They supplied fresh (raw) rabbit and chicken meat for the birds and tended to all of their needs as fledglings.
"The injured one needed a little more attention," said Wolf. "They were also exercised until they were strong enough to fly well."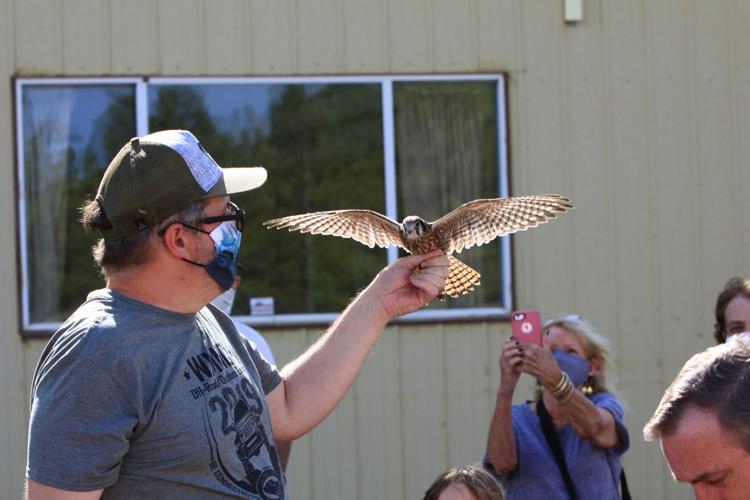 "The bird that's staying here was so weak he couldn't even walk at first," said VanAtten's son, Marshall. "It's amazing what water and food can do."
The remaining male Kestrel that was too injured to be released into the wild will become an educational animal for the WMNC and the Raptor Rehab. Although he hasn't been named, he has recovered and is a viable, healthy animal.
"He has the perfect temperament for this. He's not trying to fly away and he's not afraid of people," Wolf said.
Wolf explained that, due to his brain injury from the fallen tree, he's unable to hunt for food on his own and may not be able to avoid predators. Instead, he is likely to enjoy an enriched, healthy lifespan of 15 to 17 years. (The average lifespan for a wild Kestrel is five to six years.)
This fortunate pair of released Kestrels may very well join up with a family of American Kestrels that already live in the forested area southeast of the facility said Wolf.
"It's a really rewarding experience to fix them up and release them back into the wild," said Wolf. "Although they are predatory birds, they won't war with one another like some raptor species," "They will help each other out."
"Now that they are strong enough to fly, they will hunt small rodents, lizards and bugs like grasshoppers," he said.
They are North America's littlest falcon, according to the Cornell Lab of Ornothology. "The American Kestrel packs a predator's fierce intensity into its small body," says Cornell which also describe Kestrels as "one of the most colorful of all raptors."
"Kestrels are a Falcon, not a hawk," said Wolf. "They are a smaller version of the Peregrine Falcon ... Even though their size is small in comparison to a hawk, they command a healthy respect with other birds. "They're really fast and agile when in flight," said VanAtten.