WHITE MOUNTAINS — The nation's birthday celebration is coming Thursday, July 4 with all of the fanfare associated with it.
Timber Mesa Community Fire Risk Manager Kirk Webb, AKA "Mrs. DouseFire" of Facebook fame, said all of the local U.S. Forest Service offices have put out signs indicating that fire risk is high at this time because of the dry, warm conditions and lots of fuel in the forests.
In that regard, he advised everyone to leave all July 4 fireworks to those who are trained to handle them.
"So I suggest everyone leave the fireworks to the professionals."
In addition, Timber Mesa Fire and Medical District advises that only certain types of consumer fireworks that are widely available are legal to use, primarily because of fire danger.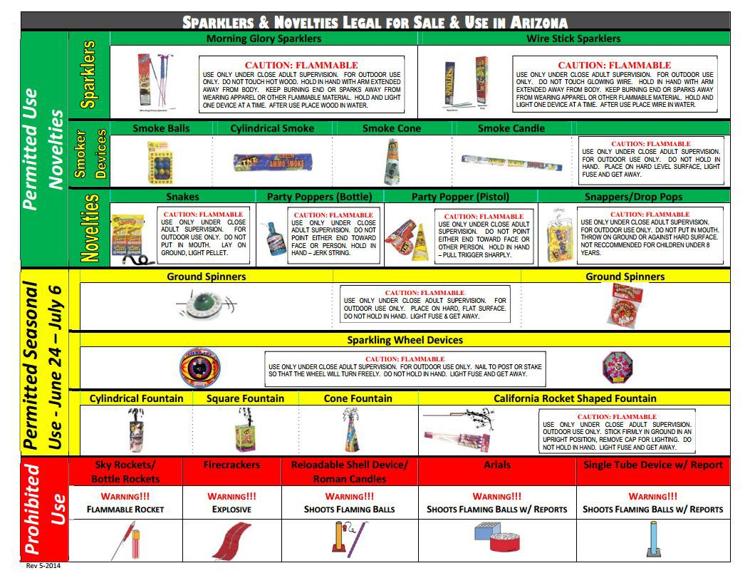 Handheld and ground-based fireworks such as sparklers, spinning sparkling wheel devices, cone fountains and snakes are legal to use during the July 4 holiday. But firecrackers, bottle rockets and other explosive or aerial devices are prohibited in Arizona year round.
Webb cautioned everyone not to become complacent with the risk of wildfire just because it is the Fourth of July, asking them to use caution and common sense so everyone can have a safe and enjoyable holiday.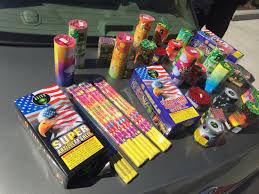 "We are still in the danger zone when it comes to risk of wildfire," He said. "This is the time of year that the risk increases. Remember that with monsoonal weather comes more dry lightning. We had a wet winter this year, and now that ground foliage is dry and that means more fuel on the ground."
Webb said Timber Mesa firefighters have already responded to a number of abandoned campfires, using it as an opportunity to remind everyone that the largest wildfire in Arizona history, the 2011 Wallow Fire, that burned more than 800 square miles of public and private lands, was started by people who left a campfire unattended/abandoned.
He said if someone is going to be camping and they have a campfire they need to follow the rules and not have a fire large enough to be considered a bonfire, and to have the necessary items at hand, things like plenty of water and a shovel to put out a campfire.
Make sure to clear at least 15-20 feet around any spot where a campfire is to go and dig a shallow depression and line it with rock to keep in embers and ashes.
When it is time to go, douse campfires with gallons of water and stir them until they are cold through and through. Then douse, stir and feel again for good measure.
And anyone who has ever come to one of Show Low's July 4 parades knows to come early because people are staking their claims to prime spots along the parade route the day before the parade and even earlier sometimes.
The annual parade along the Deuce of Clubs starting at Owens Street kick off at 9 a.m.
The popularity of the parade prompts Show Low Police Public Information Officer Shawn Roby to remind everyone that traffic gets very congested every July 4 and this year is expected to be no different.
He said to reroute trips around the parade area or just postpone them if possible adding that the normal closures will be in place on the Deuce of Clubs.
Last but not least he reminded motorists (and everyone else) that police are always on the watch for impaired drivers and individuals and for everyone to be patient and to expect traffic delays before and after the parade.
As for the fun associated with the parade, the Wet Zone Fun event, popular with kids and adults alike, especially when its hot out, begins at 11 a.m. at Frontier Park.
FreedomFest starts at 3 p.m. at the Show Low Football Stadium complex at 500 W. Old Linden Rd. and offers county fair- style foods like kettle corn, shaved ice, pizza, Navajo tacos, funnel cakes, old fashioned soda, and more.
"Enjoy great music from one of our featured live bands. Have a great time at our Fun Zone, unlimited ride wristbands are only $5 (arrive early for best value). These events are sponsored by the Show Low Parks and Recreation Department. For event details or more information, call 928-532-4140. Fireworks Show at 9 p.m.," the city's website at showlowaz.gov states.
And last, but certainly not least, there is the fireworks display.
"We are anticipating a much bigger show this year," Webb said of the city's planned fireworks show.
The show is at 9 p.m. at the Show Low High School football field off of 500 W. Old Linden Road.