ST. JOHNS — Police officers in small towns often don't get the recognition they deserve for how big their hearts are for the people and communities they serve.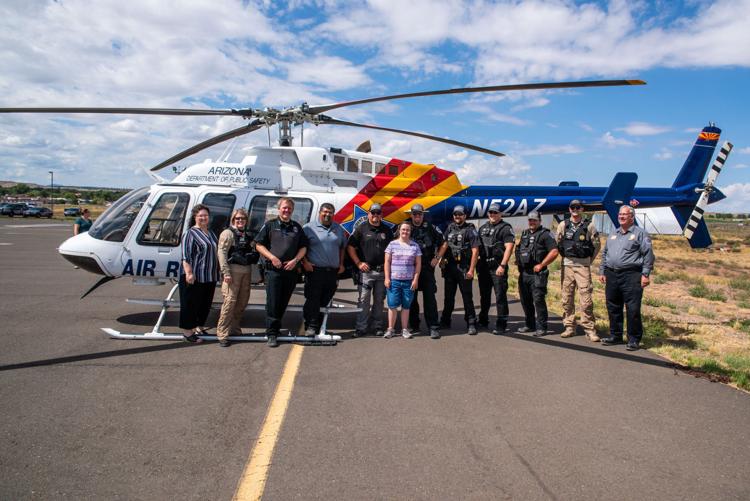 And the people who support law enforcement sometimes don't get the recognition they deserve either.
After volunteering every Tuesday at the St. Johns Police Department for the last five years, Michelle LeFevre, can tell people just how special officers in St. Johns really are, the loving feelings they have for the people that are their neighbors and vice versa.
On Monday, Aug. 31, members of multiple law enforcement agencies in Arizona came together to help 25-year-old LeFevre celebrate her birthday in a very special show of thanks for the woman's support of law enforcement.
LeFevre's mother, Diane, said her daughter has been volunteering her help to the St. Johns Police Department completely due to Michelle's "enthusiastic" support for those who populate the thin blue line.
She has mid-functioning-level Down syndrome, Diane said.
Part of Michelle's birthday surprise was a helicopter ride, accompanied by her father, in an Arizona Department of Public Safety chopper that gave them the tour of the town.
"At first the idea of riding in the helicopter seemed a little scary to her," Diane said. "But when they were at the airport and she heard all of the (members of law enforcement) they're cheering for her, she got really brave and decided to do it."
But the helicopter ride came after the first surprise. Diane said Michelle was completely unaware of what else was planned for her birthday.
That is when unexpected guests started showing up in official law enforcement vehicles, driving by and wishing the best for one of their staunchest supporters.
Among the agencies that had marked and unmarked vehicles driving by with birthday wishes, waves and signs were officers/deputies/agents with the FBI, the St. Johns PD, the Pinetop-Lakeside PD, the White Mountain Apache PD, the Holbrook PD, the Arizona DPS and the Eagar Fire Department, as well as detectives with various agencies.
Diane said Michelle almost caught on that there was something going on when the whole family took a walk toward the main road.
This was something not normally a part of their day.
So down the road Michelle, Diane and her husband, and Michelle's four sisters and one brother trod until they came to the main road where Michelle started to see all the vehicles driving toward her.
Diane said that at first Michelle was unsure who they were until she could see the patches on their uniforms, at which time she became really excited.
Many of the members of law enforcement, knowing how much Michelle supports them, gave her patches from their respective agencies as keepsakes.
"Needless to say, it was an exciting day for everyone involved. Thank you to Michelle for your support and dedication to public safety, and thanks to St. Johns PD and all the agencies who helped make yesterday unforgettable," a DPS post on the St. Johns Police Facebook page the day after LeFevre's birthday stated.
The next day, a Tuesday, Diane said it was back to work as usual as a volunteer at the St. Johns PD for Michelle.