WHITE MOUNTAINS — After 3 months of dealing with stay-at-home orders and restrictions, the economy is slowly opening up again. Many businesses are still not fully open and are dealing with regulations from the health department and governments.
While many corporation and franchise businesses were deemed "essential" and allowed to stay open, the majority of small, private businesses have faced loss of revenue and staff and are on the borderline wondering how they will survive.
This series will focus on locally owned businesses and how they have managed during the shutdown.
Doubletree Wedding & Pendleton Boutique Pinetop
Spring, summer and fall are considered wedding season in the White Mountains. Lisa Brownlow has owned her business for 17 years and besides specializing in wedding and bridesmaid dresses, her shop is the first stop for those looking for more. Wedding venues, photographers, disc jockeys, hair and nail salons are all part of the wedding business and Brownlow helps brides with all of it.
"April to October is the peak season for weddings up here," said Brownlow. "I had already ordered my inventory and was well-stocked for the season. We had 2 to 5 weddings a week scheduled."
As of the first of June there were two weddings scheduled for the month and 5 weddings scheduled for the fall. The rest cancelled.
"Proms, graduation, and the connected parties are the bread and butter of my season," stated Brownlow. "They were also cancelled. It has definitely hurt my business and this fall and winter will determine the fate of my store."
Brownlow wants the community to help her put on a prom for the seniors in the White Mountains. She is hoping to find a large enough venue and volunteers to help out with the huge undertaking. "This community is great at helping and these kids deserve to have their prom."
The Den Bar and Grill-Pinetop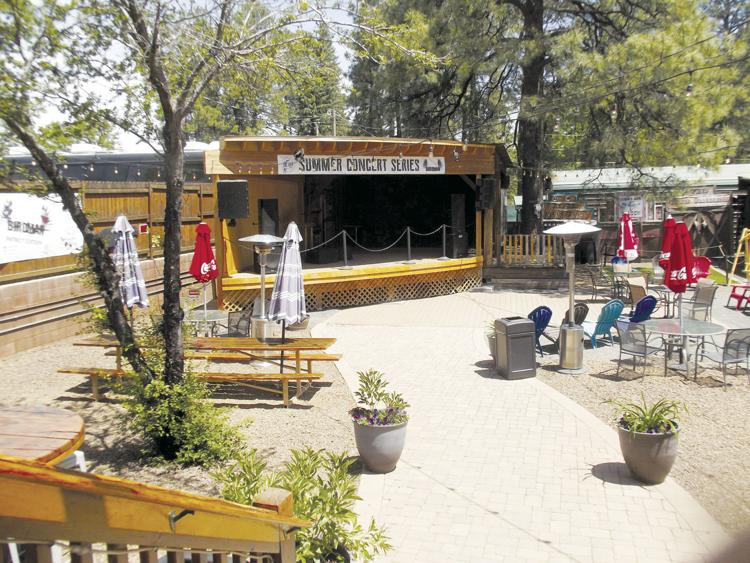 Jay and Diana Charnholm have owned and managed The Den Bar and Grill for 7 years and have invested a lot of time and money in expanding and upgrading the facilities. It has become one of the most popular venues for music and concerts as well as a place for families to hang out in the large backyard.
"We were told on March 15 we would have to close on the 20th and could only do to-go orders," said Jay Charnholm. "We weren't really set up as a to-go business and after 2 weeks of doing it every day, we went to Wedneday through Saturday only."
He also stated they quit ordering liquor and greatly reduced food orders. By also cancelling most of their monthly bill subscriptions, the Charnholms were able to manage to cash flow the business during shutdown.
"We wanted to support our staff so we fed them 4 meals a week to keep them going," said Jay. "We told them to file for unemployment and many did, but everyone who did was denied."
Amazingly, all of their staff returned to work on May 12. Since reopening, Jay stated that business has been better than it was at this time last year.
"We expect to have increased business this summer," he said. "The expansion of the backyard has been a huge asset and holds more people who can spread out."
Charnholm also expressed gratitude to the town of Pinetop-Lakeside for being good at providing accurate information.
"I hope that by July 1, the state and town will remove all restrictions so we can get back to normal."
Chris and Sandy Kengla have owned and run Christopher's Garden for 44 years and are well-known and liked in the community. Their business was deemed "essential" and they didn't have to close during the shutdown.
"The state made a smart move in allowing agriculture businesses to stay open, unlike other states, Kengla. "I had a huge inventory already, but ran into supply chain issues. I have a good relationship with the community and a lot of my suppliers, so we were able to keep getting more plants."
Kengla brought in all his employees and told them they could stay home if they wanted and he would still pay them out of his retirement account. "No one stayed home," he said. "They all came to work. I also refused to apply for a business loan and cash-flowed everything."
The Kenglas were able to do that because the business had record sales during the shutdown. He attributes that to so many out of work and staying home and they had the time to plant and improve their landscapes.
"We should have done like other countries and just quarantined those most vulnerable," stated Chris. "I have no fear of this because I'm a man of faith and God will tell me when it's my time to go. My heart goes out to those who lost their jobs and businesses. It didn't have to happen."