SHOW LOW — The US Department of Veterans Affairs (VA) Mission Act, implemented in June 2018 was aimed at creating better, more streamlined healthcare for veterans.
But local veterans say they still struggle to get the care they need.
Recent feedback from local veterans express continued frustration with a healthcare process described as "convoluted" at best.
The paramount difficulty, according to some veterans, is the struggle in making an appointment with a specialist or getting prescription refills. Many claim it requires multiple calls to get an appointment and even more time and energy to obtain prescription refills.
Another sticking point with veterans served by the Phoenix VA Healthcare System is the centralized phone system. Finally, the lack of a full-time medical doctor in the Show Low VA office for over a year seems to compound the collective angst.
VFW Post 9907 invited Show Low VA Administrative Officer Pauline DeWenter to their December meeting. She was there to listen, answer questions and provide information about new benefits implemented through the Mission Act.
DeWenter's first word of advice was for veterans to book an appointment with the Show Low VA office to be assigned a primary care physician (PCP) if they hadn't done so before. Having a PCP, she explained, is a necessary part of the healthcare system and provides easier referral to specialists and urgent care.
Early into the meeting the conversation turned to the veterans' chief complaint — the centralized phone system.
Show Low and surrounding areas in the White Mountains are under the direction of the Phoenix VA Healthcare System which has been using a centralized phone system for several years. This means there is no way to call the Show Low VA directly.
During the meeting several veterans described the phone system as "the single most frustrating part of the entire VA system."
They described how difficult it is to reach someone like DeWenter at the Show Low VA clinic even if they dial the local number. Everyone is automatically routed to a national phone system which, in turn, routes us through an elaborate menu system, they said.
Those that persevere through the phone tree, telling their story over and over, may land in the correct department. Often, the transfers, the wait times and the disconnect between local clinics and a state-run system is overwhelming and discouraging.
What should be a simple call can take 20 to 40 minutes, according to those that spoke up during the meeting.
"Calling this national phone number is the most asinine thing you can ask a veteran to do," added Jane Bradford. "Do we sue the VA if the person dies before any of the system is fixed?"
The Independent experienced the same result when trying to reach a specific employee at the Show Low VA clinic. The employee had assisted veteran Gary Ellison of Overgaard several times over the course of 12 to 18 months. Ellison was highly complimentary of the employee and recommended her as a valuable resource to the Independent for understanding the inner workings of the VA healthcare system.
The Independent called the local number and experienced the same never-ending loop and never reached anyone in the Show Low VA clinic. The call was ultimately disconnected after 38 minutes of calls, transfers and extensive holds.
Some veterans remember when things were different, more effective. "When the Show Low VA was first established, we had a direct line. That line was disconnected at some point," said VFW Quartermaster Chris Kozakiewicz.
"It's cumbersome, ineffective and rarely do you connect with a live person," said Vietnam veteran, Mike Leiby, in a separate interview with the Independent.
DeWenter empathized with the audience saying, "I don't agree with the phone system either; it's a horrible cycle. Every clinic within the Phoenix VA including Globe, Payson, Prescott and others have the same process."
"When that phone in our office is ringing and the lobby has people waiting, we have a decision to make," says DeWenter. "We do our best to keep up with the phone calls but we do have to call people back."
"It seems broken at the national level," said appointed VFW officer Fred Parry.
Despite the collective frustration, the discussion ended with some positive comments. "I appreciate the support we have been seeing lately," said Beverly Allen. "I'm going to continue to utilize the VA to the best of my ability," said VFW Commander Jon Dahl. "I have been part of the system since I was four years old, growing up in a military family."
More about the Urgent Care Benefit
The intent to bring more treatment options to veterans is not lost on veterans, despite wading through a large, imperfect system.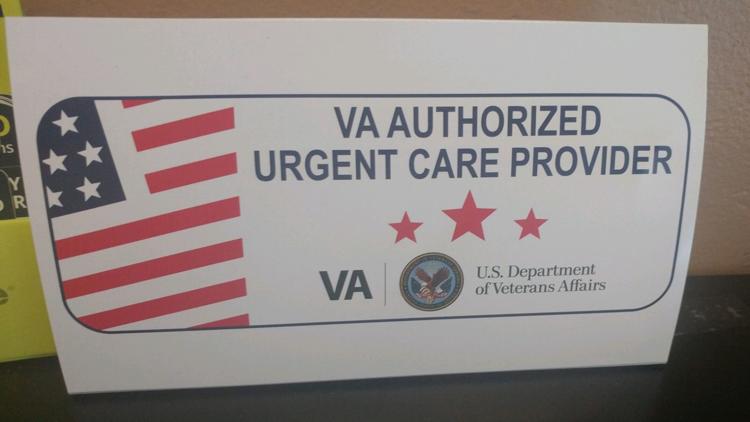 When it comes to urgent care, veterans now have more than the emergency room. Not having to wait weeks or months for an appointment and being able to bypass the emergency room (ER) may prove an immense help to veterans. If the illness or injury isn't life-threatening, they may prefer an urgent care or walk-in clinic.
"I highly recommend that veterans who have not been assigned a PCP come into the Show Low VA clinic ASAP for a new patient exam," says DeWenter. "Being assigned a PCP is required in order to utilize the urgent care benefit which means you must have seen a primary care provider with the last 12 to 24 months."
"Veterans just need to provide their ID card at the urgent care facility," says DeWenter. "That facility will verify their eligibility and they won't be charged a co-pay in most cases."
With regard to emergencies, veterans have a tough choice to make. If they are treated in an ER and the illness is not considered an emergency, then they may not be covered. "If you go to the ER for chest pain, for example," says DeWenter, "and it turns out to be indigestion and not a true heart attack, the VA may not cover it."
Ultimately, it's a call that every veteran has to make for themselves but DeWenter stressed the hope that patients err on the side of caution. "If you feel it's an emergency, we would prefer you go directly to the ER."
Many veterans may not be aware of the home health care benefit where the provider comes to a patient's home, said DeWenter. "Please come into the Show Low VA office or call us if you think you might need home health," she urged. "The eligibility department in Phoenix can let you know via phone if you qualify."
"At the VA office, we work hand in hand with Summit case managers," adds DeWenter. "Our goal is to help you, as a veteran, get every benefit you need and are entitled to."
The Mission Act promises "expanded care" for veterans by offering Community Care Providers which has added many "non-VA" medical providers to the VA network. Information-sharing with the newly accepted providers is also geared to help copay and insurance processing.
According to DeWenter, the VA truly is trying to bring back community care so that veterans have more choices and more access to providers.
The challenge for the Show Low VA is recruiting a full-time, on-site medical doctor. "We have one face-to-face provider and two telehealth providers in our Show Low office," confirmed DeWenter. "We are searching really hard for a full-time, on-site medical provider but there are challenges with recruiting to rural areas like this."
The hope is that Community Care Providers will bridge that gap.
For more information about the veterans' services, visit www.myhealth.va.gov www.missionact.va.gov. If you are a veteran in need of immediate assistance, call the Veterans Crisis Line at 1–800-273-8255 and press 1.