HOLBROOK — A retired police K9 turned service dog named Nushka who ran away from a single-vehicle fatality on State Route 377 around 10:30 a.m. Jan. 11 was found 19 days later still alive after surviving a severe winter snow storm with no shelter and no food.
The 5-year-old Belgian Malinois was the service dog to the driver who died at the scene of the accident.
A passenger in the vehicle survived the accident.
In the aftermath, Nushka ran away prompting deputies with the Navajo County Sheriff's Office and troopers with the Arizona Department of Public Safety to start looking for Nushka.
Having no luck, they put out an attempt-to-locate on their social media pages asking anyone who thinks they may have seen the dog to contact them immediately.
Other volunteers also jumped in feet first to try and find the dog as weather forecasts predicted the possibility of heavy snow in the area in the near future which proved all too true.
"The night after the crash, Humane Animal Rescue and Trapping Team Rim Country Team immediately launched an intensive effort to locate and rescue Nushka. In the 19 days Nushka was missing, there were a few sightings and tracks located. The region experienced a big winter storm that passed through the area where Nushka had been seen. Fearing the health and safety of Nushka, a compassionate citizen, Gail Johnston of Heber, took the time to assist HARTT as needed," NCSO Public Information Officer Tori Gorman stated in an email announcing Nushka's almost miraculous survival through it all.
She said that a HARTT volunteer named Brent met Johnston about 10 a.m. Jan. 30 with lots of snow still on the ground and together they set up a trap with food and water and a camera to see if they could get Nushka.
"At 12:42 p.m., Brent's phone notified him that there was movement in the trap, and sure enough, it was Nushka. The family was notified and a place at the Holbrook Animal Shelter was available for Nushka to stay until she could be reunited with her family," Gorman stated.
On Feb. 2 Nushka was reunited with her family.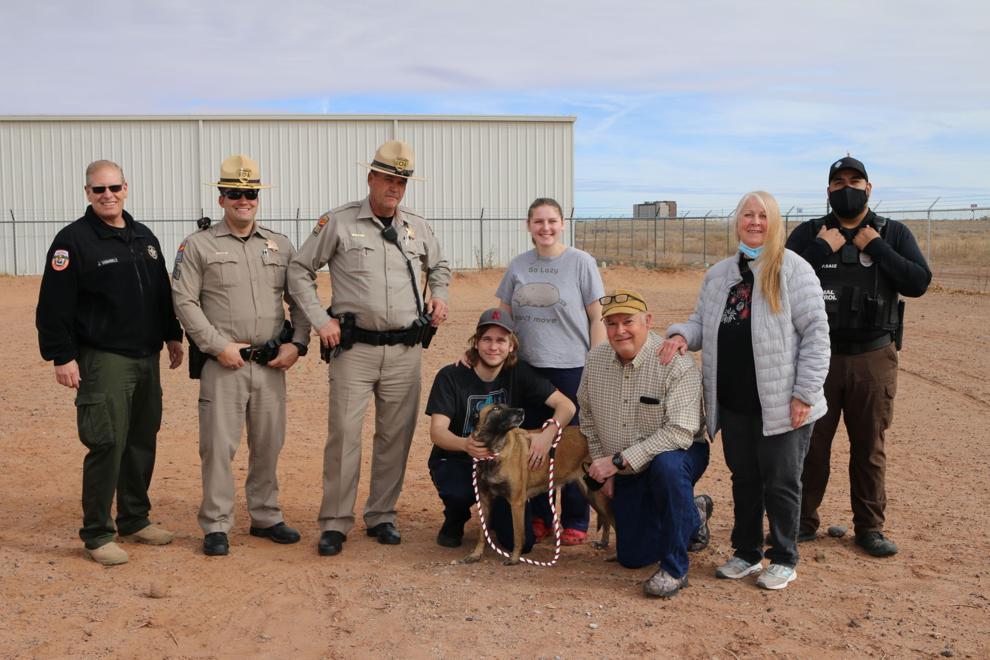 Sheriff David Clouse expressed his thanks to those who brought Nushka home.
"I am thankful for the countless miles and dedicated time HARTT provided to save Nushka. This was an amazing outcome for all those involved including Nushka. Thank you to the selfless volunteers who were able to reunite Nushka and her family," Gorman quoted Clouse in her email.