NAVAJO COUNTY — During this time of crisis caused by the COVID-19 pandemic, White Mountain residents have a lot to be thankful for and a lot to worry about.
One of those worries has been the food supply — especially when it comes to children and low-income families. For some, anxiety compounds as jobs are on hold and bank accounts run dry following the state mandated closure of non-essential businesses.
While the public focuses on maintaining a household food supply, there are many others working to ensure that the less fortunate, less able and less mobile have enough nutritious food.
The Southern Navajo County Feeding Collaborative coordinator, Allison Hephner, held a conference call March 23 to assess gaps in the food supply for school breakfasts and lunches, Meals on Wheels programs and food banks.
"The first week of the collaboration was focused on understanding everyone's programs, where the needs are and any barriers," says Hephner. "We do a quick ZOOM meeting on Mondays to ask program needs and work through the week to address them."
There were at least 12 participants on the call including but not limited to representatives from nonprofit 3E Snacks staff, Blue Ridge school district, Concho Farms, Johns Hopkins Center for American Indian Health on the Fort Apache Reservation, Love Kitchen, Meals on Wheels, Show Low Unified School District, the Sitgreaves County Project, TheCHURCH & ReCenter and Rep. Walt Blackman.
"Our focus of this [feeding] collaborative is to make sure we support these organizations so they can meet the needs of others," explains Hephner.
The general consensus was that the biggest deficiencies were family food boxes. Organizations like the Love Kitchen in Pinetop served a hot lunch to 12,740 children and 46,280 adults in 2019 through their soup kitchen. In addition, the Love Kitchen distributed over 58,000 food boxes in 2019.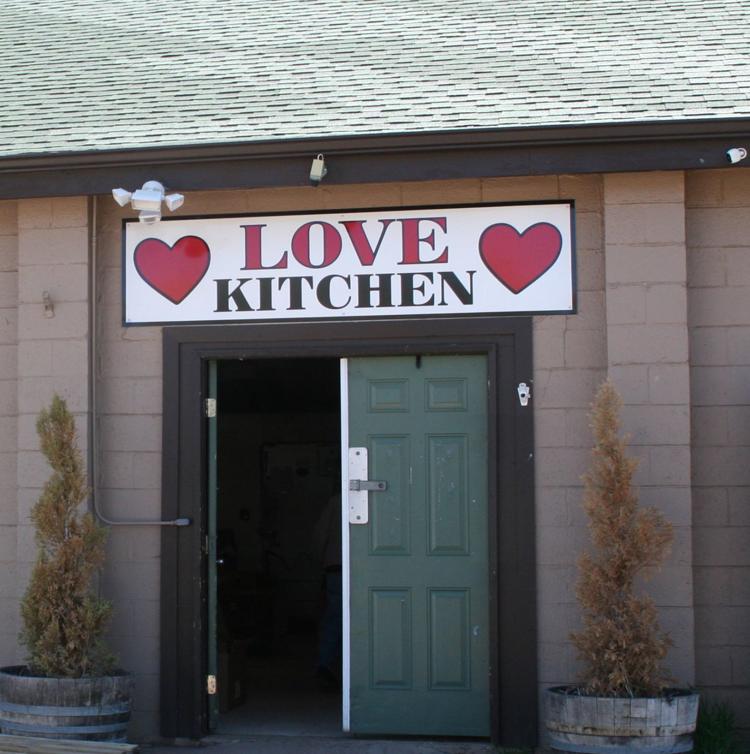 Love Kitchen offers curbside pickup
Since the pandemic began, the Love Kitchen has made changes to maintain social distancing and minimize contact with the public while providing daily meals for those in need.
"There is a lot of need in the community," explains Love Kitchen director Lynn Lewis, who has been serving the community through the local soup kitchen for 30 years. "We are feeding around 1,295 people a day — a number that includes many children," she said.
The Love Kitchen offered boxed food distribution for a short time but has returned to the soup kitchen model of offering prepared meals, daily. "There was a lot of food box duplication with other agencies," explains Lewis.
They still prepare meals but they are distributed via curbside pickup instead of in a dining room setting.
"Currently we offer ready-made lunches Monday through Friday from 11:30 a.m. to 1 p.m.," says Lewis. "We encourage people to drive here, pick it up and take it home tto eat in a safe environment."
The lunches consiste of a sack lunch and a cooked pizza. The sack lunch includes a peanut butter and jelly sandwich, a bag of chips, a piece of fresh fruit, dessert and sometimes a liter of orange juice. "Again, this is all geared so families can easily take the food home," reminds Lewis.
The Love Kitchen receives food through Feeding America/Food Rescue which funnels food to them through Walmart in Show Low, Safeway and Eddie's Country Store. Typically, "rescue food" includes canned foods that are dented or newly expired.
"Right now we are receiving lots of produce from Walmart," she says. "Safeway and Eddie's Country Store is donating quite a bit of bread as well. And, we just received frozen food, fresh fruit and dry goods from United Food Bank.
Local Meals on Wheels programs are an essential food supply source for house-bound seniors. "We have not had any problems finding food, day-to-day," says Meals on Wheels director Steve Beardsley. "Of course we always welcome food donations and funding but we haven't been bombarded with new clients yet."
Beardsley said they have picked up 4 to 5 more clients who qualified through Northern Arizona Council of Governments (NACOG) and "are feeding in the neighborhood of 55 seniors right now" in Lakeside-Pinetop, Linden and Show Low.
3E Snacks program representative, Kaley Willis, said they provide weekend meals for children in need. Easy-to-prepare food is donated and sent home with children on the last school day of the week.
"We do not know who receives the food," says Willis. "We let the school administration decide because they know better. We make sure the food bags are there and they distribute them as needed."
Since school closures, 3E Snacks has moved their distribution point to outside the schools. It now coincides with the school meal distribution in each district. In some school districts like Heber/Overgaard, 3E Snacks are being delivered with school breakfasts, lunches and homework packets through school bus routes.
Willis said they are seeking donations of macaroni and cheese, Ramen noodles, granola bars and peanut butter and jelly.
"Walmart has always been a good partner with us and used to be able to provide pallets of foods," explained Willis. "They aren't able to do that right now but the program continues to run because the community also donates to 3E."
"If people just buy a little bit at a time or only what they need when shopping, we will be able to continue the program," she says. "Shamrock Foods and the Church of Jesus Christ of Latter-day Saints church are also wanting to donate food."
For more information, visit 3E Snacks at online at www.m.me/3ESnacks or visit their Facebook page.
The school districts continue to provide breakfast and lunch "grab and go" meals to families with children.
"Supplies and materials for school lunches have been readily available with the one exception of be carry-out packaging," says Show Low Unified School District Food Service Director Jeffrey Houston. "This makes sense due to the Governor's Stay At Home/Essential Business only order as restaurants have needed to increase their stock of these items to stay in business."
"Our mission and primary function is still feeding the children of the White Mountain communities," assures Houston, "We have no plans to start addressing adult feeding at this time, as the current need for children's meals has our facilities currently running at close to capacity."
From March 16 — 31, the Show Low Food Services Department provided a total of 13,913 meals to children in the community, according to Houston. "Our Food Service group is on-pace to provide over 2,200 meals per operating day and is projecting over 44,000 meals in the month of April alone."
"There's a couple of families I'm feeding out because there's lots of need," says Kelly Meixler, co-owner of the Bull Market at Concho Creek and The Truck Stop in Lakeside. "We're willing to help in whatever way (we) can," she told food collaborative participants.
The owners of Firestone Pizza in Concho also offered help to the collaborative through food distribution and commercial freezer food storage.
TheCHURCH in Pinetop-Lakeside is making distilled water available to people who have C-PAP machines said Executive Pastor Ron Everingham. "We installed a distilled water unit and our trying to figure out how we can get our hands on food boxes to help the community. Also, our refrigerator is huge and our kitchen is not being utilized," he says.
"We are currently accepting any donation that could go towards helping families. We are also accepting, sewing supplies, food, and monetary donations, children's books and more," adds Everingham.
"Our hub for anyone who CAN help, or anyone who NEEDS help is www.tcaz.us/help. Through this link people can sign up for both of those things, give financially, or click to sign up to get or give a food box."
The aforementioned are a handful of the growing number individuals, organizations, businesses and churches providing food assistance throughout the White Mountains.
The Sitgreaves County Project created by Jesse Valencia has also created a directory for those who want to volunteer with the food collaborative. Visit www.sitgreavescounty.com.
"The [feeding collaborative] group is incredible, and have done a GREAT job helping each other with their needs," summarized Hephner in an email to the Independent on April 3. "What cannot be found between our partners, we reach out externally and community members do not hesitate to help."
If you would like to donate resources, expertise or join the Food Collaborative conference calls, email Allison Hephner at allisonhephner@me.com.