SHOW LOW — Students and teachers are one of the very best sources for exploring the question, "What makes America great?" This very topic is examined by local junior high and high school students through the Veterans of Foreign Wars (VFW) annual essay contest.
VFW Post #9907, like others across the US, sponsor annual programs designed to provide nationwide totals of $1.9 million in scholarships to youth. In addition to scholarships, the programs are meant to inspire patriotism, community activism and an understanding of democracy.
Last Friday, several members of the VFW Post and Auxiliary presented four students with awards and scholarships in the Patriots Pen and Voice of Democracy essay contest. "What makes America great?" is the 2019-2020 theme for both programs.
Social distancing, masks and gloves were incorporated into the ceremony and did not detract from the honor and respect shown among the young and aging.
Three teachers named below, in the Navajo County Education District were also part of the awards ceremony. They were each presented a Golden Apple Award in recognition of their "exceptional leadership and commitment to teaching Americanism and instilling patriotism in their students."
"Your participation and support of these programs mean so much to all of us," said Show Low VFW Commander Jon Dahl as he welcomed those in attendance. "The work that you have done – the students, their parents, the teachers, the volunteers — is amazing."
Over 150 essay entries were received and it required a team several hours to read and judge the student works. "We would like to give special recognition to Anna Mae Stafford and Show Low Junior High School teacher Karen Greggersen for their continued support of this patriotic essay program for many years," added Dahl.
Senior Katie Brimhall of Taylor was awarded first place in the Voice of Democracy audio-essay program which challenges students to "express the merits" of patriotism – from their unique perspective.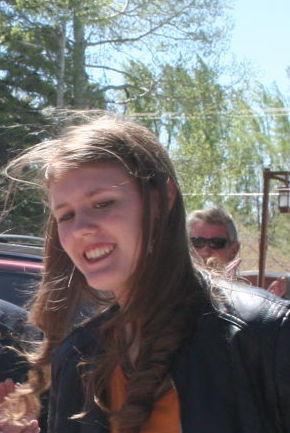 Brimhall not only won first place among local essays submitted by students in grades 9 -12, but was awarded first place in the district and third at the state level.
Her audio essay, titled "Greatness" explains the bold and unrelenting path taken by the nation's Founding Fathers as they created the Constitution.
All men are created equal...with certain unalienable Rights...for the support of this Declar…
" ... the greatest minds of the age struggled with the creation of a new government, terrified that they might accidentally create something hugely oppressive, something similar to the government they had just won independence from," reads and excerpt of Brimhall's essay. (Her essay in its entirety can be found in the online version of this story at www.wmicentral.com.)
Over 130,000 students in grades 6 – 8 enter the essay contest sponsored by VFW's all across the country. While the topic changes yearly, the underlying theme is always patriotic, encouraging "young minds to examine America's history along with their own experiences in modern American society," according to Dahl.
Junior high school students Talyn Greggersen, Dallin Adams and Ethan Beeler were selected as the first place winners among at least 500 locally submitted essays.
Sequoia Village School teachers Amanda Luptak and Erasmo "Eddie" Zazueta and Show Low High School teacher Becky Adams were presented with the VFW's honorary Golden Apple Award.
"I cannot say enough to thank these teachers for the leadership they are providing to these students," reiterated Dahl at the close of the award presentations.
"Through these programs, we reaffirm out loyalty to our nation and to each other," said VFW Auxiliary President Connie Zawacki.
For more information about VFW scholarship programs, contact the VFW at 928- 537-7511 or visit their website at vfw9907.org or vfw.org.