WHITE MOUNTAINS — Long before Route 66, the tracks of the Sante Fe Railway stretched west into Winslow in the 1880s, and they brought the first tourists to the area. During the final years of glamorous railroad travel in Winslow, the La Posada Hotel served guests with a special kind of hospitality. The elite Harvey Girls showed the world the way entrepreneur Fred Harvey taught them to be the epitome of a good waitress.
Former Harvey Girl Nancy Robinson, now 86 years old, grew up in Winslow. Her father, Clarence Leland Cesar, was a conductor for the railroad who later became mayor of the town.
Nancy loved La Posada and as a young girl and she would walk over to the hotel and just sit and read her book, "The Secret Garden."
"I would imagine all kinds of things while I sat there," recalled Nancy.
Nancy was no stranger to work. She began babysitting and saving her money when she was in the third grade. She later ushered at the movie theater where she also made popcorn. When she became a sophomore at Winslow High School, her dream of becoming a Harvey Girl was realized and, like relatives before her, she lived that dream through her senior year.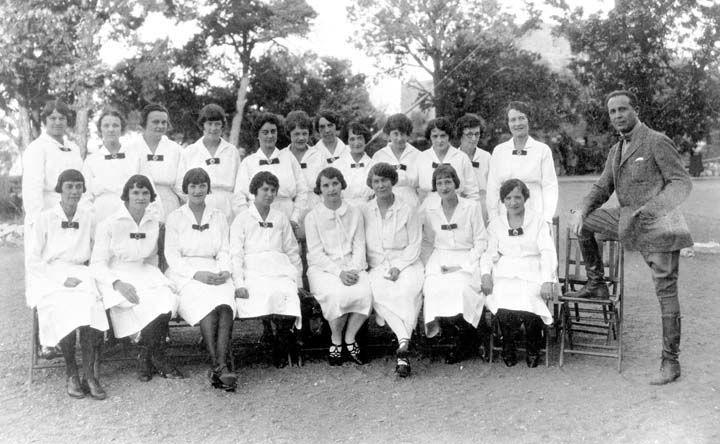 Harvey Girls were starched and pressed. "The uniforms were black and white," described Nancy. "Mine was all white and a black tie. The skirt was a wrap-around skirt."
You had to be thoroughly trained before you graduated to serve customers. "Mrs. Severenson trained me," said Nancy. "She was stern, but she trained you very, very well. It was real rigid training. Harvey Girls were clean – an elite group – respected and there was no dirty talk. You didn't stand around talking. We were hard workers and the dishes were immaculate."
According to Nancy, the food served was delicious and the workers always ate for free. The food was pre-made and was a limited menu because the people only had about 35 minutes to choose their food and eat before they had to board the train again. There was hot beef and chicken and salmon croquettes; Nancy's favorite was the roast beef sandwich.
When Nancy graduated she went off to Arizona State University where she missed the sound of the trains in Winslow. She had always wanted to be a writer and studied "Principles of Argumentation." But like many young women of the era, she married a soldier, and began traveling and raising a family.
She would sew and embroider so she could be with her children and work from home. She sewed by hand and held home parties periodically to sell the things she made. Having opened a shop when she moved to Tucson, Nancy was quite successful selling the things she made, and it was that craft that brought her back to La Posada, so-to-speak.
The hotel had closed down in the late '50s when railroad traffic had waned and in the '60s became the offices of the Santa Fe Railway until the early 90s. According to the La Posada website, current owners Allan Affeldt and his wife artist Tina Mion negotiated to purchase the hotel and in 1997 began a $12 million restoration making it what it is today – once again a hotel with gardens, a restaurant, gift shop and museum with art exhibitions and more. It is in that gift shop that the former Harvey Girl Nancy Robinson placed her line of totes, complete with the La Posada emblem.
Today, Nancy's memories of her life in Winslow live on as she proudly meets and dines with friends from the Valley, Winslow and the Mountain in the beautiful Turquoise Room under the roof of the building where she once proudly served other people.
Connecting with Nancy through the High Country Art Association in Pinetop, is Lakeside Artist Johana Lee, PhD, now 71, and also a modern Harvey Girl. She is a volunteer who did her doctoral work in fine arts and art history.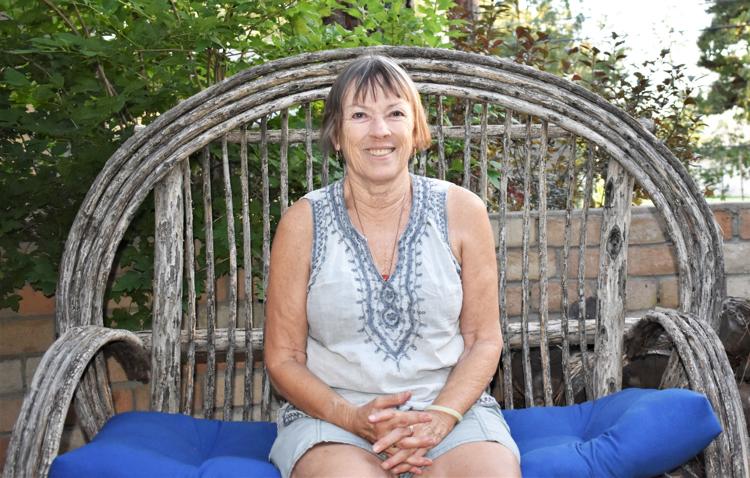 Though Johana was not a part of the Harvey House (La Posada Hotel), she joined in 2010 as one of the new Harvey Girls which is made up of volunteers dedicated to ensure the preservation of the history of the Santa Fe Railway, Fred Harvey, the Harvey Girls, La Posada Hotel and hotel architect Mary Colter. Johana has learned quite a bit about the Harvey Girls and Fred Harvey. She is now retired from her career, but not from things that matter to her – like keeping the spirit of the Harvey Girls alive.
"He treated women with respect," said Johana. "He had rules and they had to sign a contract, but he paid them a fair wage and there was no humiliation," she said of Fred Harvey.
She said that she learned that Fred Harvey was dead two years before they told anyone that he had died because they were afraid it would affect business.
Johana is originally from California and her grandmother, who lived in Kansas, was a Harvey Girl. Many Harvey Girls, the elite of respectable young ladies, met their husbands while in the employ of Fred Harvey. According to Johana, her grandmother was one of them, and she met and married a gambling railroad man during her tenure as a Harvey Girl.
It was accepting a job as an art teacher that landed Johana in Winslow. Though she left after a year and returned to California, she also did an about-face and returned to Arizona and taught on the reservation in Whiteriver, in Patagonia and then at NPC for 10 years.
Johana loves being a modern Harvey Girl. The role today encompasses doing the tours at La Posada as well as going to other places like Williams or even Kansas on the train for railroad celebrations. The attire is still the black and white uniform with a bow. With the trunk shows they put on, Johana loves showing the fine china dishes they used back in the day, and the dates they were used and from where from they originated. Though she possesses only one piece of the Mimbreño dinnerware designed by Architect Mary Jane Colter – it is a cup, she treasures. Johana celebrates the knowledge of how Fred Harvey brought Navajos in so they could sell their wares reasonably.
Two eras of Harvey Girls, both White Mountain dwellers, are able to tell of a by-gone era of independent women above reproach, bold and adventurous in taming the West in their own way with Fred Harvey's common-sense system of real customer service, civilized etiquette and professionalism. Those values are still highlighted today in the Harvey Girls and La Posada.
Nancy Robinson will be the Harvey Girl in attendance at High Country Art Gallery's Grand Canyon Art Reception from 5-7 p.m. Friday, Aug. 30, at 13 E. White Mountain Blvd. in Pinetop.