SPRINGERVILLE — The U.S. Forest Service, Apache-Sitgreaves National Forests (ASNF) staff provided clarification to the Independent regarding Stage 1 Fire Restrictions implemented Friday, Oct 9.
"Fires are OK in developed recreation sites such as campgrounds and picnic areas that are maintained and administered by the Forest Service and are equipped with a permanent fire structures," stated stated Apache-Sitgreaves National Forests Acting Deputy Public Affairs Specialist, Katie Speranske.
The ASNF Springerville District Office received several calls following the issuance of the Stage 1 Fire Restrictions last week. The staff provided this definition of "fire structure" to assist in clarifying where campers and forest recreators can build fires:
FIRE STRUCTURE DEFINITION: A permanent metal or concrete structure, which is specifically designed for the purpose of containing a campfire or cooking fire that has been installed and maintained by the Forest Service or equivalent.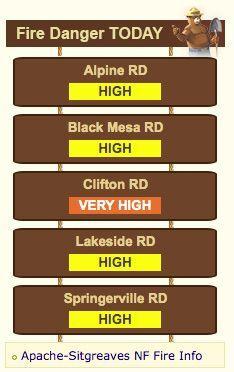 Still have questions? Call the Springerville Ranger District at 928-333-6200.