APACHE COUNTY — William Jason White, 44, is in custody of the Apache County Jail on one count of premeditated first degree murder, a Class 1 Felony, tampering with evidence, a Class 6 Felony, and first degree burglary, a Class 2 or 3 Felony depending on the structure he allegedly entered with a weapon. A class 2 applies if the burglary involved a residential structure; a Class 3 if it was a commercial building or yard, or a residential yard. He is being held without bond.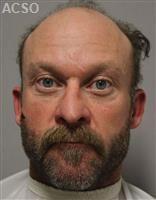 White was arrested at a location described by deputies as Lot 7, CR 5052 and booked into the county jail at 5 a.m. Sunday. Unconfirmed reports say that White killed a man with a knife; the victim being the boyfriend of a woman whom White used to date. The woman reportedly has small children and reportedly witnessed the murder.
A William White of Concho, the same age as the suspect, faces a fugitive from justice charge in Apache County Superior Court. That charge was filed last year.
No other details about the alleged murder are available yet and no court date has been set. White is presumed by law to be innocent.