WHITE MOUNTAINS – Being a parent during COVID-19 is nothing new on the home front for Myles Erdmann. He and the love of his life, Roxann, had Mono-Mono twins in 2019 and hand sanitizer gel and social distancing have been the order of the day since their birth — over a year ago.
"Being a father is the most fulfilling experience I've ever had," said Myles, and there is no doubt that he means it!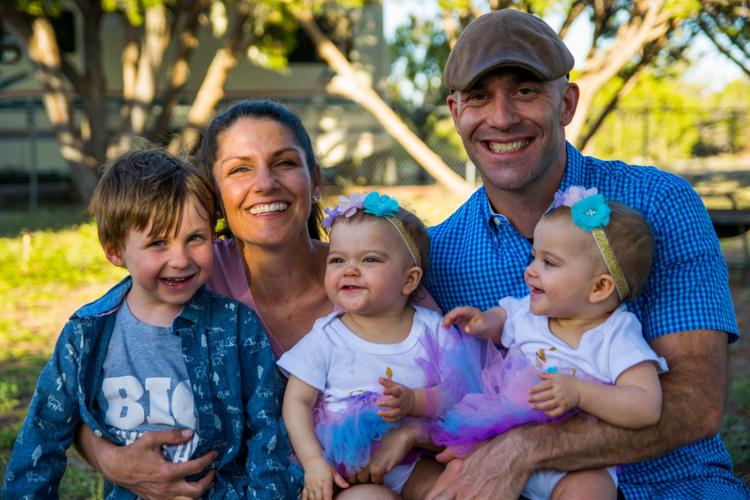 Myles is originally from New Mexico. Until the age of six or seven, his father worked in the oil fields which kept him away from the family. But, he saved his money and started his own home-based video/audio production company which allowed young Myles to hang out with Dad, zone out on music and be in commercials.
It is no wonder that Myles wound up a musician. Though he picks up a drumming gig now and then on weekends with local musicians, he has another kind of gig these days that is becoming more and more popular among young families – stay-at-home Dad with his year-old twin daughters, Nova Rae and Luna Mae, and five-year-old stepson, Phoenix.
Myles wound up in Show Low when his father and mother retired and moved here.
"Family is everything," said Myles. "It is so important. My parents did a great job given the resources and information they had at the time. It was a nice stable home – amazing – I wonder, how did I become a drug addict?"
But, he did, and he has been in recovery for a little over four years. He found a great job he loved doing — much of what he grew up around — audio/video production at Show Low TV.
Post recovery, Myles said drugs had done a visible number on his teeth. He went to the dentist and while there he heard a voice, "a high pitch cute voice" he recalls, which turned out to belong to the dental hygienist, Roxann.
"She was sweet and gentle," said Myles. He learned she had a difficult marriage and a son and that was that – for then. Six months later he had saved money to begin dental treatment and returned to the dentist. While there, he mentioned he would be playing a gig, and guess who showed up? Roxann. He got her number, called for a first date and, the rest is history.
They set up housekeeping and eventually decided on having a child. When they discovered Roxann was pregnant they went for a sonogram. Nothing major, except the baby jumped around a lot. The next sonogram was different. The tech couldn't tell the sex but thought it was likely female, but said to them, "enjoy these two."
On hearing the tech's words, Myles said Roxann gasped for air. But, once they recovered from the shock, they were excited. They were going to be part of the "twin club."
Myles, fascinated, began researching the world of twins. Then came the bomb. "We found we were having Mono-Mono or Mo Mo twins," said Myles. "They share the same sack and placenta." Mo Mo is short for monoamniotic-monochorionic where the risk of cord entanglement is too great to go past 34 weeks, thus a C-Section and preemies. "Very scary," said Myles, "and high risk."
Roxann had already had a risky pregnancy with her son Phoenix and adding to the risk she was in her late 30s.
Realizing their little A-frame was going to be inadequate, they had to find a different place and just after the move, Roxann developed AFib. Unable to settle in, she was off to Phoenix for the next couple of months under the care of a perinatologist who handles high risk pregnancies and preemies.
Another scare also erupted with the babies' hearts rates dropping and the difficulty of discerning the beats.
Myles would work three days and then head to Banner for four days to be with Roxann. He said the pregnancy was really hard on her.
After the babies were born and they were finally back home, the real fun began. Roxann was involved with a Mom's Club and was particular about care for the babies which required a lot of juggling. It turns out that twins cost double – and much of the income derived from working went to child care. They deduced that a hygienist's pay was good and Myles would be the one to take on the traditional role of home care.
"I quit my job with the City of Show Low," said Myles. "I loved working for the City. It was hard to make that sacrifice, but extremely rewarding."
Already involved in a step parenting group online, Myles discovered a couple of books that validated how invaluable it is for a parent to stay home the first couple of years of a child's life.
"What I did not realize is that culturally when I was a young kid, it was the wife, back in the day," explained Myles. "Interesting to be thrust into that position, I have a much greater respect for my mom.
"It is a lot of work – clean up. You need to modify a little. It is tricky to get those things done which you have to do during their nap time. Get the house situated – cleaning, and I have never been the cleanest person in the world. I bought a Sharpe APEX Vacuum. I researched vacuum cleaners. The girls will find the smallest little things. A bug – I do not want them to pick up a bug and be eating it."
Those weren't the only things Myles adapted to – there was cooking. "I never dove into that, but I am into freezer meals." He says he makes bulk amounts so when Roxann gets home it is easy. His favorite thing to make is Shepherd's Pie.
Myles also knows what a strict schedule can do. "Mine sleep through the night 99 percent of the time – sleep, nap. I count on it and it helps them not be fussy."
Looking back at photos from the last year, Myles says it is so different. "They are really getting fun; more challenging. They get into everything. They have fun with each other. Since they are our last kids – we are happy with three, it is hard to imagine having just one, but two is all I know. They fight over things. When we get them anything, we get two. They entertain each other. They have this little thing where they laugh and run away, like hide-in-go-seek."
Though Myles said Phoenix hoped for a brother, he warmed up to his sisters and is a good, protective older brother.
Myles and Phoenix have their time too. They have harvested potatoes they planted – red, golds, purple and regular. Marigolds and zinnias are their garden favorites.
Myles is enjoying his role as a father. One day he hopes to be able to go back to school and focus on IT and go the certificate route.
In the meantime, he and Roxann have found a way that works for them and their little family.
"We will be a little more strict," says Myles. "We have agreed to be much more cautious with our kids — what they do, where they go and who they are around. I do not want them growing up and getting into a situation like I ended up in.
"Family comes first," reiterated Myles. "Everything else works itself out."