NAVAJO COUNTY — The Navajo County Board of Supervisors this week unanimously approved yet another RV park in Heber.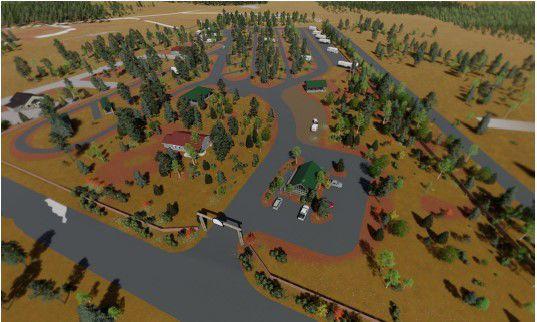 AJ's Gateway RV Park will offer 43 RV camp sites and 30 spaces for RV and boat storage on 15 acres at the northeast corner of Highway 277 and Buckskin Road.
The supervisors approved a special use permit, the first step in a long process that will include later, detailed plans for drainage, sewage, water, power and other key details.
The owners will live onsite in an existing house. They plan to also run a small convenience store on site.
Only a couple of the neighbors offered an objection to the development, the latest in a series of businesses in the area that will cater to RV users and tiny-home dwellers in the unincorporated, forested community between Show Low and Payson. The community generally booms in the summer and empties in the winter, but it's only a two hour drive from Phoenix.
The development will feature a 200-square-foot check-in area, a large ramada with picnic tables and a seven-foot-tall cedar fence around the outside. The owners promised to enforce quiet hours from 10 p.m. to 7 a.m. and shut the place down in the winter. The lighting will be designed to point downward, casting as little star-obscuring light upward as possible.
Several of the neighbors raised concerns about traffic, speeding ATV's, dust, noise and reduced property values. However, no one spoke at the Tuesday hearing and most of the letters in the packet expressed support for the development.
The planning commission unanimously approved the proposal and the supervisors followed suit.
Owners Aaron and Wilma James said they hope the RV park can host community events and will remain accessible for special needs residents, since their own daughter has special needs when it comes to getting around.
Will Flake, with Painted Sky Engineering, said the septic system for the development will have to handle a flow of more than 10,000 gallons per day, which means the development will ultimately need a permit from the Arizona Department of Environmental Quality.
Most people who submitted letters favored the project.
Chris O'Conner of Mesa said "as avid RV'ers, we are concerned with the closure of RV parks around the country. We usually camp in Payson, but even that campground is full a lot because of people living in the campground. This would be a nice alternative."
Tammy King, of Queen Creek, said she's known the James family for a decade. "You won't find a more dedicated, kind-hearted, hard-working couple anywhere. We have a wonderful group of people we off-road and camp with and we can't wait for this campground to open."
Concerns raised at a community meeting generated a list of almost 100 questions, which the James answered in the agenda packet.