HOLBROOK — Impaired or distracted drivers, along with speeders, are forewarned that deputies with the Navajo County Sheriff's Office will be on the lookout for them this holiday season, to help keep everyone safe on the roads.

The extra funding that is needed for these kinds of enforcement comes thanks to an award from the Governor's Office of Highway Safety.
With recent stormy conditions, the presence of law enforcement on area roads will be needed since it is probable that some motorists may need their help.
Navajo County Sheriff David Clouse did not say how much the NCSO got from the GOHS, just that it will allow for heightened patrols in the White Mountains.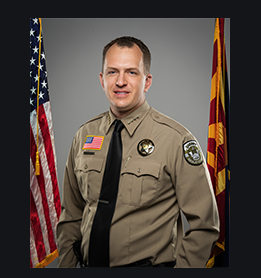 "Additional funding has been received from the Governor's Office of Highway Safety for both impaired driving enforcement and our Selective Traffic Enforcement Program (STEP).
Clouse said the STEP Program allows deputies to focus on all traffic violations as well as distracted driving.
He said motorists should concentrate on driving to keep everyone on the roads safe this holiday season, and indeed at all times of the year.
The Arizona Legislature passed a law that now allows law enforcement to cite any driver using a cell phone or other electronic device while driving in the state.
Clouse said the NCSO strongly recommends using a hands-free device while driving, adding that if a driver thinks he or she absolutely must respond to a text message, email or phone call immediately, to pull off the roadway before doing so.

"These three violations listed above are absolutely 100 percent preventable and we are hoping the citizens of Navajo County abide by these simple lessons before our Sheriff's Deputies activate their vehicles blue and red lights behind you. Please drive safe and we wish everybody a wonderful holiday season," Navajo County Sheriff David Clouse said in a press release.