WINDOW ROCK — The Navajo Nation is again deemed a "hot spot" for a surge in new cases of COVID-19. It feels like two steps forward and one step back.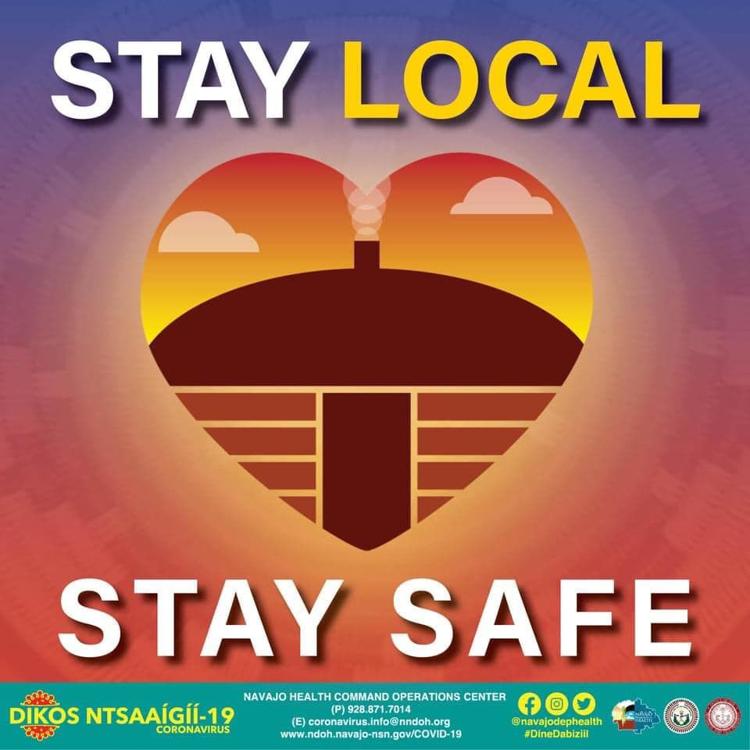 The Navajo Department of Health issued a Health Advisory Notice to warn residents of the "uncontrolled spread" of COVID-19 in 34 communities on the Navajo Nation which covers areas of Arizona, New Mexico and Utah. The cases reflect dates from Oct. 23 to Nov.5. The advisory will be in effect until the risk and cases decline.
"Cases of COVID-19 are rising in areas near the Navajo Nation," wrote Navajo Nation President Jonathan Nez in a Wednesday evening post on the Navajo Nation Facebook page. "Please keep yourselves safe and your loved ones as well. The safest place to be is at home here on the Navajo Nation."
Although 56-hour weekend curfews and lockdowns have been maintained by Navajo Nation leadership, they continue to struggle as do many other reservations. The total number of cases on the Nation as of Wednesday, Nov. 11, was 12,818.
There were 1,500 new cases reported Wednesday in the New Mexico portion of the Navajo Nation. This is a record high number of new cases in one day for that state.
"The state of New Mexico had its highest single-day number of new COVID-19 cases today and over 140,000 new cases in one day across the country. In some regions in the country, they are seeing exponential growth on a daily basis," stated Nez in a Facebook statement Wednesday evening. "Today, the Navajo Department of Health identified 34 communities, nearly one-third of all chapters on the Navajo Nation, with uncontrolled spread of COVID-19."
There were 2,030 new cases in the Arizona portion of the Navajo Nation and there were 2,335 new cases in the Utah portion, but they were not record highs in terms of daily new cases. Nonetheless, the increasing number are reminiscent of the summer's spike in cases.
"We have to do better and we have to hold ourselves and our loved ones accountable," said Nez. "Please do not travel and do not hold family or social gatherings. Wear a mask, stay home as much as possible, wash your hands, and practice social distancing."
A town hall was held on Thursday, Nov. 12, by Nez and Vice President Myron Lizer, providing additional updates regarding the measures being taken to prevent the spread of the virus.
When comparing where the Nation was at the end of June to where they are now, in early November, there has been an increase of 5,349 cases. The Nation tallied 7,469 cases at the end of June which was, at that time, double the number of cases in Navajo County which was 3,570 at the end of June. Less populated Apache County reported 2,309 cases at the end of June.
The White Mountain Apache Tribe (WMAT), on a smaller scale, was experiencing similar increases in new cases. Their total number of cases at the end of June was 1,696. However, they have also experienced a spike in cases, reporting the total number of cases since April at 2,745 on Wednesday.
WMAT just last week re-implemented their 57-hour weekend lockdowns and the shelter in place orders delegated by the Emergency Operations Center and tribal council remain intact.
"All residents of the Fort Apache Indian Reservation are required to shelter-in-place within their homes or places of residence, meaning remaining in their place of residence at all times and taking every possible precaution to limit social interaction to prevent the spread of COVID-19 to themselves or any other person," states a section of the WMAT Resolution Number 11-2020-270.
The neighboring San Carlos Apache Reservation has also struggled with an increase in cases over the last 90 days. They reported 1,587 cases at the end of June. As of Thursday, Nov. 12, they reported 2,076 cases. Of this total, there are 243 active cases.
The much larger Navajo Nation, began receiving much needed deliveries of food and supplies from outside donations over the summer.. The generosity of surrounding communities and states helped tribal members tremendously while waiting for federal resources from the CARES Act to kick in.
Stay-at-home orders, weekend lockdowns and travel limitations outside the Navajo Nation began to ease the infection rate during August and September but the case numbers crept back up like they have across Arizona.
To aid the in overall healing of the Navajo Nation, spiritual leaders have organized a "Navajo Nation Day of Prayer" on Nov. 12-13.
The Navajo Nation Division of Behavioral and Mental Health Services will host the online events on both days. The events will be streamed online with President Jonathan Nez and Vice President Myron Lizer and other guest speakers. The events will include presentations Navajo faith and other traditional base entities.
The Division of Behavioral Health and Mental Health Services also invites the public to "Show your strength for spiritual healing in times of COVID-19" by posting scripture, art, dance, poetry or songs to the Day of Prayer Facebook event.
To participate virtually, go to the Navajo Nation Division of Behavioral & Mental Health Services Facebook page at www.facebook.com/nndbmhs/.