NAVAJO NATION — The Navajo Nation continued to be slammed with new coronavirus cases in recent weeks. The nation's administration issued a three-week lockdown and curfew to help prevent spread of the virus among its members.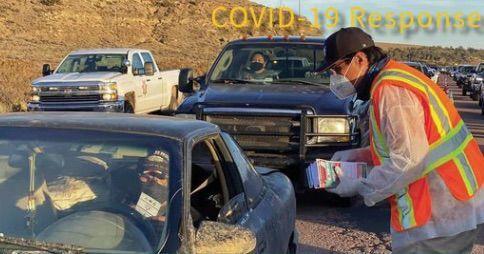 The lockdown began Monday, Nov. 16. The reservation covers over 2,700 square miles, spanning across Arizona, New Mexico and Utah. There are a total of 55 communities with "uncontrolled spread."
"Uncontrolled spread" is the phrase that has been put back into play regarding the increase in cases since mid November.
On Wednesday, the Navajo Epidemiology Center and the Navajo Area Indian Health Service, reported 197 new cases, bringing the number of positive cases to 13,744. There have been 605 deaths since tracking began in the spring.
Reports also indicate that 8,011 individuals have recovered from COVID-19 and over 141,000 tests have been administered to Navajo Nation residents.
The rise of daily cases is fast approaching the number of daily cases the Navajo Nation was experiencing in May, so tribal leaders are taking action through the lockdown. In addition to asking residents to stay home, business hours have been restricted from 7 a.m. to 3 p.m., daily.
There were 238 new cases on May 13. On Nov. 13, there were 172 news cases. That number spiked again on Tuesday, Nov. 17 with 197 new cases.
The new lockdown extends through the Thanksgiving holiday up to Dec. 6. Tourism through the reservation is highly discouraged and those driving through must do just that — drive thru without stopping. Movement by tribal members in and out of the service areas of Chinley, Crownpoint, Ft. Defiance, Gallup, Kayenta, Shiprock, Tuba City and Winslow is also restricted by the stay-at-home order.
Schools must remain in online-only mode which is a challenge because of the lack of infrastructure and internet services on the reservation.
Last week, the New Mexico portion of the Navajo Nation broke a record for the number of new cases in one day.
Navajo Nation President Jonathan Nez and Vice President Myron Lizer have routinely posted updated case numbers and updates on the Nation's Facebook page. They have held town hall meetings and interviewed with multiple national media outlets including CNN.
"All of the data indicates that it is going to get worse before it gets better, but each one of us has the ability to help change that trend," wrote Nez and Lizer via Facebook. "We have to use what we learned during the first wave of COVID-19 that devastated our Nation in April and May."
The message is clear from Navajo leaders — stay home, even during the Thanksgiving holiday.
"We cannot keep making the same mistakes by traveling off the Navajo Nation and bringing the virus home," said Nez. "We can't keep having family and social gatherings and expect everything to be okay."
There have been 7,295 cases in Navajo County since reporting began. 64 new cases were reported on Wednesday, 16 of which are off-tribal lands. That means 48 of the 64 new cases for Wednesday are on the Navajo Nation which is roughly 75%.
There have been 4,564 cases in Apache County since reporting began. 76 new cases were reported on Wednesday but the number of off-tribal cases is not available.
The Arizona Department of Health Services (AzDHS) reported 95 new cases in Apache County on Tuesday. It is unclear how many of that total are cases on the Navajo Nation, but the daily increase in new cases is alarming because it is higher than neighboring Navajo County.
The Independent reached out to Apache County Public Health director, Preston Rabin, about the recent increase in daily cases.
"The numbers are always a bit different between the AzDHS site and ours simply because of their data sources," said Rabin. "With our numbers, we wait for all facilities (in the south end of the county) that are testing to get us their numbers daily, then we post them directly."
Rabin acknowledged that "the numbers are higher than we are accustomed to ... but they are high all across the state, it's not just us," he said. "COVID is in our communities, and folks are being tested at a much higher frequency then before due to the fact that there are many who are having COVID-like symptoms here in our communities."