SHOW LOW — A local group called "NO on Prop 428" is speaking out in opposition to the Timber Mesa Fire and Medical District's (TMFMD) bond request. The bond asks for $18.935 million in funding for the fire district. It is called Proposition 428 and will appear on the Nov. 3 ballot.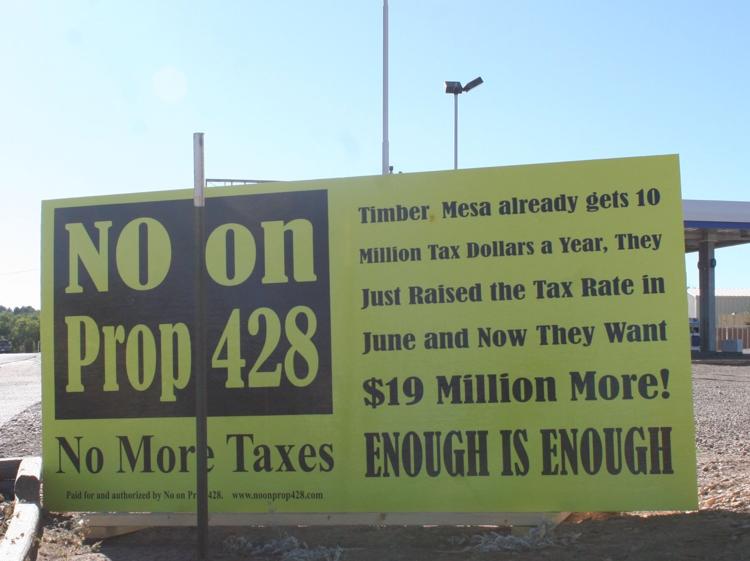 Ali Dionne and Enero Kelley, representatives of "NO on Prop 428", spoke to the Independent to better explain their reasons for opposition. (Dionne is an independent consultant out of Phoenix working with the opposition group.)
The group argues that the bond is unreasonable, especially during a pandemic when small businesses are already struggling.
"This is an uncertain time — especially for towns and cities where tourism is a primary revenue source like the White Mountains," said Dionne. "People have already tightened their belt and now Timber Mesa is asking them to spend more. We feel that a bond request of this amount it's not appropriate right now."
"Timber Mesa says they are conservative with our taxpayer dollars but their current budget is almost $14 million, of which over $9 million is spent on just 93 employees," said Kelley.
The "NO on Prop 428" supporters also claim that Timber Mesa Fire and Medical District is one of the most expensive fire districts per capita, (based on the population that they serve), in Arizona.
"Now they are asking us to approve another bond of almost $19 million, $7 million of which is to be spent on a training facility even though there is already a training facility twenty minutes away," said Kelley.
A letter sent to the Independent for publication by "NO on Prop 428" states, "Small businesses and residents are facing uncertain times and yet Timber Mesa thinks it is okay to pay even more taxes. They just raised our taxes in June. Small business already pay an average of almost $1,800 per year. They want $200 more. We just can't do it right now."
"What we are focusing on is Timber Mesa's already very large budget," said Dionne. "The folks that are in that fire district are already paying exorbitant taxes."
The things they are asking for in the bond like a building a training center and relocating or renovating existing fire stations are not really necessary says the opposition group.
"They already have access to the training center in Taylor," said Dionne. "And, we think that asking the taxpayers to spend 4.4 million on moving downtown Station 15 and renovating Station 19 is not okay when some people are having issues putting food on the table."
"At a certain point, citizens need to start holding them accountable for actually 'improving emergency services'", said Kelley. "The fact is — they will always need more and more to 'improve emergency services.'"
A bond is a financial tool that government agencies use to raise funds for long-term capital assets. "Long term" means 20 years or more when it involves bonds.
A fire district's primary source of funding is the secondary property tax, according to the Arizona Fire District Association. In Arizona, the bonding process must go through a local ballot measure. That means it requires voter approval.
Approval of a bond allows a special district such as a fire district to increase their debt by issuing bonds. Typically this is done to fund the construction, maintenance or equipping of public buildings or departments and various other capital improvements according to Ballotpedia.