NAVAJO & APACHE COUNTIES — A mounting stack of nursing home bills poses the latest challenges to hard-pressed rural counties.
The cost of paying for nursing home care for the impoverished elderly through the Arizona Health Care Cost Containment System (AHCCCS) will this year cost the state an extra $35 million – and the counties an extra $22 million, according to Arizona County Supervisor's Association Executive Director Craig Sullivan.
The AHCCCS-administered Arizona Long Term Care System (ALTEC) will cost Apache County $76,000 and Navajo County $171,000 more this year than last.
ALTEC covers the nursing home bills for people once they've spent all their resources, since Medicare doesn't cover most nursing home costs. The system has strict income guidelines, but generally allows the spouse to keep a house and a separate income so they're not left destitute by the nursing home care of their loved one.
Unfortunately, the ALTEC nursing home populations continue to grow faster than the state average. Not only do the rural counties generally have a higher average age, they have more people without health insurance and a larger population on both AHCCCS and ALTEC.
Each county faces different trends.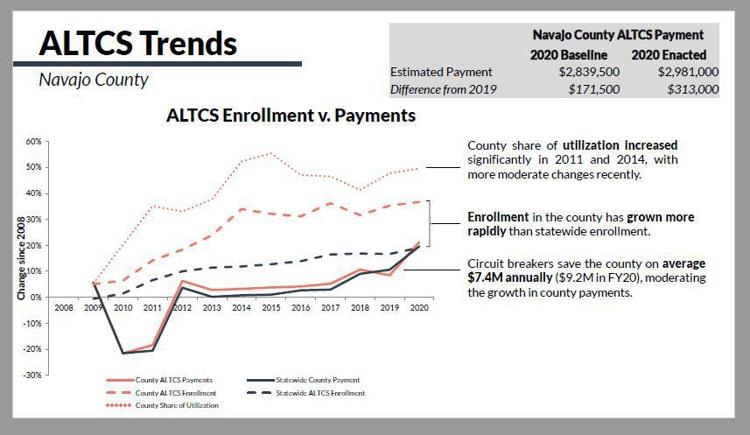 In Navajo County, both the enrollment and the county's share of the bill has risen much faster than the state average since 2010. The county pays about $3 million, an increase of $171,000 this year alone. The enrollment in the program has grown nearly twice as fast as the statewide average in the past decade.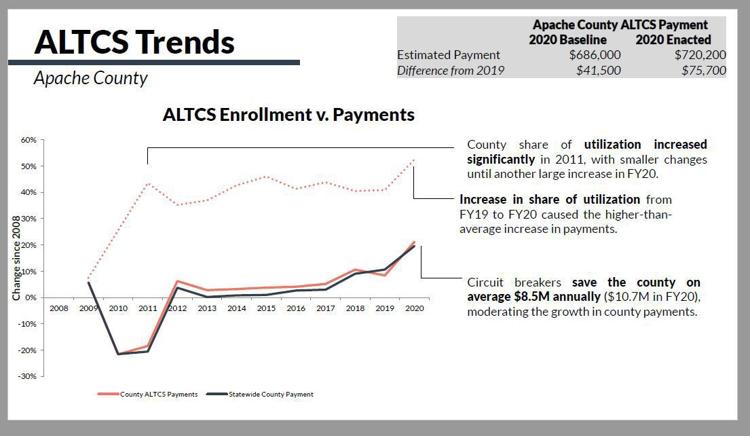 Apache County's in the same boat. The share of the bill paid by the county has increased dramatically in the past decade. This year, the bill came to $720,000 – a $42,000 increase from last year.
Statewide, the system costs about $1.2 billion, with the federal government paying a little more than half and the counties about 10 percent – or $134 million.
The County Supervisors Association has lobbied to keep the county share of the bill from rising too fast. It talked lawmakers into putting a "circuit breaker" threshold into the program, so county costs couldn't increase too much in a single year.
"If the counties did not have some protection, Apache County would have seen a $10 million increase over time – which obviously could not have been borne," Sullivan explained.
The 10 percent increase in costs this year – nearly three times the inflation rate – has been driven by enrollment increase, the increase in the minimum wage paid to many nursing home workers, and state increases in payments for providers.
"I think this is going to be an ongoing conversation going forward," said Sullivan.
Peter Aleshire covers county government and other topics for the Independent. He is the former editor of the Payson Roundup. Reach him at paleshire@payson.com