ST. JOHNS — Apache County has rehired in different positions its former sheriff and former chief deputy sheriff in personnel moves that have raised a lot of questions.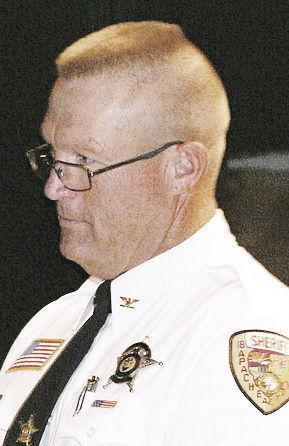 Former Sheriff Brian Hounshell, 52, of Springerville now serves as Apache County's Emergency Management and Preparedness director. He pleaded guilty on Sept. 27, 2007 in the Maricopa County Superior Court to one amended count of solicitation for misuse of public monies, a Class 6 Undesignated Felony. An undesignated felony in one which can be designated as a misdemeanor conviction if the guilty person completes his or her sentence.
In December of that year, Hounshell was sentenced to 12 months in jail and three years of probation. He was ordered to pay the Apache County Treasurer $15,000 in restitution. He was also ordered to complete 1,000 hours of community service. Hounshell was deemed eligible for the jail's work furlough program meaning that for five or six days per week, he could be released 12 hours per day to go to work. It is unknown what his job was at the time, but it appears that he paid the restitution at an ordered rate of $500 per month. The other ten charges a grand jury indicted him on were dismissed.
Hounshell successfully completed the terms of his sentence. The Class 6 Undesignated Felony that he pleaded guilty to was designated as a misdemeanor and in January 2016, the court set aside the judgment of guilt and dismissed the charge. Arizona law allows a person who is convicted of certain crimes to have the judgment "set aside," and the convict's civil rights restored, like the right to vote or to possess firearms, under some circumstances. The process has come to be known as an "expungement," but it isn't. Law enforcement can use the conviction to enhance penalties if the person gets in more trouble, and the very fact that Hounshell's case is being reported shows that there is still a record of it.
Hounshell is not an elected official so his salary isn't listed with the Arizona League of Cities and Towns. It is reported that the budget for that office is in the millions of dollars.
Former Chief Deputy Brannon Eagar
In March 2020, Apache County Chief Deputy Sheriff Brannon Eagar submitted to a polygraph examination as a routine part of his application to become the Town of Eagar's new chief of police. During a pre-exam interview, Eagar disclosed to the examiner that he had engaged in multiple sex acts with another person in a departmental vehicle while on duty. These acts, Eagar explained to the examiner, happened on and off for six years beginning in 2007.
He was not chosen as Eagar's new chief and retired from his position with Apache County. In the meantime, The Arizona Police Officer Standards and Training Board, AZPOST, got wind of it. AZPOST is the agency which certifies peace officers. Without a certification, no one can serve as a peace officer in the state. The board took up the matter on April 15, 2020 and nine of the commissioners voted to initiate proceedings against Eagar's peace officer certification. Four other commissioners recused themselves. Eagar is not listed anymore as being a peace officer.
Instead, Apache County reportedly hired Eagar for work in the Apache County road yard in Eagar, but a press-time check of county personnel does not list him. He first joined the sheriff's office in 1999.
The Independent periodically hears from residents of Apache County about their government, and to say that there is a huge amount of mistrust between the governed and the governors there is an understatement. A "torches and pitchforks" crowd are highly suspicious of anything county government does, and see a corrupt and good ol' boy motivation for just about anything the authorities do there. They legitimately ask whether the county could have found other qualified persons for the two positions stated, persons without the baggage.
In the case of Hounshell, he fought an 11 count criminal indictment for years, admitted his guilt to one reduced charge, and served his sentence. He paid a big price. He lost his liberty, his position, and reputation. An essential part of the criminal justice system is rehabilitation and it seems Hounshell has achieved it.
Eagar by all appearances served as a decent and capable deputy. Persons have claimed to the Independent that Eagar failed a polygraph test. He didn't. He told the truth, admitted his mistake, paid the price and moved on.
Private companies regularly re-hire employees who were terminated, if the circumstances permit; it seems Apache County does, too.
A larger question: When someone commits a crime like Hounshell or makes a big unprofessional decision like Eagar, must they or anyone else in that position wear the scarlet letter forever?