ARIZONA — Arizona may be "flattening the curve" of the pandemic but "we can't let up now," Navajo County Health Director Jeff Lee told the Navajo County Board of Supervisors on Tuesday.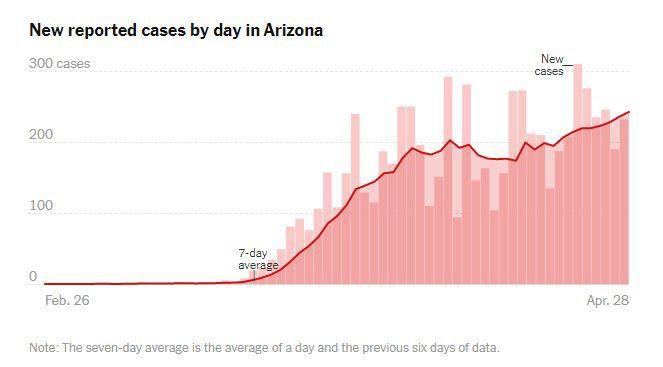 Navajo and Apache counties still have some of the highest per-capita infection rates in the country, driven by a major outbreak on the Navajo Reservation. However, the daily increase in new cases and deaths has leveled off and perhaps even begun to decline – both locally and statewide.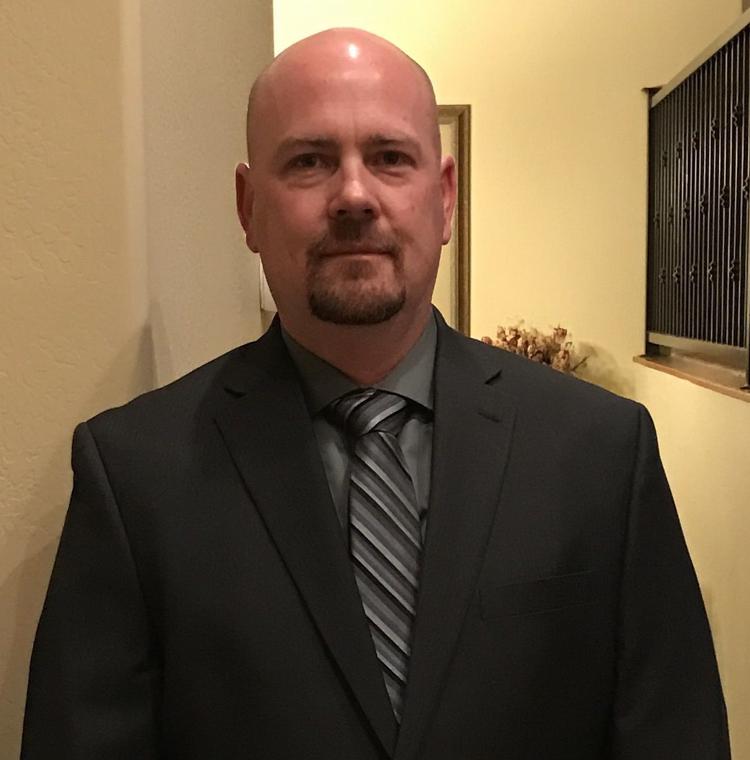 "What we do want our residents to know is that even though we have some positive indicators, the risk of exposure still remains high and we all need to take extra precautions. Physical distancing, keeping six feet from one another, washing our hands and disinfecting frequently touched surfaces and wearing a facemask when in public will help continue the positive direction and slowing the spread."
He the county will be increasing its capacity to test for the virus, the key to finding those infected in time to prevent them from passing it along to others.
Until recently, the guidelines allowed for swab-testing to detect an active infection only in those with serious symptoms. However, people can spread the infection for a week or more before symptoms develop. Some studies suggest half of those infected may have such mild symptoms they never know they're infected – and spreading the virus.
The state has now relaxed guidelines, so anyone with a doctor's order can get tested, with federally-mandated insurance coverage of the cost. The county last week received a rapid Abbott testing machine which can return same-day test results. Previously, the county had to send samples to the state lab in Phoenix, resulting in days-long delays in getting results.
"This will help our healthcare partners increase the testing capacity," Lee said.
Moreover, the county has partnered with University of Arizona to start doing antibody testing in the community – part of a statewide effort that will involve some 250,000 tests. Antibody testing can determine whether someone has been infected but recovered. It's reliable mostly 14 days after symptoms have gone away, since it looks for the antibodies the immune system produced to battle the virus.
Initially, the UA antibody testing project will focus on healthcare workers and first responders to determine whether they've recovered from an infection. Doctors hope that people will develop resistance to a new infection once they've recovered from an initial bout. This has proved true with many viruses – like measles – but less so with other viruses, like the flu. So far lab testing has shown that monkeys infected by COVID-19 don't become reinfected after they recover — at least in the short term.
The antibody testing could identify nurses, doctors and paramedics who have been infected, recovered and hopefully gained immunity. This could give them in advantage in working with COVID-19 patients in the future.
"This will be another tool to help us identify the virus in our community and help with additional research into antibodies and what that means long-term for the individual," Lee told the supervisors.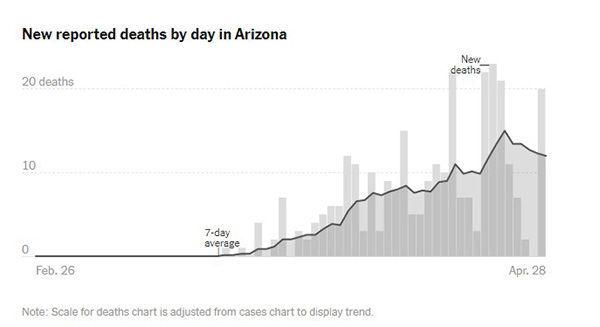 The State Department of Health Services website at midweek showed a fresh surge in deaths and infections, after an encouraging decline. On Wednesday the site listed 293 deaths since the start of the pandemic in Arizona, including 18 deaths that day – the highest single-day total so far. The statewide death toll includes 18 cases in Navajo County and five cases in Apache County.
The statewide number of new cases peaked at 349 on April 20, declined, then spiked again at 291 on April 24. Reporting typically lags by several days and bottoms out on the weekend, so its unclear whether the number of new cases reported daily has declined this week.
The state health site on Wednesday showed a total of 6,948 cases statewide. The fatality rate per 100,000 population stood at 4 statewide, 16 in Navajo County and 7 in Apache County.
The Navajo Nation had about 1,900 cases and 60 deaths in Arizona and New Mexico as of April 28.
Figures released by the federal Centers for Disease Control this week concluded that the official death toll's probably too low. The CDC reviewed overall death records in seven hard-hit states and found far higher than normal death rates from all causes. This could indicate that official national death toll of some 53,000 is perhaps 50 percent too low. The official death toll mostly captures people who died in the hospital, with many others dying at home and never getting tested.
Lee said, "… we can't let up now. We don't want to slip up and give this virus an opportunity to do what it wants to do and spread faster and wider than it already has. We see the devastation that it can cause and we don't want that to be us."