PINETOP-LAKESIDE – The Pinetop-Lakeside Historical Society (PLHS) held their annual general meeting on Oct. 14 at the Timber Mesa Fire and Medical District Station 13 in Lakeside. Like many of their meetings, a special person was recognized. This time, and not her first recognition, was Museum Director Georgia Dysterheft.
President Kirk Webb surprised Dysterheft with a special plaque which was made from one of the two crab apple trees on her property that had to be cut down recently.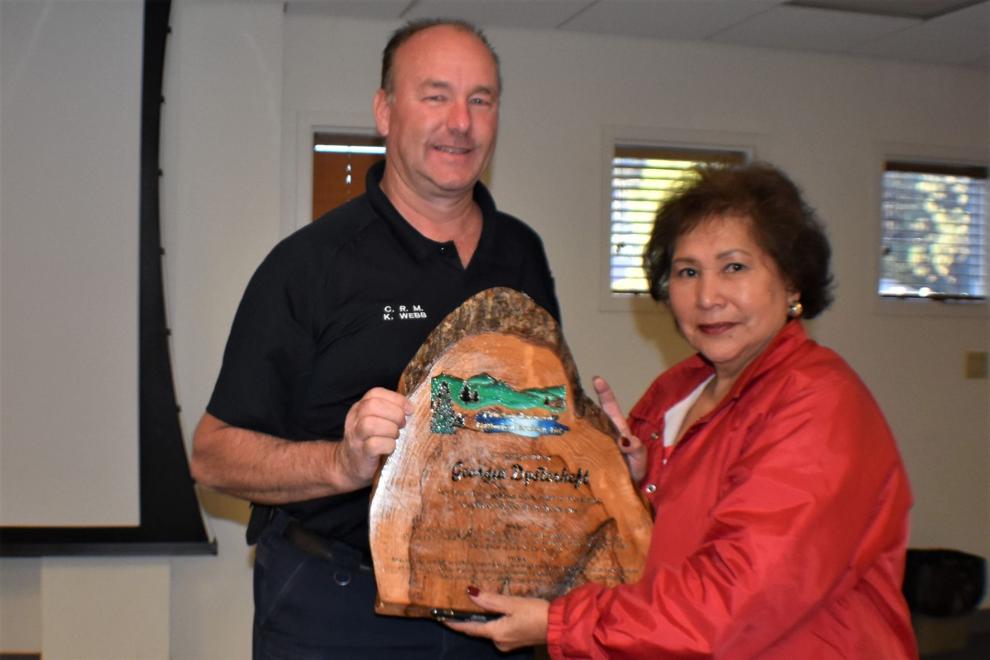 After Webb had cut down the tree, he said he thought to himself that this was excellent wood and that it would make a great plaque. He said he didn't know how long crab trees live but these two were around 60 years old. He said he felt like he was cutting down a piece of history after Georgia shared with him the story of the trees. He said he wondered how he might be able to tie it together.
Dr. Dysterheft, Georgia's late father-in-law, came to McNary and served as a physician at the clinic in the 1940s, a time when the town and the sawmill were thriving. He worked and served the people of east central Arizona and western New Mexico for nearly 50 years. He was a big part of the history of Pinetop-Lakeside and the White Mountains.
In a book Georgia wrote about Dr. Dysterheft's life, "Dr. 'D'," she began with his childhood in Minnesota through the McNary years and then his final years in retirement at the Lakeside farm.
Georgia told Webb that when "Dr. D" and his wife Mildred had bought their Lakeside property and began planting trees and shrubs, his sister in Minnesota sent him a start of a crab apple tree.
In 1999 Georgia and her late husband Gordon moved from Flagstaff into the Dysterheft farm in Lakeside where the crab apple trees were.
Webb's own family dates back over a hundred years in the area, and he has a true appreciation for the area's history.
"I took a section out and sliced it and had one made for Georgia, and another to put at the museum which will be on a standing wedge," said Webb.
I contacted the Krings (Erika and Greg Kring of Design Etching & Awards) who said we could do it," said Webb. "They sandblasted it and did the work at their place. They hand painted it."
"It was hard wood — solid," said Erika. "It reminded us of mesquite and walnut."
The PLHS mission and vision statement is on the plaque: "To collect, preserve and exhibit historic artifacts, documents and photographs of Pinetop-Lakeside and the surrounding area."
Webb told Georgia, "I believe you have fulfilled the vision and mission statement."
The second plaque can be seen at the Pinetop-Lakeside Historical Museum at 1973 Jackson Lane in Lakeside. The museum is currently open on Wednesdays from 10 a.m. to 2 p.m.