SNOWFLAKE—Two prominent Snowflake politicians have taken different sides with regard to Proposition 207, which would legalize the "adult use" of marijuana in the State of Arizona, called the Safe and Secure Arizona Act. Technically, the measure would amend current medical marijuana laws. State Representative Walter Blackman who represents the people of Legislative District 6 in the Arizona House of Representatives urges voters to vote no. By contrast, former Snowflake Mayor Thomas Poscharsky, and now "Mayor Emeritus," urges a yes vote. A similar proposition failed in 2016.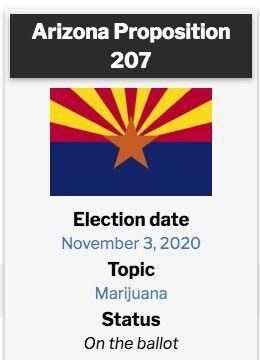 In the "What's On My Ballot?" pamphlet from the Arizona Secretary of State regarding the upcoming Nov. 3 election, observers write their arguments or recommendations for or against the propositions which have made it on the ballot through what the Arizona constitution calls an "initiative." That is a process whereby registered voters gather enough signatures to enact a statewide law, circumventing the usual process in which both houses of the legislature pass a measure usually by majority vote and the governor signs it.
In this election cycle, the pamphlet identifies two propositions. One deals with new taxes to raise money for schools, which arose out of the so-called Red for Ed movement, Proposition 208. The other proposition, 207, legalizes marijuana for adult users and allows persons convicted of marijuana crimes in the past, which would no longer be crimes, to petition a county superior court "to have the record of that arrest, charge, adjudication, conviction or sentence expunged," according to the proposal.
Former Mayor Thomas Poscharsky is all for it. He wrote that four years ago when he was mayor, the town council voted to issue special use permits for two medical marijuana growing facilities, and that "one of them is the largest employer in Snowflake." Poscharsky stated that the special use permits "has had the biggest positive economic impact in Snowflake in decades," and that the facilities are "responsible corporate citizens and provide good paying jobs with benefits to our citizens. Our younger people can stay in the community and enjoy our rural setting and lifestyle." It seems that he presumes that the legalization of marijuana in the state would keep the two growers in Snowflake prospering.
Rep. Blackman takes a different view. Citing an associate professor of psychiatry at Harvard Medical School, Blackman raises an alarm about the affect marijuana has on a brain before it is fully developed around the age of "the late 20's." He urges that brain development is inhibited by marijuana, that " the brain is altered and often damaged, and permanent IQ loss and long term dependence can ensue," he stated. Blackman concluded his remarks by saying that "Arizona can and MUST (sic) do better to protect our children and our future. I'm urging you to vote NO on prop 207."
Another prominent Arizona pol weighed in to support the measure. Former Arizona Gov. John Fife Symington III wrote that the measure as written strikes an "appropriate balance." One of the Snowflake grow facilities that Mayor Poscharsky referenced is operated by a company led by J. Fife Symington IV.
For a full reading of the lengthy measure (it's 23 pages long) visit azsos.gov, click on general election publicity pamphlet.