SHOW LOW — A protest that included people from out of town along with local residents ended completely peacefully Thursday evening, June 4.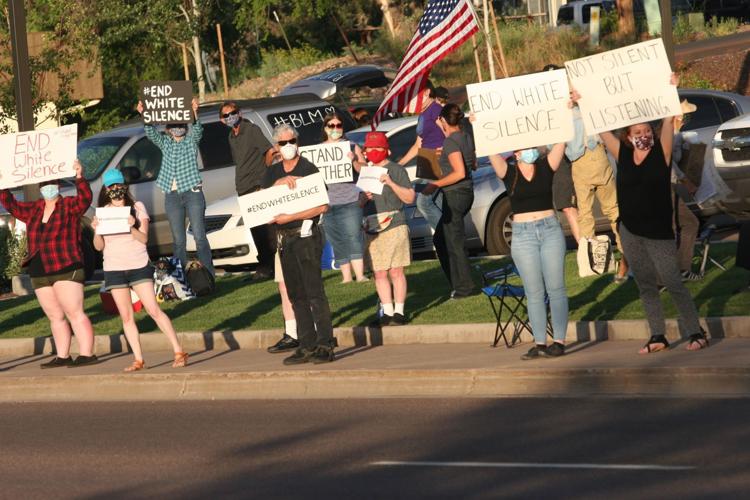 It was one of many such protests in the wake of the May 25 killing by Minneapolis police of 46-year-old George Floyd, a black man.
All four of the officers involved in Floyd's killing have been charged with murder and are being held on heavy bonds.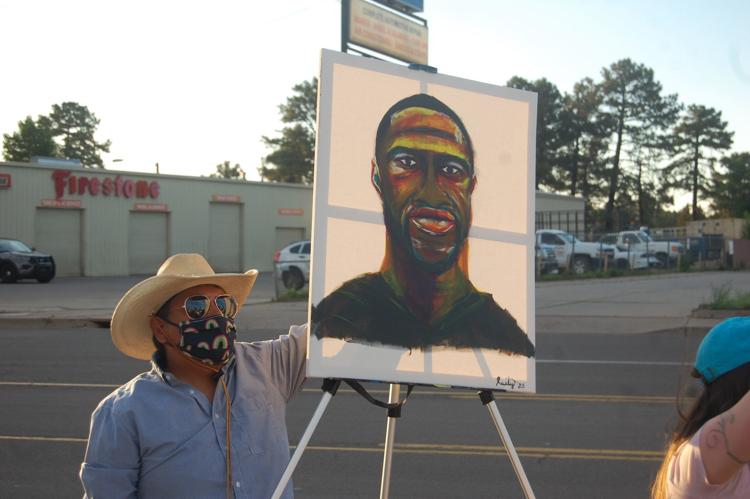 The second of two protests (the first Tuesday, June 2) was on Thursday, June 4, which began at 6:30 p.m. in front of the Public Safety Headquarters building on the Deuce of Clubs with about 45-50 protesters participating.
A nearly equal number of local young people marched in protest in a loop around government buildings that included the police headquarters.
One of the main points of those participating in the protest organized by Showing Up for Racial Justice (SURJ) was that, "This is not just about George Floyd. It's about Breonna Taylor and Ahmaud Artery, and the centuries of violence against black people and communities of color by the police," said Kim Whitley to the protesters and anyone else in hearing range.
"It is about what happened in Central Park and a throughline to Trump and white supremacy. This is an opportunity for us to change the conversation. We are asking for something simple that everyone can do," Whitley said.
She said that people need to be more fully committed to societal and law enforcement reform/change and for people who are not of color to take a moment to consider that the protections they expect from government is not always metered out fairly sometimes to minorities.
"George Floyd, Breonna Taylor, Eric Garner, Michael Brown, Ahmaud Arbery and our own Dion Johnson did not have that privilege of feeling protected by law enforcement," Whitley said.
She went on to say that people need to be in active conversation, to read about and get the facts about racism and violence associated with law enforcement in connection with minorities, and to speak up about it.
The vast majority of cars and trucks that drove by on the Deuce of Clubs either honked or waved in support of the protesters.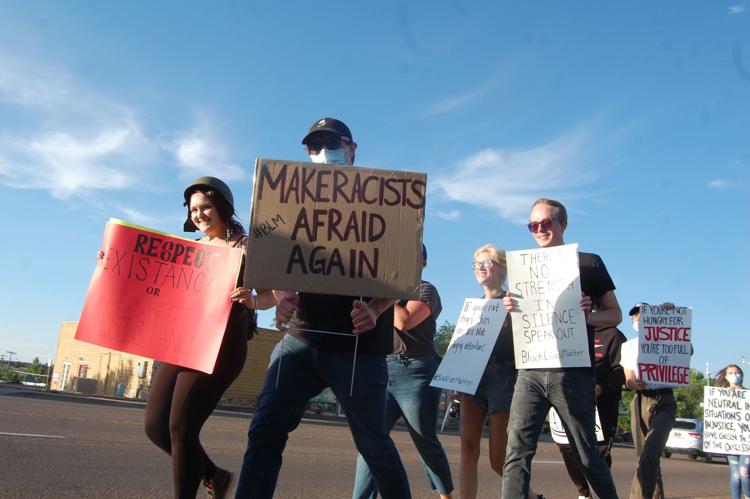 There were a few that revved engines loudly, gave protesters the bird, or yelled at them, but those were far and away the minority, not the majority.
Some of the chants by protesters included, "Gay, straight, black, white, same struggle, same fight", and "Silence is violence."
Protesters ranged in age from young to old.
Jackie Day, Outreach Coordinator for Indivisible, a nationwide movement of thousands of volunteer-led local groups to defund ICE, CBP, and deportation, spoke to the death of Dion Johnson on May 25 by an Arizona Department of Public Safety Trooper who shot and killed Johnson after the black man allegedly reached for a firearm.
That incident is currently under investigation.
"It's not OK that his family has no answers (from law enforcement)," Day said.
A man of color from Maine making a delivery in Show Low said he could feel the energy of the protest as he drove by and had to stop and join in.
Asked if he felt encouraged or has hope for the future by what has been happening all over the nation in the wake of the killings of Artery, Floyd, Johnson, and so many others, he said he is, but like other people of color is guarded about it.
"Most people of African descent are worried about justice," he said. "But I think things will start to change now."
Show Low Police officers, not in any kind of riot gear or anything, but in normal uniforms stood watch from a distance to make sure the protest went peacefully which it did, ending by 8 p.m., the time set by Arizona Gov. Doug Ducey for a temporary statewide curfew.