PINETOP-LAKESIDE — On the heels of a zoning approval on Vallery Lane in Lakeside from Open Space (OS) to Recreational Vehicle Park (RVP), owner Brett Cote requested another zoning change for 10.17 acres of property he owns on the corner of White Mountain Road and Wagon Wheel Road, adjacent to Camp Grace, from OS to Light Commercial (C1) zoning. The change was heard at the June 25 Planning and Zoning meeting and was denied, not because the commissioners did not think it should be zoned commercial in nature, but because it lacked a specific intent for its use.
Community Development Director Cody Blake told the commissioners that Cote had no specific use for the property but wants the zone change to make the property more marketable for potential buyers looking for commercial property. Blake said since it is highway frontage property he believes commercial would be the best use. He said Cote's hope is to market it to a hotel or resort.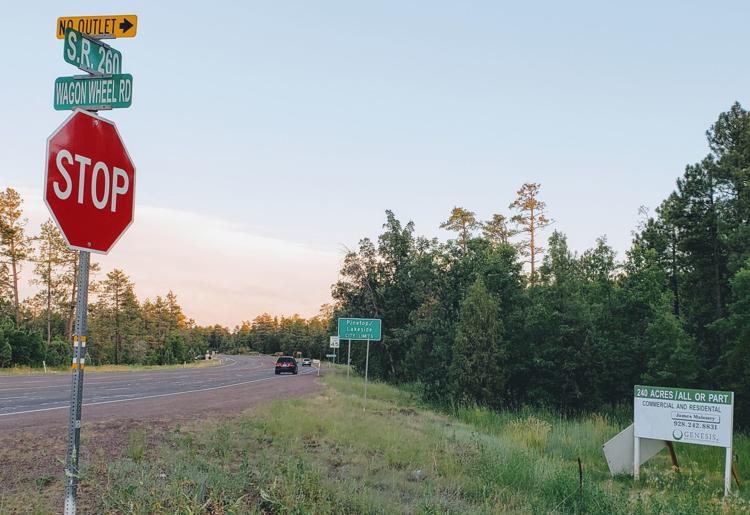 Blake explained that this parcel was part of the Forest Service Land Exchange and up until two years ago when Cote bought the land and split it off into sections, it had the OS designation.
"When it changed from federal land to private land, it virtually became an unzoned piece of land," said Blake. "Really right now there is no underlying zoning because of the change from federal land to private land. Under The general plan it states we can't designate private land as Open Space without written permission from the property owner to do so. By state law, at best right now, it is a one acre piece of residential land that Mr. Cote owns.
Though the usual practice for the town is to change zoning if there is a specific use for the property, Blake said there have been exceptions. The idea for exceptions came from a similar situation the town dealt with on Woodland Lake Road.
Opening up the meeting to a public hearing the first to address the commissioners was Mr. Kim Mattice who owns 20 acres of property across the street from the 10.71 acres requested to be rezoned. Mattice has his home and a pond on the property. It is zoned commercial/residential, meaning it can be used as either. Blake said Cote and Mattice have been in conversation regarding the kind of things that Mattice objects to being on the 10.71 acres with a C-1 zoning. Among the types of businesses they agree to exclude are bars and liquor stores and stand alone bowling alleys, miniature golf courses, and pools halls – the last three Mattice has excepted if they are part of a resort hotel facility for guest use only. Mattice also wanted to exclude drive through restaurants, grocery stores and a few others to which Cote did not agree.
Blake explained that in a situation like this the Commission would make a recommendation to town council to approve the zone change with those exceptions. He said the recorded document would be part of the zone change approval that would limit the uses on that property. Chairman Adam Staley added that it would be enforceable and the limitation would have to be complied with.
Mattice, armed with excerpts from the general plan and the town code ordinances, reminded the commissioners what the voters approved in 2015. He said that one of the primary purposes of the town is to watch out and protect for contamination of other properties by odor, noise, glare and light and to protect existing properties from adverse impacts created by new adjacent uses. He also pointed out that according to the requirements of Planning and Zoning and the Community Development Department, the application must be complete, dated and signed and accompanied by a site plan which it is not.
"Let's just throw it out here on the table," said Mattice. "I have a 10 acre piece of land in Pinetop-Lakeside which is probably one of a kind. It's very unique, it's very beautiful. I have probably about 700 feet of frontage on Wagon Wheel Road. Normally this would not be a problem. If you look at the plat map that has been submitted, the Atrium building that you all are familiar with is 186 feet deep and this property on Wagon Wheel Road goes back almost 700 feet. At the farthest point from the front corner to the back, goes back 965 feet — almost a 1000 feet. Most of our commercial zoning in Pinetop-Lakeside is 200, all up and down the highway is 200, occasionally 300. The Maverick store is 248. OK the only one that is different perhaps, mentioned by Mr. Blake, is The Hub, which is a unique property located in the county. The properties that are in the Town of Pinetop Lakeside are generally 200 feet – very rarely do you see one deeper than that."
He said if Cote's parcel is approved as C-1 he can put anything he wants on it.
In closing Mattice asked, "Will the proposed change adversely affect property values in the neighborhood? We have several professional realtors here, I don't need to tell you what is going to happen to my twenty acre parcel in terms of the value if you zone Mr. Cote's property as C-1. The code basically requires that you not give preference or privilege to one citizen or one owner of a property versus another. If you classify this property as C-1 you will devastate the value of my property and on the other hand you will increase the value of Mr. Cotes property."
Following Mattice, Michael Zimmerman spoke. "I am heretofore the anonymous owner of the properties on the north side of Wagon Wheel Road behind The Atrium. Either myself or my family owns all the property up between and to the Atrium and Mr. Mattice. It is all used for residential. We have no intention nor have we asked for it to be changed from a residential zoning. We do believe that this kind of development poses a huge burden on the area. We go from black skies to completely lit up with a commercial proposal, and let me be clear, we are not opposed to development of the property. We are opposed to a blank check for anyone to put anything that they choose to put in there. I commend Mr. Mattice for negotiating with Mr. Cote on the exclusions. We support those."
Invited to the podium, James Maloney, Genesis Realty, who has vast experience with commercial properties in the area and represents Cote's property listing, said that though the property may be deeper than other commercial properties on 260, Cote believes the best use of the property is commercial. He said most everything along 260 is commercial. Maloney said from his experience, a developer is not going to want to purchase the property without the zoning in place and potentially have issues with the town. Maloney said he understands some of the neighbors concern and that Cote has been working with them on a list of things that would be allowed on the property but a site plan would still have to be presented to the Commission for review and approval and to Council.
Maloney indicated the main advantage of getting the zoning approved now is so that the property could be marketed and a developer would know it is zoned C-1. A developer would not want to spend a lot of money and then find out that the Town would not approve a zone change.
Most of the commissioners agreed that without a specific use of the property they were not comfortable with the rezoning.
Though a motion was made to deny the C-1 rezone, Staley made a comment before the vote. He went on record stating the commissioners did not deny the site for C-1 zoning. He said they think it is appropriate zoning for that parcel, but they just want to know what type of business would be going in before approving the zone change, which he believes is challenging for the commission and for the town.
There were five yes votes, one abstention by Commissioner Larry Agan and Commissioner Larry Smith was not in attendance.