PINETOP-LAKESIDE — Though many anticipated they should arrive extra early for the June 18 council meeting in order to secure one of the 24 seats available due to COVID-19 limitation, it was not necessary. Only a few had to wait for a turn but most were seated for the entire meeting. The draw was Item D. 4 of the agenda regarding a public hearing and consideration for the rezoning of 25.5 acres on Vallery Lane from Open Space (OS) to Recreational Vehicle Park Zoning (RVP). And, after 2 hours and 29 minutes and 10 seconds, the meeting ended with the council having unanimously approved the rezoning.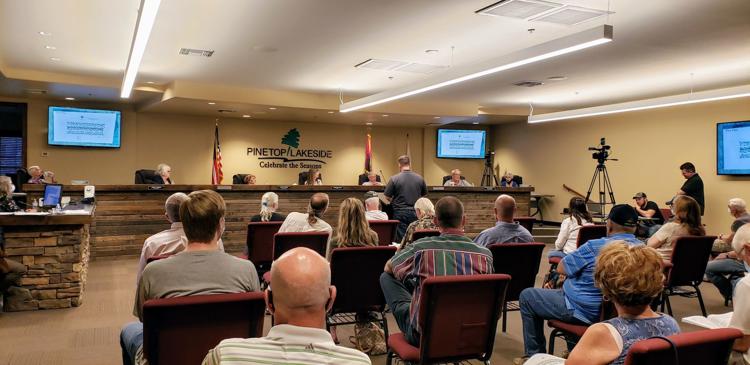 Community Development Director Cody Blake began by explaining the general requirements of RVP Zoning which dictates that each RV space must be at lest 30 feet wide and a total of 1500 square feet; a minimum of 15 feet between each parked RV; the park screened from adjoining lots by a solid 4 to 6 foot wall; it must be on a minimum of 5 acres of land, and must have 30 percent open space, exclusive of roads and parking spaces. Open space for the 25.5 acres is approximately 7.65 acres.
Blake said that the developer, GJR Properties, plans on 1800 square feet for his RV spaces which exceeds requirements. He also said the developer is purchasing an additional 14.5 acres which he is not planning on rezoning but keeping for himself and his partners who plan to eventually live here.
The application process for rezoning began in September 2019 with a Planning and Zoning meeting set for Oct. 24. A packed-house meeting was filled with nearby residents who owned property surrounding the 25.5 acres to be rezoned. Unfortunately, the meeting had to be rescheduled for Dec. 12 due to the town and developer having received Navajo County's requirements just the day before.
On Dec. 12 residents were advised at the door, before the meeting began, that the developer had withdrawn his application due to access issues.
On June 1, 2020 residents within 300 feet of Vallery Lane were notified by letter that a June 11 Planning and Zoning meeting and public hearing for the same 25.5 acres would take place. A new park access point was listed as a 50 foot easement off of White Mountain Boulevard. Thirteen people spoke at the public hearing relaying their concerns with the rezoning but in the end, five of the commissioners recommended that the town council approve the rezoning with a stipulation that there be no permanent residences and no skirting or decks allowed, making it a seasonal park. Commissioner Alison Stewart abstained due to her real estate company's representation of the developer and Commissioner Tim Williams was a nay vote.
Rob Ingels of the People's Voice Committee (PVC) asked at the June 11 Planning and Zoning meeting whether or not the approved minutes of the June 11 meeting would reach the councilors in time for review before the June 18 council meeting and public hearing. Town Clerk Jill Akins acknowledged they would receive draft minutes in advance.
As the June 18 meeting got underway, Community Development Director Cody Blake began by listing some of the concerns citizens had brought up regarding the rezoning. Those ranged from noise; lights; density; rezoning of Camp Tatiyee; rezoning of 360 acres, not 25.5; a 2-lane road being added between Camp Grace and Camp Tatiyee; access to trails; open space designation and a Forest Service stipulation that the land could only be used for low density development.
Answering the issues in order, Blake said the town has a noise ordinance; the town has a dark sky ordinance which addresses lighting regulations; there is no re-zoning of Camp Tatiyee; zoning is only for the 25.5 acres, not 360; no 2-lane road will be developed between the camps as owner Brett Cote is donating that parcel to the town and they will not allow it to be a thoroughfare; there will be access to the Rim Road which many use as a trail and the actual Rim Trail has an easement to it from the Forest Service — both will will be maintained for public use; an open spaces designation cannot be done legally by state law unless there is consent from the landowner, and as to low density, the Forest Service Environmental Impact Statement states that use of land conveyed out of federal ownership becomes subject to local and state laws, regulations and zoning.
One of the most pressing issues from citizens is the OS designation, which if changed, they believe will affect their neighborhood in a myriad of ways.
Councilor Kathy Dahnk asked Blake for a definition of Open Space. Blake said that it is basically federally controlled land although in a development, with permission from the owner, they can use that designation for areas such as ramadas or dog walks.
Councilor Lynn Krigbaum asked, "Is there anything like a conditional acceptance of a zoning change?"
Blake said it could be done but it puts the developer in a bind if the zoning approval is based on the site plan and it is not approved; he said if the developer is required to stick to the code it would not.
Councilor Jim Snitzer, who previously served as a member of Planning and Zoning, cautioned everyone before and during the public hearing that many of the concerns being brought before the council are actually site plan issues and have nothing to do with the legal issues of rezoning. He also stated he believes in this situation if the zoning is approved that the normal path should not be followed and as an exception, the site plan should come back before the council so they have the ability to react to the actual site plan.
Mayor Stephanie Irwin said there had been some discussion about that. "This is a very important issue," she said. "We need to make sure the citizens' concerns are being met as much as possible along of course with the developer's interest. We all have to work together on this."
In addition to questions posed and answered by Blake, councilors also sought answers directly from GJR Development's James Gappmayer, purchaser of the property from owner Brett Cote who said he believes that with the surrounding Family Fun Park and the Maverick Center the RV park is the best use of the property and the developer is the right purchaser.
Eight residents claimed their five minutes in hopes the councilors would either delay their decision or consider their concerns and deliver a no vote. Most who spoke reiterated the same pleas they had laid before Planning and Zoning.
The motion was made to approve the rezoning from OS to RVP with the conditions that there could be no skirting, no out buildings and no occupied RV beyond nine months.