PINETOP-LAKESIDE – Community Services Manager Tony Alba told the mayor and councilors at the Nov. 5 bi-monthly meeting that it was just about a year ago that the Advertising and Promotions Committee was disbanded and those duties placed in-house. Things were going well with the transition and they were on track when COVID-19 hit. Making a course correction, Alba and Visitor Center Manager Annie DeRosier adjusted their focus and are cautiously optimistic about moving forward with their marketing and tourism plans.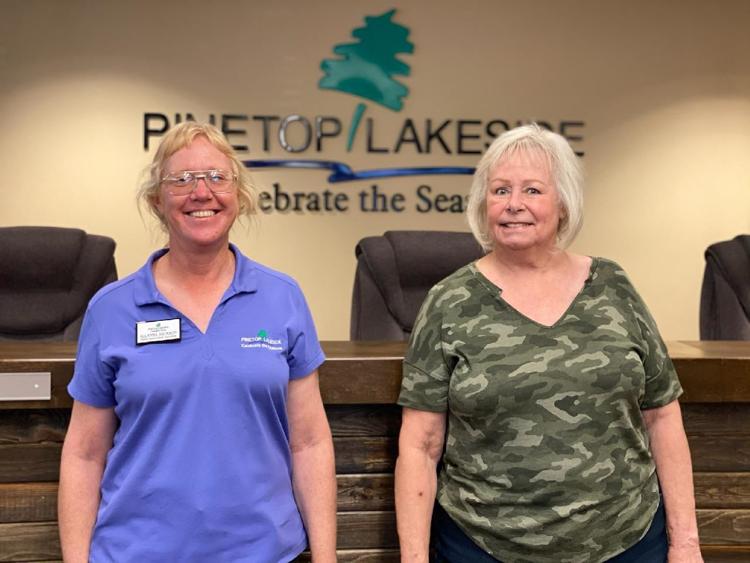 Alba was happy to say his department put on three successful events for the community — the Christmas tree lighting, a modified Santa's White Mountain Adventure and the Chili Cook-off — before COVID forced them to shut down the Visitor's Center on March 20. That action suspended their efforts for nearly three months. Alba said events throughout the region were cancelled, and still are, and the decision was made to curtail advertising efforts off the Mountain.
"Our focus really changed from marketing our town as a visitor destination to making sure businesses understood what was required of them," said Alba.
Alba and DeRosier personally visited 38 local bars and restaurants.
The Visitor Center was reopened on a limited basis in June and as of last week is now open full time. They managed to pull off a safe and successful drive-through Trunk or Treat on Halloween night at Mountain Meadows Recreation Complex with the help of community businesses.
"Throughout the COVID-19 pandemic, believe it or not, tourism remained strong," said Alba. "People came earlier and they stayed longer. The drastic reduction in the tax revenue that we expected, so far, we have not realized that decline. So, we are moving into winter season with cautious optimism. We are hoping for a good winter season and we hope that our tourism numbers remain strong."
DeRosier began her presentation speaking about the 2019 two day brand discovery workshop which was held with community stakeholders. Information gleaned from that event, along with a post survey, provided data to define the town's brand, market position, target audience and the foundation for defining the values, assets, tone and personality of Pinetop-Lakeside. The next step will be to finalize the brand, create a brand standards guide, a campaign approach and communications guidelines which will be done by working with Larry John Wright Advertising out of Phoenix. The goal is to provide a unified look and message to reach the right audience.
Social media was kept up during COVID-19 with Larry John Wright providing a message which basically reminded visitors the town was on hold and then opening the door with a welcome and information on the safe guidelines.
DeRosier said that since they cannot predict 2021, and with social media being so unpredictable, their focus will be the website and email.
Following the onset of COVID, DeRosier said they began driving traffic to the website. Today they would like a stronger conversation with visitors through email and the website and will work towards building up their email data base this next year. They will still do banner ads and pre-roll and having tested their email campaign with a radio station which ran through NPR, are happy with the results they obtained.
A video series had begun before COVID and DeRosier said they are resuming the series this next week which identifies our community through the personal stories of local people.
DeRosier said the website is forever a work in progress but is serving a purpose, which it did even when the Visitor Center was closed. During that period 118 requests for information were received through the website.
Reducing the space of the Visitor Center when it first reopened as a safety measure, DeRosier said their numbers were down. But in August they had 480 people come through the door, a 30% increase over last year, and September showed a 43% increase over last year.
"Two weeks ago we opened up the whole space, plus added rack cards from the Chamber of Commerce and expect the later half of 2020 to be strong," said DeRosier.
DeRosier said the number one thing people ask for when they come to the Visitor Center is maps. Pinetop-Lakeside partnered with Show Low on a map with all the streets on it through Meade Publications.
People are also looking for activities that allow social distancing — hiking, lakes, camping and RV locations. DeRosier said there are not enough RV locations. She said they show images of camping and RVs but there is not enough infrastructure to support that activity and there is nowhere for the people to go.
"I think that it is important as we work really hard to get a message out there that we just keep in mind getting the businesses that support that marketing messages because the demand for that activity is not going away," said DeRosier.
Last year they received a lot of real estate inquiries but this year they are getting 20 plus a day from people who want to relocate here. The plan is to set up a special business section for someone who wants to relocate.
Suzie Anderson and Allanna Jackson are the Visitor Center ambassadors who are part of the reason visitors return, said DeRosier.
She said the two of them are a great team, taking as much time as is needed with the people. She said Allayna knows all the local trails, and between the two of them, they can help a visitor plan their itinerary for their entire visit.
DeRosier said they are presently looking for inspirational ideas for the Christmas event which will keep everyone safe.
Following Alba and DeRosier's update on marketing and tourism, the town also approved a one year contract renewal with Larry John Wright Advertising.
The advertising and marketing company has worked with the town since 2012 and, according to Alba, is always available to go above and beyond what is required of them. They were selected from one of five agencies who responded to the town's Request for Qualifications.
The contracted amount is for $30,000 for their retainer and $78,000 for off-mountain advertising. The contract agreement carries four automatic one year renewal options unless terminated by either party.