SHOW LOW — Transitional housing can be an effective way to help people get their life back on track, according to the White Mountain Coalition Against Homelessness. That's why the coalition's board, the Salvation Army, Christian Community Outreach and other local partners are working on a capital campaign to raise $700,000 to purchase the property at 40 South 11th Street, formerly Jefferson Academy school.
The clock is running out for 17 people residing at Mountain Haven Inn in Pinetop. They are enrolled in the Salvation Army's transitional housing program. Almost half of those residents are children who are counting on the coalition, the Salvation Army and others to sa ecure a new housing facility by Dec. 1, because fire code issues at Mountain Haven Inn are forcing the program to move.
The first step in their process is a public hearing with the Show Low Planning and Zoning (P & Z) Commission. The coalition began providing information to the downtown Show Low neighborhood in which they hope to purchase the new facility.
"This is short-term transitional housing, not an emergency shelter," explained coalition president and former Salvation Army Pastor Dave Sherman.
The 90-day program is described as "a stepping stone to a better life for those whose lives have been turned upside down by circumstances...".
Sherman and Salvation Army Case Manager Maria Stokes spoke openly and candidly to an audience of about 50 people gathered Wednesday, Nov. 6 in the council chambers.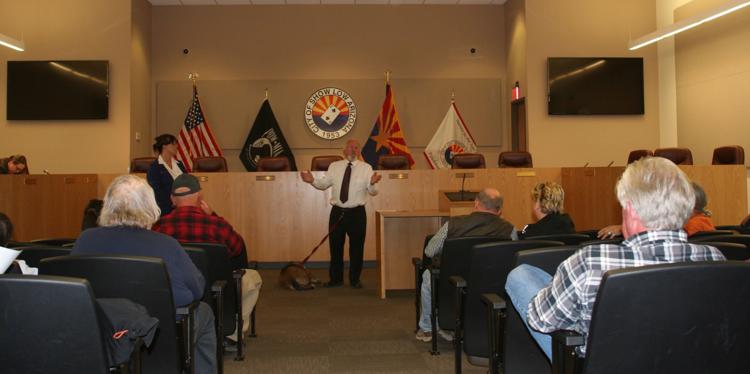 It was the first formal community meeting organized by the White Mountain Coalition Against Homelessness regarding a proposed zoning change from C-1 Neighborhood Commercial to C-2 General Commercial. Such a zoning change is required by the city code for transitional housing and homeless shelters.
"C-2 zoning has all of the uses of C-1 plus additional uses," explained Planning and Zoning (P & Z) Commission director Justen Tregaskes. The city code lists over 100 permitted uses in C-2.
Show Low City Code doesn't reference transitional housing. It does, however, provide a basic definition for a homeless shelter: "A class of residential facility which provides temporary, transitional and/or residential services to homeless individuals and/or families for a period not exceeding a twelve-(12) month period. A homeless shelter primarily offers food, shelter and other support services needed to transition the individual to self-sufficiency."
The neighborhood contains several residential homes and some small businesses including Sunshine Herbs, the UPS customer center, an archery shop, a dental office, Aunt Nancy's Restaurant and others.
"We have a 78 percent success rate of people getting into their own housing within 90 days – and that's without any government assistance," Sherman shared with the audience.
"This is my passion because I was homeless at one time in my life," Sherman explained. "I wasn't a drug addict. I wasn't a bum; I was just in a situation that can happen to anyone."
"We want to buy this building because it suits our needs well and we want to be fully invested in the community," assures Sherman.
Salvation Army Case Manager Maria Stokes explained how the program is structured, from intake to application review and resident rules.
"Our program has 32 written rules; it's not just a fly-by-night program," says Stokes. "This is a clean and sober program. No alcohol or drugs are allowed and there are not exceptions."
"Once the person goes through the intake process with me, we do a background check. They cannot have any warrants, nor can they be a sex offender," she adds. "We don't allow anyone to 'camp outside' and stringent job searches are required, six days a week."
"The transitional housing program is a hand-up, not a hand-out," Stokes assures.
Testimonial was also given by men and women who had gone through the program successfully. "It really helped me get on my feet and get where I needed to be," said "Danny J" during the meeting.
"This program gives people the opportunity to have a new life," says Georgette Hill. "It's also a working program; you can't sit down," she adds.
During the meeting, there was strong opposition to the proposed zoning change by residents living closest to the property. They said they supported the mission to help those in need but felt transitional housing was not appropriate or safe in a residential area.
"You've got a good thing going but just not in our neighborhood," conceded area resident Cynthia Whipple. "This is a secure, safe location for our families and we need it to stay that way."
Whipple suggested that the housing program would "attract crime" and was adamant that, "As a citizen of the community, I oppose the location."
Greg Kozakiewicz, who lives on 11th Street, a few doors down from the property, said the neighborhood "already has enough problems."
"We came up here to Show Low in 1983 for rest and relaxation but you took a nice residential neighborhood and turned it into a commercial zone," says Kozakiewicz. "The problem you are not looking into is the park. The kids love it but so do the druggies."
The resident implied that such a facility would compound area drug problems.
"We are not going to contribute to the problems that already exist in the neighborhood," assured Sherman.
Neighbors also had concerns about property values going down and taxes going up as a result of a transitional housing program.
"The problem is that if the zoning change gets approved, we will be stuck with the higher taxes and the homeless," says Whipple. "If you outgrow your building and move then we are stuck with zoning that we never wanted and we won't be able to sell our property."
"The tax rate is set by the county assessor," informed Planning and Zoning Commission director Justen Tregaskes. "I'm not sure if the property taxes would go up or down based on a change from C-1 to C-2 zoning."
Resident Pam Jones echoed Whipple's concerns, adding that they have lived in the neighborhood for years. "We were told that our kids and grandkids won't be able to play in our backyard if the program moves here," says Jones.
"I just want that to be made known and I am going to take a stand," Whipple said. "I'm all for helping people, I believe in that, but I do not support this in our neighborhood."
The neighborhood meeting was the first step of many required to change the zoning.
According to Tregaskes, the coalition has yet to apply for a zoning change hearing. Once that occurs, residents and businesses within 300 feet of the proposed property are notified.
Additional public hearings will follow and then the P & Z Commission will make a recommendation to the council to approve, deny or modify the zoning request.
If the zoning change is approved, the coalition must apply for a conditional use permit through P & Z who will again make a recommendation to the council on how to proceed.