ST. JOHNS—Monday's case management conference in the Apache County Superior Court in the murder case against Joshua Richardson produced nothing except continued anguish upon the family of the murdered TerriLynne Collins, 46. The mother and wife was shot in the forehead and killed at her family's property in Concho, allegedly by then-14 year old Joshua Cade Richardson in October 2017.
Authorities believe that Richardson, a troubled youth and wayward neighbor, entered the Collins' home, wearing a ski mask, and armed with knives and a hockey stick with the intention of stealing property, namely car keys to a car parked outside. They say that Mrs. Collins tried to reason with Richardson and displayed a firearm which Richardson managed to take from her. He then allegedly killed her with a single gunshot, point blank to her face. Her daughter was outside at the time of the murder, as was a daughter's friend, say the authorities. Richardson has been a juvenile jail in Coconino County ever since.
Almost three years later, the case is no closer to closure and the Collins family remains exasperated and disappointed, as they have been at nearly every turn. The widower, Ernest Collins, Jr., a lawyer in the Valley, claims that the whole process has been a serial miscarriage of justice, and he simply "doesn't understand" why this case has not been taken to a jury trial by this time, he said in an email he shared with The Independent.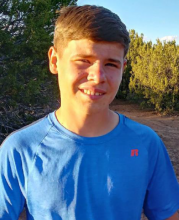 The first degree murder case looked like it was resolved last year after a number of settlement conferences, and Richardson actually agreed to a plead guilty, but that's when the wheels fell off this case. Ernest Collins says that he reluctantly agreed with the county attorney's office that Richardson would plead guilty to second degree murder with the range of sentence to be be between five and 25 years in prison, with the judge to decide the exact length of time Richardson would serve. Second degree murder occurs when someone, without premeditation, "intentionally" causes the death of another person, according to Arizona law. The sentence for second degree murder is either life in prison (25 years) or natural life, meaning just that. First degree murder is a premeditated act, and carries a life sentence as well, or death, but a death sentence is not available if the perpetrator was a minor at the time of the crime, which Richardson was. They are both Class 1 Felonies
But on the very day Richardson was scheduled to plead guilty, Collins who had hired a lawyer to urge the family's rights as victims, found out that the charge Richardson was set to plead to was not second degree murder as the family was promised; it was actually manslaughter, a Class 2 Felony, meaning that Richardson would merely have to admit that he "recklessly" caused the death of Mrs. Collins. In November, 2019, Richardson actually pleaded guilty to manslaughter and two counts of aggravated assault, but the judge did not yet accept it.
The explanation for the change given to Ernest Collins was that in order to achieve the range of sentence the lawyers had agreed to, a plea to manslaughter was the only way that a minimum of five and a maximum of 25 years would be available under Arizona's sentencing laws. It had to be changed to manslaughter, it was explained, because the minimum sentence for second degree murder doesn't allow for only five years--it's either life or natural life. That was clearly a goof-up on somebody's part.
But then, to make matters worse, someone noticed yet another goof — that the crime of manslaughter doesn't have a range starting at five years, either. In fact, the range of sentence for a Class 2 dangerous Felony is between seven and 21 years, according to Arizona's sentencing chart.
So the attorneys got together and proposed that Richardson would be allowed to plead guilty to negligent homicide, merely a Class 4 Felony carrying a range of sentence between four to eight years and allowing him to only admit that he accidentally shot Mrs. Collins in the forehead; as if it were all just a tragic mistake. By that time, the incredulous and exhausted Collins family had just about enough and, knowing their rights as victims, vowed to oppose the re-re-revamped deal.
It appears that Prosecutor Garett Whiting is less concerned with the technical type of homicide Richardson pleads to, as long as the low end of the range of sentence the lawyers had agreed on in October would be available; after all, the state has a strong argument that Richardson should get more than the minimum and it's possible that neither side believes he'd actually only get five years, but the defense at least wants a shot at it.
Ernest Collins sees it differently. He simply can't abide the possibility of Richardson getting out of prison when Richardson could be in his 20's, his whole life ahead of him, with a record showing he simply made an unfortunate error which caused Mrs. Collins to die a violent death in her own home, with her frightened daughter and friend right outside and within ear shot of TerriLynne's murder. It might be noted that Mrs. Collins was actually on the phone with Ernest when she tried to talk with Richardson.
The prosecutor ultimately withdrew from the manslaughter plea agreement--the state was allowed to do that because the judge had not accepted the plea yet, and the parties went back to the drawing board.
Then Richardson's attorney, Cindy Castillo of Castillo Law in the Valley, decided to up and quit; it seems that she had had enough, too. By all appearances, she has worked this case hard, and when she thought she had a deal for her client, all of a sudden, she doesn't. Castillo's motion to withdraw as Richardson's attorney was filed in May 2020, and that threw yet a new monkey wrench into the gears.
After a hearing earlier last month on June 15, Widower Collins told The Independent that Judge Michael Latham said at the hearing that if the parties couldn't reach an acceptable new agreement by Monday, June 29, he'd grant Castillo's motion to withdraw, appoint a public defender and finally set this dragged-out case to jury trial, something Collins says that the family had been begging for from the start.
But that didn't happen. On Monday,The parties all appeared by telephone and Judge Latham called the case. After some delays due to technical difficulties, (about 45 minutes), the parties told the judge that negotiations were ongoing and asked for more time.
When it was Collins' turn to speak, he politely observed to the court that victims have a right to a speedy trial, too, and asked the court, what about the firm jury trial setting that Collins expected would be finalized that day? Judge Latham explained that because 70% of the jury pool comes from "up north," the Navajo Nation, and because of the severe impact the pandemic is having there, including the lockdown, that he doubted that there would be enough potential jurors to respond to a jury summons before the end of the year.
The judge also remarked that his impression after an in-chambers consult with the attorneys, was that they were still negotiating "in good faith." It was later revealed that Castillo had agreed to continue representing Richardson and continue negotiating, but that she is definitely out if the case is set to trial. If the case is indeed set for trial, Latham reasoned, he'd appoint a pubic defender who, because of the lack of jurors, would have plenty of time to prepare. Meantime, the two lawyers who know every nook and cranny of the case are in the best position to affect an acceptable outcome without a trial, implied the judge.
The next day, Collins told The Independent (and the prosecutor) that all that was news to him, that he wasn't aware of the parties meeting with the judge and didn't know that negotiations were still on-going. He said that considering that Castillo recently asked, this late in the case, that the whole case be transferred to juvenile court, that Collins does not believe that the defense is negotiating in "good faith." He and his family just want the whole thing finally taken to a jury and resolved, one way or the other, he said.
The next case management conference is August 19.