And a plague of suicides may well follow in the wake of COVID-19, health officials warned last week.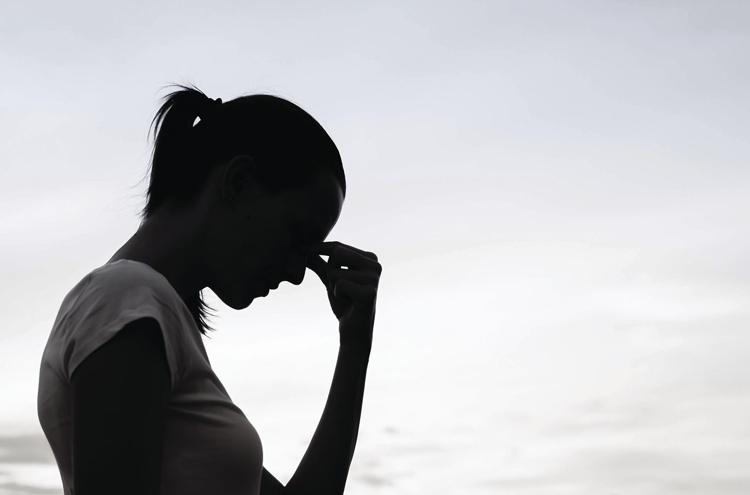 That's terrible news for Apache and Navajo Counties — already dealing with some of the highest suicide rates in the nation, especially among teenagers. Arizona's suicide rate is about 60% above the national average, but rates in Apache and Navajo county are more than twice the state average.
Tragically, the federal Centers for Disease Control has warned that rates of depression, anxiety and depression have increased between two and four-fold compared to the same time last year.
"This is a top priority, but we cannot do it alone," Gov. Doug Ducey said in a press conference last week. "We need everyone in the community — parents, teachers, children, coaches, friends, coworkers and more — to know the signs of someone struggling with mental health and how to act."
Self-reported symptoms of anxiety have tripled and feelings of depression have increased four-fold since the same time last year, according to a national survey by the Centers for Disease Control (CDC) published in the Aug. 14 Weekly Morbidity and Mortality report.
The percentage of people saying they have thought about suicide in the past 30 days increased from 4% to 11%. Depression and suicidal thoughts were especially pronounced among those under 18, unpaid caregivers, and Native Americans. A shocking 26% of those aged 18-24, 31% of unpaid caregivers and 22% of "essential workers" reported suicidal thoughts.
Overall, 41% of the 1,600 people surveyed reported at least one adverse mental health condition, including depression, drug abuse, anxiety and traumatic stress disorders.
Parents locally have seen the effects.
"My daughter's having a very hard time with not being in the classroom. It's almost like it's harder for her to comprehend what's being taught. The teachers are trying their hardest to provide support, but not being within an actual structured setting is causing so much stress and loneliness," said one parent.
"Lengthy time away from school and associated interruption of supportive services often results in social isolation, making it difficult for schools to identify and address important learning deficits as well as child and adolescent physical or social abuse, substance abuse, depression and suicidal ideation," said parent William McDermott.
One third-grader said, "Everything is so restricted. I can't get into any of my work. It makes me angry and I cry a lot. I hate it. I miss my teacher and my friends."
Nationally, warning signs have been growing that the pandemic has taken a toll on mental health at many levels.
The August CDC survey offers early warning of mental health problems, especially in the West and in rural communities.
The suicide rate in Arizona was 18 per 100,000 last year. That compares to 44 per 100,000 in Navajo County and 33 per 100,000 in Apache County.
Apache and Navajo County counties also have among the state's highest poverty rates and lowest high school and college graduation rates, both statistics strongly associated with higher suicide rates.
The region's high suicide rate also reflects a growing crisis among Native Americans generally. The CDC reports that Native American communities have a suicide rate that's 2.5% higher than the national average.
Arizona State Health Director Cara Christ urged doctors, parents and health professionals to be on the lookout for signs of anxiety, depression, drug use and trauma in a population coping with the fallout from the pandemic.
"From COVID-19 to influenza to suicide, there are so many challenges that people across the state are facing," she said at last weeks press conference. "While we have prioritized suicide prevention strategies in the past few years, the impact of COVID-19 makes it more important than ever."
Even before the pandemic, the 2019 Youth Risk Behavior Survey found that 41% of Arizona high school students reported feeling "sad or hopeless" for more than two weeks in a row in the past year — compared to a national average of 35%.
The state last year had launched a suicide awareness program to counter the frightening trend. The program offers training for teachers and other professionals to notice the symptoms and effectively intervene.
Health officials also urged people to take advantage of the national Suicide Prevention Lifeline (1-800-273-TALK (8255)).
The CDC mental health survey concluded the big jump in mental health issues "highlight the broad impact of the pandemic and the need to prevent these conditions."
The Journal of the American Medical Association also recently warned of the mental health impact of the pandemic, with national suicide rates already at the highest rate since 1941.
The commentary by Dr. Mark Reger, Dr. Ian Stanley and Dr. Thomas Joiner warned that COVID-19 presents the "perfect storm" for mental health issues.
The pandemic's effects include a rise in joblessness, evictions, food insecurity and other economic woes – all associated with a rise in suicide risk. At the same time, many people have lost medical insurance or face additional barriers to getting mental health care. Moreover, people stuck at home become isolated — itself a risk factor for depression and suicide. Even decreased attendance at church services due to social distancing can increase risks. Studies have shown that regular church attendance is associated with a five-fold lower risk of suicide.
The rise in anxiety may also lie behind a national surge in gun sales. Turns out, just having a gun in the house is associated with a significantly increased risk of suicide. A host of studies found access to a gun in the home more than doubled the risk of a successful suicide, even after controlling for all other factors — especially for teenagers.
"Concerns about negative secondary outcomes of COVID-19 prevention efforts should not be taken to imply that these public health actions should not be taken. However, implementation should include a comprehensive approach that considers multiple U.S. public health priorities, including suicide prevention. There are opportunities to enhance suicide prevention services during this crisis, " the authors concluded.
The risks have become all too obvious to some parents as families continue to cope with the pandemic.
One local student commented, "I ended my freshman year with a 3.0 GPA and now that we are online my GPA dropped to 1.3. While I know that is on me, I am not the only one. We had more students come up failing on our football program than ever before last week and I don't think it is a coincidence. I can't even work out with my team because we're scared."
One high school student said "I have seen happy girls go from being happy to wanting to hurt themselves because they didn't have any friends or their sports or their teachers to make them happy. I have cried myself to sleep a few times because I couldn't see my best friend or play volleyball because those are the things that made me happy. I know that you all think that I'm just a teenager, but I do hope this could make you think that our mental health is just as important as our physical health."
Warning signs for Depression:
Feeling trapped or in unbearable pain
Looking for a way to access lethal means
Sleeping too little or too much
Talking or posting about wanting to die
Source: Federal Centers for Disease Control