PINETOP-LAKESIDE – American entrepreneur Malcom Forbes said, "The difference between men and boys is the price of their toys."
Well, Rob Wright, who has had a lucrative career as an investment advisor, has also managed to maintain a second career which he plans eventually to carry forward into retirement. With his new $20,000 Ketron SD90 sequencer/arranger and Bose L1 sound system and F1 Line Array Speakers with Sub Woofers, with his new toys, he is sitting on go.
Ordered from Italy last August, he finally received his new accompaniment in November. While not a techie himself, Wright added the equipment representative to speed dial and he has helped Wright make the equipment do what it was intended to do, with gusto.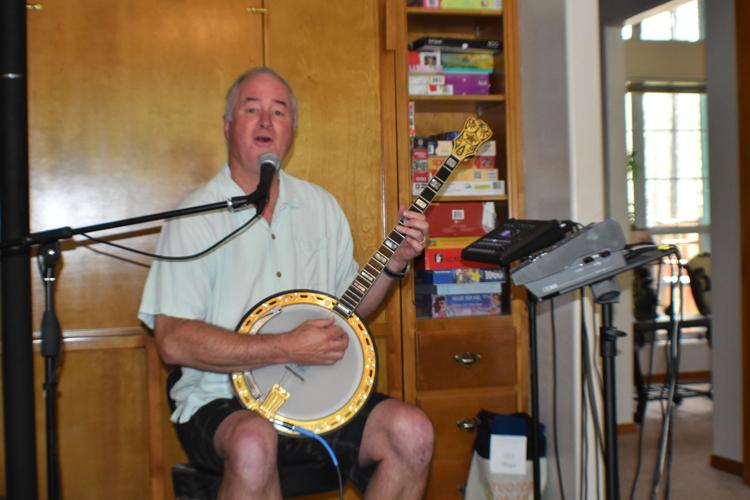 Had COVID-19 not happened, Wright would have debuted his new toys in concert at the Arts Alliance of the White Mountains' Summer Concert Series. But, as with many of life's detours, he is now polishing up his skills with the new equipment and discovering it offers more additional features than he was even aware of.
Wright, 16-year leader of the Wild Cat Jazz band out of Tucson, a group which began as University of Arizona (U of A) professors, is still performing as one of the most sought after groups around the country. Though there are no professors left in the group, most are U of A alumni. But, while Wright spends time at his abode in Pinetop, he confesses that he has trouble finding people to play with there. That is where his new toys come in. The equipment will allow him to play solo but sound like he has a band or an orchestra with him while he sits smack dab in the middle playing his plectrum banjo (a standard banjo without the short drone string), guitar or ukulele.
Wright demonstrated that the beats and rhythm are built in the base pedals to change the harmonies.
"It knows what to do," said Wright. "Your feet are telling it the chord."
Using the pedals is a bit of a challenge but with regular use it becomes second nature. You could say Wright is ambidextrous since feet and eyes follow the same dominance as one's hands, and he seems to operate the pedals like he is on autopilot.
Wright says that Midnight Moon, well known on the Mountain, also has this equipment but they do not use the pedals.
"It is a computer," said Wright. "I purchased 20 MP3s and loaded them on to a zip drive as backing tracks for my four string banjo. It is also voice through the machine. It takes voice and synthesizes it."
Wright says it acts like a MIDI (Musical Instrument Digital Interface) file, in a sense, "kind of like an old player piano." A MIDI file is a set of commands to synthesizers to play certain notes at this pitch or that volume and so forth.
"With the line array system," said Wright, "there is no feedback."
While his Wild Cat Jazz band is known for their well-known jazz favorites, Dixieland staples and tongue-in-cheek humor, with his new equipment Wright is able to go from Johnny Cash to Frank Sinatra to Neil Diamond almost as fast as a car can go from 0 to 60. And, he could be the money-saving entertainment you are looking for, especially if you have a space issue.
There's a number of pieces to Wright's ensemble, complete with a lot of wires that have exact places to go, but Wright says he can transport it and put it back together for a show guaranteed to please any crowd.
Wild Cat Jazz has played at many venues on the Mountain and Wright as a solo has played with the White Mountain Symphony Orchestra, the Summer Concert Series for the Arts Alliance of the White Mountains and at other events. He has played in 50 states and music, no doubt, is his passion. Originally from Huntington Beach, California, Wright has been singing and playing the banjo for 40 years and was a full time professional by the time he was 25. He was a member of the New Christy Minstrels and transitioning from a high school English teacher for one year, found his way to becoming an investment advisor, but he has never left music.
A sampling of Wright using his new equipment can be found on his Facebook page.
Excited to find places to demonstrate his talent on the Mountain, and not have to hunt for others to play with now that he has these new toys, Wright said, "With this equipment, the sky is the limit. It give me a chance to show off all I can do."