PINETOP-LAKESIDE — When he was just a little fellow, Jason "Isaac" Stivers loved to take things apart.
He also wanted to be a firefighter, which was more about helping people than the profession itself. And, that's what he does today, he helps people in a business that was not even an occupation when he was born 35 years ago. Stivers is the owner of White Mountain Cell Phone Repair Clinic in Lakeside.
"Keeping Your Life Line Connected," is his slogan and he gets great satisfaction when someone brings in a cracked or broken cell phone or tablet, and after he fixes it, they say, "You saved all my baby's pictures." That's helping to Stivers.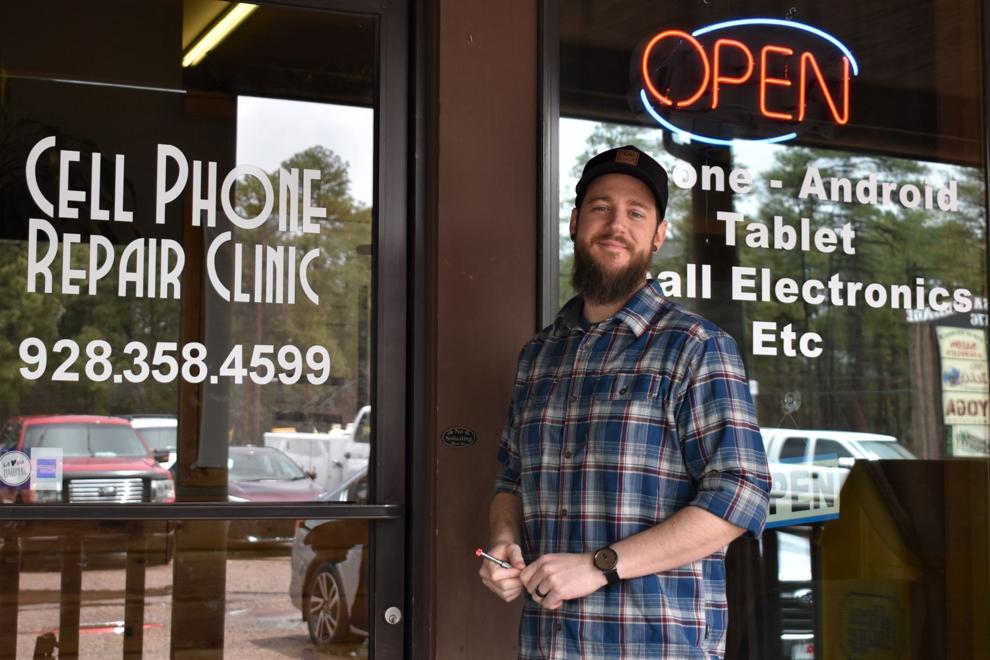 A native Arizonan, Stivers was born in Peoria and grew up with two sisters, one older who he says "was always off doing something" and one younger who was "spoiled."
His dad was a tech who worked on such things as CAT Scans and at age 14 young Stivers began working on computers.
"In the early 90s it was easy to build computers," said Stivers.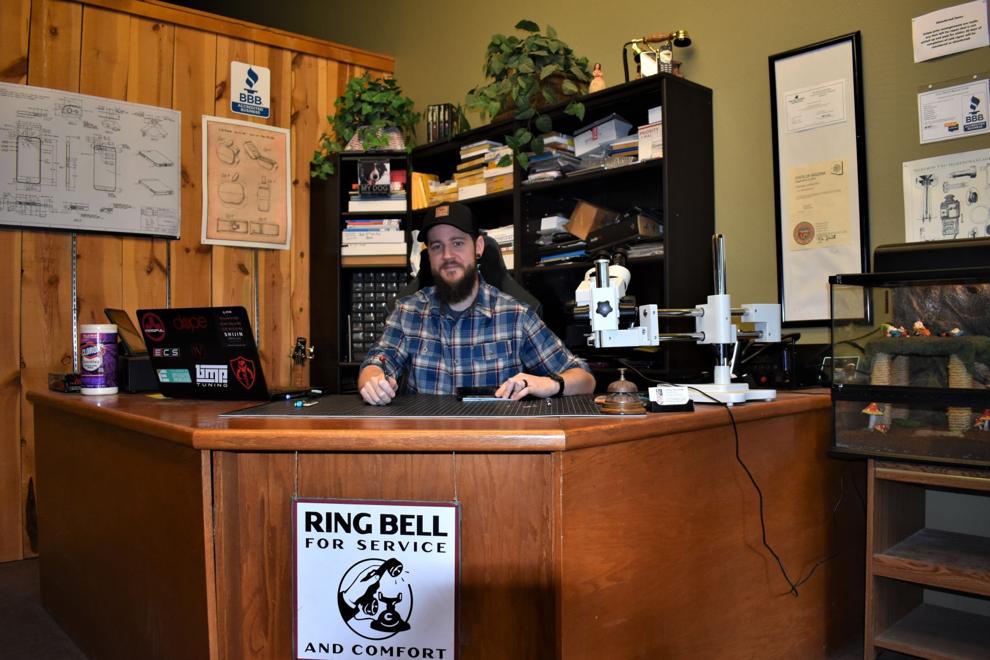 It was also in the 90s when cell phones actually became mainstream, way before Stivers knew that his knowledge of building them would lead to his actual career path as a business owner.
After graduation from Casa Grande High School Stivers went to college and worked in a variety of jobs — cars, computers and construction. When a friend, who he says was his mentor, invited him to start a business with him in the White Mountains, he took him up on it. They began cell phone repair and when the friend decided to leave, Stivers said it was sink or swim for him. So, you could say he did a mean backstroke because his business has an A+ rating with the Better Business Bureau and he has been in business since 2013.
Stivers said deciding on doing the business himself made him grow up real fast.
He is business savvy. He warranties his work, has prices he says cannot be beat and he gives discounts to first responders, police and fire service personnel. He also tells you if you don't need to fix your phone, even though it would benefit him financially. He lets the customer decide if they want to spend the money or not, but is clear with them about letting them know if it is not necessary.
"I am a planner," said Stivers. "I work out a plan and make it better. I see a problem and see how to solve it."
He says cell phone repair is cheaper than insurance and cheaper than buying another phone. He works on more than just phones. He also works on tablets and laptops.
Some phones take eight minutes to repair and some longer. Usually a person can just wait on the repair. During COVID-19, since many of the parts come from China, it took a bit longer. He said people were nice and very patient about any delay.
Stivers works alone. Sometimes he is so busy he thinks he should hire another person, but then sometimes it is slow. He worries that if he hired someone he might not have enough work for them all of the time.
"So, I just stay in my little bubble," said Stivers, "and take it easy. It is what it is. Some things are way more important than money."
He lives the advice his Dad gave him. "Don't get ahead of yourself, live within your means, don't add to your stress, have peace of mind, help people along the way and be efficient and do things on time."
When he told people he was moving to the Mountain, they told him he needed two things to make it here — a job and a wife.
He had the job but he didn't get the wife until later. He met his wife Elise in town but then she moved away. He said she started texting him when she was was on her way back, and he fell in love with her. Elise works in the cash office at Lowe's. Their family consists of her nine year old son, Arian, and their two-year-old son, Grayson. He said Elise is a wonderful spouse and mother. They also have a Corgi named Gunter, named after Gunter on "Adventure Time."
He says his Mom and Dad are good people and he is happy that they have a summer home here on the Mountain.
Stivers' business is located in the Ponderosa Village by Open Spaces Yoga. Should you find yourself in his cell phone repair clinic, it will likely not be your last visit even if you don't need a phone or tablet repair. Why? Because, like his customers say, he is just cool and he does business the old fashioned way, treating people right.
Author Mitch Albom said, "... There are no random acts, that we are all connected. That you can no more separate one life from another than you can separate a breeze from the wind."
That being the case, here in the White Mountains there are people you need to meet, and places you need to know about it. And, on the last Friday of each month, I will connect you with some of those as I go 'Round the Mountain.