PAYSON —The school bus driver who had been arrested for DUI and shoplifting with 22 students and two coaches in the school bus, was indicted by a grand jury on Oct. 7 in the Gila County Superior Court.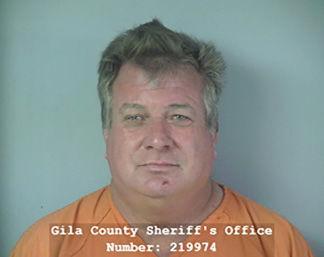 Ernest Ralph Feight 55, of Snowflake was reportedly arrested in the parking lot of a grocery store on Oct. 1 after erratically driving off from the Circle K store in Star Valley where he allegedly stole alcohol and began drinking it in the bus packed with students. At the time, he worked for a company called First Student Communications which provided contract bus drivers for the Snowflake-Taylor Unified School District. The students were reportedly on the girls' soccer team headed back from a game in Sedona which had started at 6 p.m. that evening.
The grand jury indicted Feight for 22 counts of abuse of a child, Class 3 Felonies, probably the students, two counts of endangerment, Class 6 felonies, probably the coaches, one count of driving while impaired, its companion charge of, within two hours of driving having a blood alcohol level of .08 or greater, and one count of shoplifting. The DUI and shoplifting charges are Class 1 Misdemeanors. Feight was arrested on suspicion of felony DUI, which applies if a minor 15 years of age or younger, was in the vehicle, but apparently that was not the case because the grand jury did not indict him for that. Feight is presumed by law to be innocent.
He appeared in court in Globe on Oct. 6 and 12 and posted $25,000 bond and was released. Feight has hired Michael Bernays of Phoenix as counsel. Bernays is known as an expert DUI defense counsel, appears on the list of super lawyers at superlawyers.com and has been a licensed attorney in Arizona for 39 years, according to the website.
Snowflake-Taylor Unified School District Superintendent Hollis Merrell had no comment.
Jen Biddinger, First Student Communications Manager, said, "At First Student, there is nothing more important than the safety of the students we transport. We understand and share in the concern this incident has caused. Behavior such as this is unacceptable and at odds with what we stand for as a company. We have initiated the termination process. We have been working with the authorities to support their investigation. Given this is an active investigation, we are unable to comment further."
Feight's next court date is November 16 in Payson.