State Senate Candidate Wendy Rogers says she's a victim of left-wing radicals, just like Kyle Rittenhouse, the Trump supporter charged with murder in the death of two Black Lives Matter protesters in Wisconsin.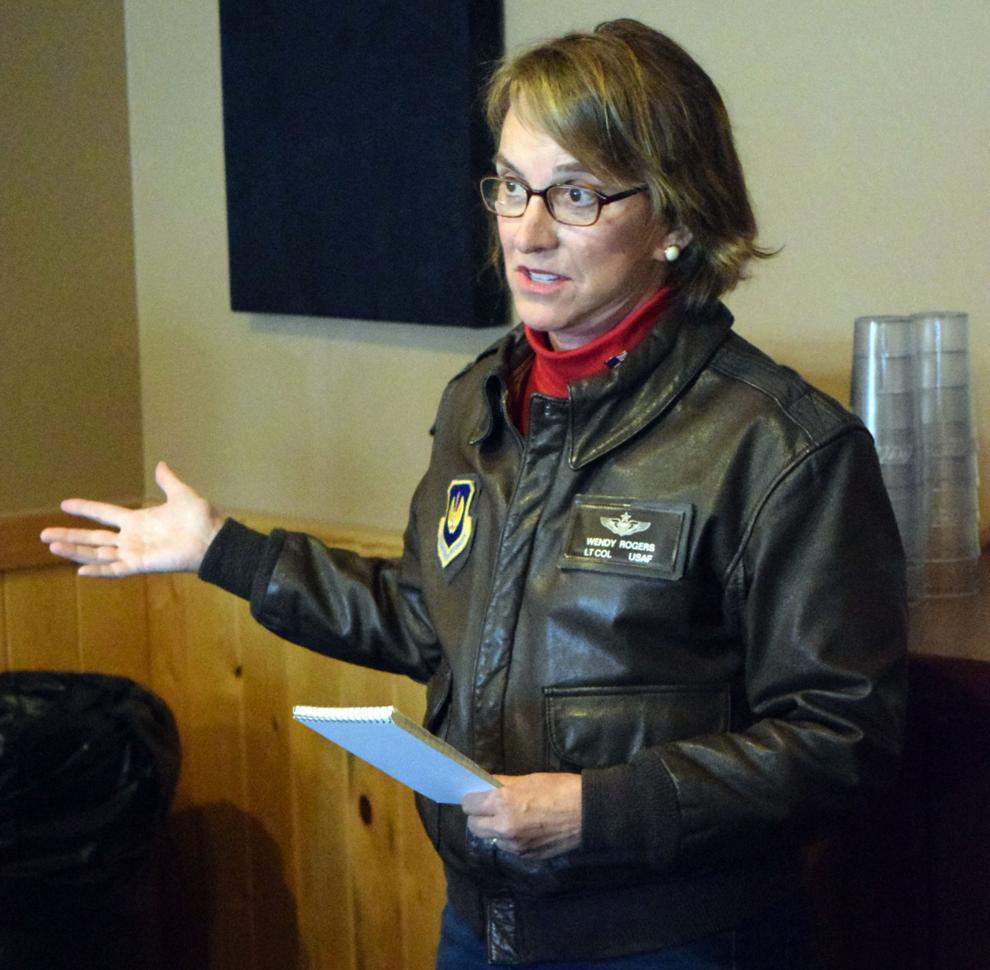 "I am used to being attacked by the far, far, far Left. Happens to me a lot," said Rogers in a fundraising appeal for the District 6 state Senate seat, which includes all of Rim Country, Flagstaff, the Verde Valley and the White Mountains. "That's what happens when you stand and fight for what's right, especially this year. It happened to Kyle Rittenhouse, it happened to Senator Rand Paul, and now the extreme Left is doing it to me."
The appeal comes in the midst of escalating violence at protests. Shortly after Rittenhouse killed the two protestors a Black Lives Matter supporter shot and killed a counter-protester in Portland. He was subsequently shot and killed by police.
Rogers, a retired pilot and Phoenix businesswoman, defeated longtime Republican state senator Sylvia Allen in a bitter primary. She's now facing off against Democrat Felicia French in the swing district. French is a retired Army colonel, nurse and medivac helicopter pilot.
Roger's comments about Rittenhouse mirror tweets by Congressman Paul Gosar saying that Rittenhouse acted in self-defense when he shot and killed two protesters.
Rittenhouse traveled to a Black Lives Matter demonstration in Kenosha, Wisconsin. Those protests took place after police serving a warrant on a black suspect shot him in the back seven times — partially paralyzing him.
Rittenhouse has claimed he acted in self defense when he shot and killed a protester he said tried to grab the barrel of his automatic rifle. Several demonstrators followed Rittenhouse as he retreated. He shot another protester dead and wounded a third protestor who was reportedly armed with a handgun. He has been charged with multiple counts of murder. Police initially allowed him to leave the scene, but later arrested him.
Rogers, a retired Air Force colonel, did not return emails seeking elaboration on her fundraising email.
In that email, Rogers said Democratic mega-donor George Soros was targeting her, citing several critical blog postings by Soros supporters. A Jewish Holocaust survivor and billionaire Hungarian-American investor, Soros for decades has been a major Democratic donor and has donated an estimated $11 billion to various philanthropic causes.
One of those blog postings she criticized said Rogers belonged to an "extremist anti-government militia." Rogers in her fundraising letter said "they mean the Oath Keepers." In previous social media posts, she has said she's a member of the group.
Wikipedia describes Oath Keepers as "an anti-government American far-right organization associated with the militia movement. The group describes itself as a non-partisan association of current and former military, police and first-responders who pledge to fulfill the oath that all military and police take in order to 'defend the constitution against all enemies foreign and domestic.' It encourages members to ignore orders they believe violate the U.S. Constitution."
The Anti-Defamation League describes the group as "heavily armed extremists with a conspiratorial and anti-government mindset looking for potential showdowns with the government."
The Southern Poverty Law Center lists the group's founder — Stewart Rhodes — as a "known extremist" espousing conspiracy theories associated with the white supremacist posse comitatus movement."
The Oath Keepers first gained national attention in 2014 and 2015 when members armed with semi-automatic rifles patrolled streets and rooftops during the riots and protests that followed the fatal shooting of Michael Brown by police officer Darren Wilson. The Department of Justice ultimately concluded Wilson shot Brown in self-defense.
Self-identified Oath Keeper members have been involved in other demonstrations, including an appeal to create armed citizen militas to protect schools after the Parkland High School shootings. Members of the Oath Keepers also showed up at the standoff at the Bundy Ranch in Nevada after the Bureau of Land Management threatened to seize his cattle after Cliven Bundy refused for years to pay $1 million in federal grazing fees for his use of 145,000 acres of federal land for more than a decade.
Rogers ran a slashing primary campaign against Sylvia Allen, who also supported the Bundys in their armed standoff with the federal government. Rogers accused Allen of failing to sufficiently support the police. Allen's supporters countered that Rogers didn't actually live in the district and cited misleading claims of endorsements. However, Rogers spent close to $500,000, mostly from out of the district, and beat Allen by 19 percentage points.
Her fundraising appeals in the general election have continued to cite mostly national issues while attacking the "radical left."
She said the protestors who have roiled Portland, Seattle, Kenosha, Chicago and other cities "are trying to bring that same course of destruction and murder to Arizona, to Flagstaff. I will be the greatest enemy Soros has in Arizona. I am a pioneer and a loyal patriot – and I will not abide these anti-American savages here in Arizona. There is no turning back. We cannot lose. I must win, and we must help President Trump win in November. Don't let Antifa do to Arizona what they did to Portland. They hate us just like the Socialist rioters do! Let's defeat them together!"
French has largely refrained from criticizing Rogers, instead focusing on a platform that calls for more spending on educational reforms, stronger action to slow the spread of COVID-19 and stronger environmental regulations, especially when it comes to uranium mining on the watershed draining into the Grand Canyon and the release of heat-trapping gases from fracking operations. She suspended her campaign for more than a month to work as a nurse on the Navajo Reservation.
French has also raised eye-popping donations — more than $218,000 prior to the primary election, in which she faced no opposition. Rogers and French plus outside groups mounting dark money independent campaigns are on track to spend more money in their race than all the candidates combined have spent in the district in the past four election cycles.
The district could flip control of the state House from Republicans to Democrats, but Republicans would maintain a comfortable advantage in the senate even if French won the seat.