SHOW LOW — Michael Moss turned one of the worst times of his life into a profitable nationwide business.
Moss, of Show Low, had a series of surgeries in 2014 and 2015 and was dealing with a lot of pain, so he turned to marijuana to help him cope.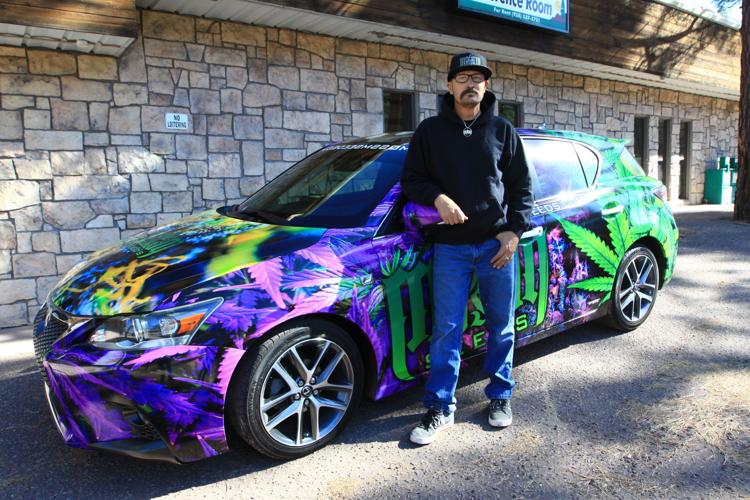 "I tried to buy some seeds from somebody in 2016 and I got ripped off," Moss said. "When I got ripped off, it upset me enough to where I wanted to become a trusted seed dealer, that everyone knows and can confide in. They know they're not going to get ripped off."
Moss said he began by breeding his own marijuana and getting in contact with other breeders.
"I start by building a relationship with other breeders throughout the United States. We have built a tight bond, and I have their seeds on my website," he said.
Mossmseeds.com can legally sell and ship marijuana seeds by declaring them as "collector items," according to Moss.
"They are legally sold as souvenirs and as collector items. They are collector items for preservation. Here in Arizona, we just passed a law for recreational. Somewhere around April or May when Arizona is comfortable with growing (marijuana), we will be handing out a bunch of free seeds. We will help Arizona grow again," Moss said.
One thing Moss has planned is opening a marijuana-growing school to teach others proper growing and harvesting methods.
"We will have people like myself and people who have been growing it help who ever wants to get involved from start to finish — from the germination process all the way to cutting it down, jarring it properly and burping it to make all good natural home-grown medicine. You can do it all at home in your own garden," Moss said.
Moss said the U.S. Postal Service hasn't come down on him for mailing marijuana seeds across the nation.
"I go in there with my hat and shirt on," he said, adding both display his company's logo prominently. "They know who I am, and I am legally allowed to sell seeds and mail them because they are collectors items. They are sold as novelty items," he said.
Moss maintains that buying and selling marijuana seeds is completely legal across the nation.
Moss recommends that his customers not plant the seeds unless they have the proper growing licenses or are at least 21 years old and authorized by the state they live in to grow it.
"I have been an advocate of the legalization of recreational marijuana for quite a while. I feel that some doctors are poisoning us with prescription medication. I see people who are zombies. With this all-natural alternative medicine, such as CBD and THC, there are separate ways to get these beneficial properties without really poisoning your body," Moss said.
There is a strong disclaimer on the company's website:
Must be 21 to shop this site.
MossMseeds Disclaimer Legality:
Seeds are sold as souvenirs, for strain preservation, and until the time when laws change nationwide. Germination of seeds is still illegal in some states. Federally, cannabis growing is in a legal gray area.
Be informed before you purchase. By purchasing, you are indicating that you are at least 21 years of age, and are aware of your local laws regarding growing this plant. You waive any liability against MossMseeds. If you act outside your laws, we will not be held liable. MossMseeds does not condone anyone to breaking laws in their state/location.
It's your responsibility to provide correct shipping information when you submit your order. We will ship to the address and contact information provided. Should your package not arrive due to failure to provide correct and legal information, we will not be held responsible.
Use of an alias, or alternate recipient name could result in non-delivery. We will not re-ship.
MossM Seeds guarantees that your package will arrive, as expected, in good condition, with exception to non-delivery as stated above. Purchases are non-returnable.