HEBER/OVERGAARD — The Heber-Overgaard Fire District issued a press release at 1:30 p.m. Wednesday, Oct. 21, that seven staff members have tested positive for COVID-19. Six of the positive cases are firefighters and one case is administrative personnel.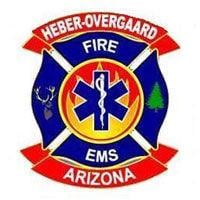 "As cases of the coronavirus continue to increase in Navajo County, some public safety agencies have been impacted more than others," states the press release. "Local agencies are working diligently to maintain staffing levels for public safety while navigating the rapidly changing guidance protocols from local, state and federal agencies."
The Fire District operates with roughly 30 personnel, some of whom are full-time and some part-time or reserve staff, according to Heber-Overgaard Fire District Chief William McCluskey in a brief phone interview with the Independent.
"We are maintaining full staffing levels and daily apparatus levels," said McCluskey. "All public safety agencies have prepared themselves for this on-going pandemic by obtaining sufficient personal protective equipment (PPE) that meets and exceeds current guidelines set by local, state and federal agencies. Protecting public safety personnel and their families, while continuing to serve our communities is still our primary focus."
The fire district is working closely with Navajo County and Arizona Department of Health Service to monitor all affected employees and their families.
"I want the public to feel safe and secure in our firefighters, their health, and their ability to respond. This news should not deter the public from calling 9-1-1 when needing emergency assistance," said Chief McCluskey in the press release.
The fire district, with the assistance of Navajo County Public Health Services, is still doing contact tracing and will "continue to take extensive precautions to safeguard fellow first responders and the public with whom they interact."
They believe the first staff member that contracted the virus may have done so around Oct. 7 or 8.
"The person exhibited very mild symptoms and may not have know they were exposed, let alone that they may have contracted the virus," said McCluskey. "After the symptoms worsened, the person got tested and was confirmed positive."
The fire district is constantly evaluating each member's health prior to each work cycle states the release. Those personnel who have been exposed are being closely monitored by Heber-Overgaard Fire District staff alongside Navajo County Health officials following Arizona Department of Health Service guidelines for critical worker return to work.
"All our firefighters are wearing the appropriate PPE during any public contact and patient contact; we want to instill confidence to the public that we are doing everything possible to protect our firefighters, families, and community during this pandemic," said McCluskey.