SPRINGERVILLE – The global pandemic sent many states, counties, and cities into official state of emergencies as the nation braced for the worst. Weeks of quarantine and lockdown measures have begun to flatten the curve, but the process has created many economic hardships. Weighing the potential for danger against continued economic damage is a difficult decision that every government entity will have to make eventually, including those in the White Mountains. The town of Springerville made such a decision at their May 20 council meeting, by declaring an end to the town's state of emergency.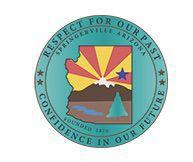 "The governor has said that operations can come back in modified or scaled-back versions," Joe Jarvis, Springerville Town Manager said. "We're responding to that."
"I think that we have to make sure that people take their own precautions," Councilman Ruben Llamas said. "I don't think they need the government telling them what to do. I'd be more than willing to bet that 99% of the people feel that way here."
By ending the emergency declaration, public locations such as the Springerville town hall, the airport, and services such as fingerprinting will be reopened to the public again. The museum and the senior center, however, will probably not open as quickly until safety can be ensured.
"Not all operations will open up right now," Jarvis explained.
As the museum has some smaller rooms inside and many surfaces that would potentially need cleaning often, the town staff plan to work with museum employees to see what supplies would be needed and how museum operations might need to be modified in order to keep the public and museum employees safe.
"I totally see why the senior center [will stay closed], for those with compromised immune systems," Councilwoman Shelly Reidhead said. Other councilors voiced their agreement with her on the subject.
The CDC has concluded that those over the age of 65 are at particular risk for COVID-19, and that seniors infected have so far been shown to have a higher risk for complications and death than younger patients.
For now, the senior center cafeteria will remain closed, and the current methods of delivery for food will continue in order to keep safe those who may be at a higher risk of catching the novel coronavirus.
Tax revenue impacts from the quarantine was discussed, as potential revenue loss was a major concern of some of the councilmembers. The town manager reported that the numbers for March sales tax were "a little bit down" compared to previous years, but Mayor Phil Hanson said that, according to businesses he has spoken with, sales have "been up 50%." Reports on tax income and state revenue sharing can take two or more months to receive, so the numbers for April and May will likely not be seen until later in the summer. The city staff is estimating flat revenue for city sales tax and state revenue sharing in order to prepare for any disappointments that may come.
"But at this point, it does not seem that we were significantly impacted as it pertains to sales tax," Jarvis said.
After some discussion, the council voted unanimously to end the emergency declaration and begin reopening the town.