The growing plague of murders and abductions of Native American women demands wholesale changes by state, federal and tribal governments, according to a report released last week by a state legislative task force.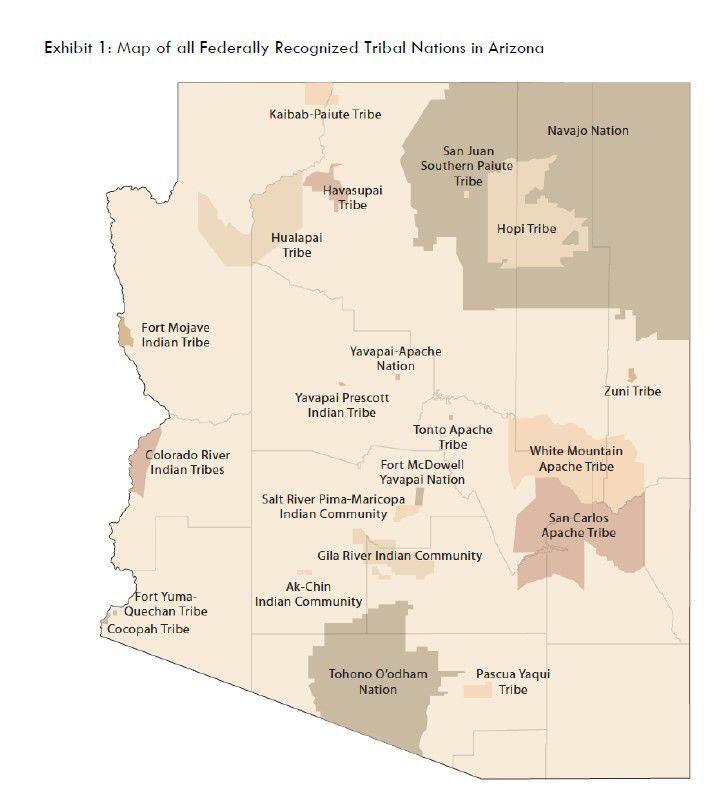 Native American women and girls face a far higher risk of murder, abduction and sex trafficking than do other groups, the report concluded. However, fragmented legal authority, lack of resources, lack of law enforcement consistency and training, the impact of alcohol and drugs and generations of trauma have all resulted in an often ineffectual response, according to the result of a comprehensive study and a year of state legislative hearings.
"There is a nationwide epidemic of missing and murdered Indigenous women and girls, and Arizona, with 22 federally recognized Tribes is at the epicenter," according to the state legislative committee report. "In 2016, there were more than 5,700 federally reported cases of missing Indigenous women and girls. These are the cases we know about, but there are deep gaps in the data. This Study Committee was created to explore and analyze these gaps in the data so that we can begin to address the horrific, ongoing violence committed against Native women and girls in Arizona," according to the executive summary of the report.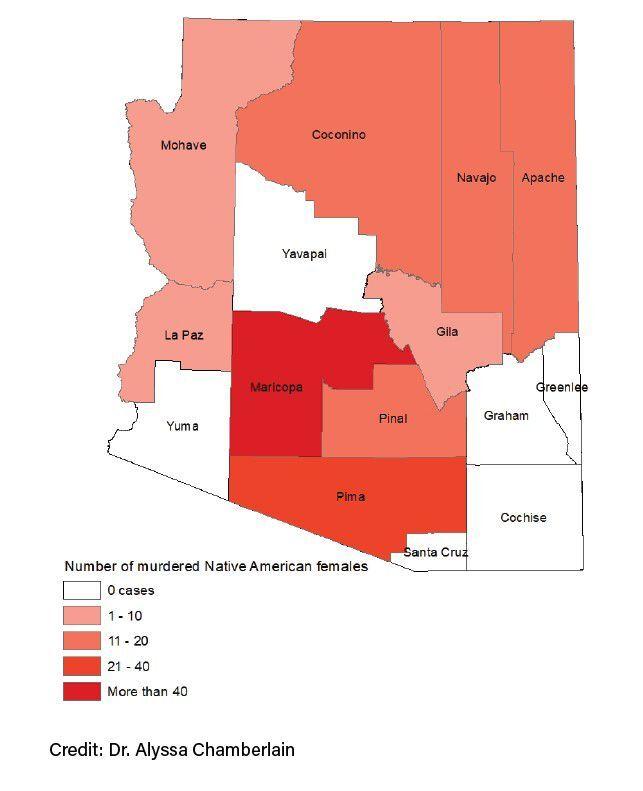 Arizona state lawmakers representing the White Mountains served on the study committee, including Rep. Walt Blackman from District 6 as well as District 7 Senator Jamescita Peshlakai and representatives Arlando Teller and Myron Tsosie.
The state legislature established the study committee with the passage of HB3570 in 2019 to make recommendations as to how the state could reduce the murders, abductions and sex tracking.
An estimated 80% of Native American women suffer sexual of physical violence in their lifetimes, according to one national study – and about one-third have suffered violence within the past year – that's nearly three times the rate of women in the US generally.
Lifetime rates of violence suffered by Indigenous women and girls include:
• 56% experience sexual violence
• 56 % experience physical violence by an intimate partner.
• 49 % experience stalking
• 66 % experience psychological aggression by an intimate partner
One victim of sex trafficking interviewed by the researchers said, "What I want to share is that anyone can be kidnapped. I don't think I am pretty or have the body to be sold or men wanting me. I am a regular native girl. But on the internet when they sold me, I was worth $500 as a Native young woman not having been through a woman's ceremony. Now, I am so scared to go anywhere. I feel very violated and all the woman in me was taken."
Another close friend of a missing woman said, "The police did absolutely nothing. They should have taken the missing report seriously. They made it seem like my friend was an alcoholic or drug addict living on the streets or something. I really felt they were being racists to Native American. They never called us. They had no updates for us when we called. They took her off the missing persons list twice and her mom continues to call to get her back on it."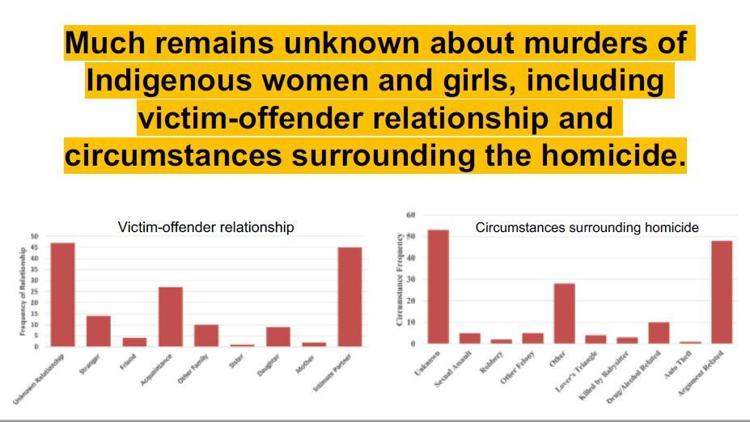 The issue has been growing for 40 years, but gained national attention in 2017 when Ashlynne Mike, 11, and her brother, 9, were abducted on the Navajo Reservation near Shiprock. Her brother managed to escape and was found shortly after the abduction. However, even though her father and mother immediately reported her missing the tangled jurisdiction on the reservation resulted in a nine-hour delay in even issuing an "Amber Alert." Ashlynne's body was found the next day, after family members organized their own search. Tom Begaye, a Navajo man suffering from mental issues and alcoholism, was ultimately convicted of her rape and murder and sentenced to life in prison.
The publicity the case received threw a harsh light on high rates of rape, kidnapping and sex trafficking among Indigenous women — both those living on reservations and those living in urban areas.
Navajo and Apache counties have among the most Indigenous women and girls who have been murdered or remain missing. The Apache, Navajo and Hopi reservations account for more than half of the area at issue. However, statistics show that both counties have a relatively low closure rate on cases and rarely even apply for victim's compensation assistance, especially in Navajo County.
As of July 25, 12 women and 34 Native American men in Arizona remained missing. The average age of the women was 21 years while the average age of the males was just 12. The women have been listed as missing on average twice as long as the males. Navajo County was second only to Maricopa County when it came to those missing, although Maricopa County has about 15 times the population.
The number of murdered and missing Native Americans has been increasing steadily in Arizona, with the totals in 2018-2020 two or three times the average in the 17 years prior.
The study concluded those estimates are almost certainly too low, given the fragmented, scattered and inconsistent record-keeping.
Arizona State University researcher Dr. Kate Fox headed up the wide-ranging study that interviewed dozens of victims and family members as well as a host of police officers and law enforcement agencies throughout the region.
The report found a perfect storm of problems that have resulted in a growing number of unsolved murders, abductions and abuse — with cases falling between the gaping cracks between tribal, state and federal jurisdictions. Poverty, drug abuse, alcoholism and family disruption has also played a leading role, with few of the support systems for families or crime victims common elsewhere in the state.
"We were supposed to be in a safe place in our own homes," said one family member of a murder victim. "This has shown me no one is safe. The drug and alcohol use on the Reservation is crazy and we need to stop this."
Law enforcement on the reservations remains hobbled by a confusion about who's responsible, with the Federal Bureau of Investigation investigating major crimes, tribal police lacking authority over non-reservation criminals and reservations often sprawling across state lines.
The study showed that the response to murders and kidnappings and missing persons reports are often hobbled by the indifference of off-reservation police, low pay, scant resources and training for reservation police, fragmented and inconsistent data reporting, lack of victim advocacy services, lack of social services on the reservation and a host of other problems. The survey found that 70% of the victims and family members surveyed didn't even know that the state has a victim's compensation fund and advocacy services from crime victims.
The researchers interviewed victims and family members in some 43 cases and found only five perpetrators were ever prosecuted. Of those, three were convicted, one acquitted and one is still going through the system.
The study committee recommended a host of reforms to provide consistent reporting, prompt investigation and support for victims. That included:
• Consistent consultations with tribal nations.
• Sustained funding for investigations and support services.
• Improved training for police officers on and off the reservation.
• Much better data tracking to make sure reports of missing Native Americans wind up in state and national data bases and alert systems.
The report documented the ways in which the agony of rape and domestic violence that confront many women nationwide is compounded on reservation communities by the lack of resources and fragmented law enforcement.
One woman reflecting on the death of her mother said, "My mom hid domestic violence well, but we would hear it. She would get mad at us if we got into her business. I knew she was getting beaten, but she never did or said anything. I didn't live too far from her. Her boyfriend was nice on the outside, but he was mean to my mom; I didn't understand this. He had a nice family. My mom's boyfriend used meth and alcohol. My mom used alcohol."
Another family member of a victim said, "I was so angry with this whole thing, but I was also sad because these are just kids. How could they even think of doing something like this? How could they do this when we know their families and they are or do not have any ill feelings or hate to anyone? I also learned they were on meth. Maybe this is why, I don't know but it doesn't make any excuses for them killing my mom. Our mom is gone, she still had some life and years left."
One family member commented, "When I got the call the police were already investigating. I knew that BIA police was doing the investigation and then FBI. I appreciated federal police doing the investigation; what I didn't appreciate was they didn't tell us much about investigation. Even at federal prosecution, they didn't share too much. Just what we wanted to hear I guess. I felt they didn't want to tell us because it was a brutal stabbing…I understand that but I think we as a family needed to know what happened. We only heard the story during the court hearings and his testimony. This was not fair to my mom or my family.
The failure to investigate, the lack of closure and the pits into which so many cases fall haunt the survivors.