SNOWFLAKE-TAYLOR — Sixth grade Taylor Intermediate School teacher Marie Caldwell spent part of her summer vacation on a five-day trip to Washington D.C. and colonial Williamsburg. The June tour included 21 students and 19 adults from Snowflake and Taylor.
One of the many highlights of the trip was being able to see an Honor Flight over the World War II memorial. "The kids experienced flights in honor of WWII and Korean War veterans," says Caldwell. "The kids clapped for the veterans and welcomed them to their memorials."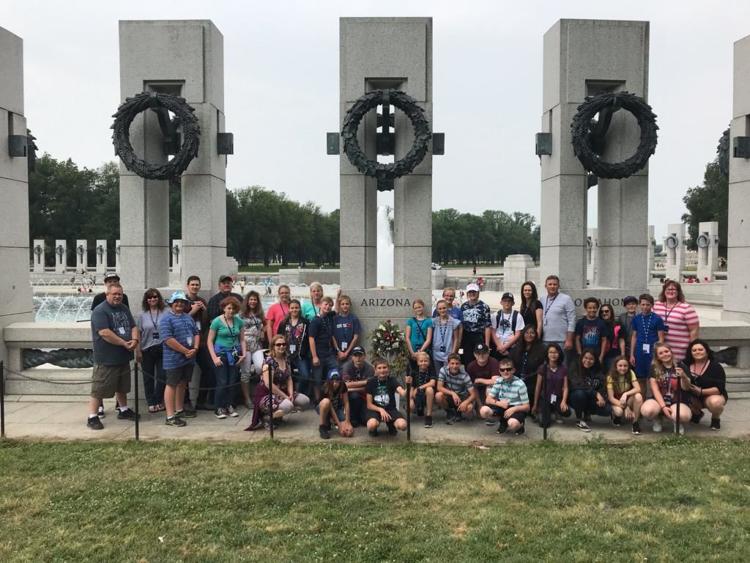 "We really had great living history right in front of us several times during our Washington D.C. tour," says Caldwell. "As a group we had some amazing experiences that weren't planned."
"Former Senator Bob Dole was also there and told us that he makes a point to greet the veterans every Saturday," she added.
Former Senator Jeff Flake was also at the WWII Memorial during the Honor Flight and the kids have their picture taken with him as well.
The tour group also happened to be at the Ford Theater when President Trump came by," says Caldwell. "The kids got to see the President of the United States, his motorcade and the Secret Service."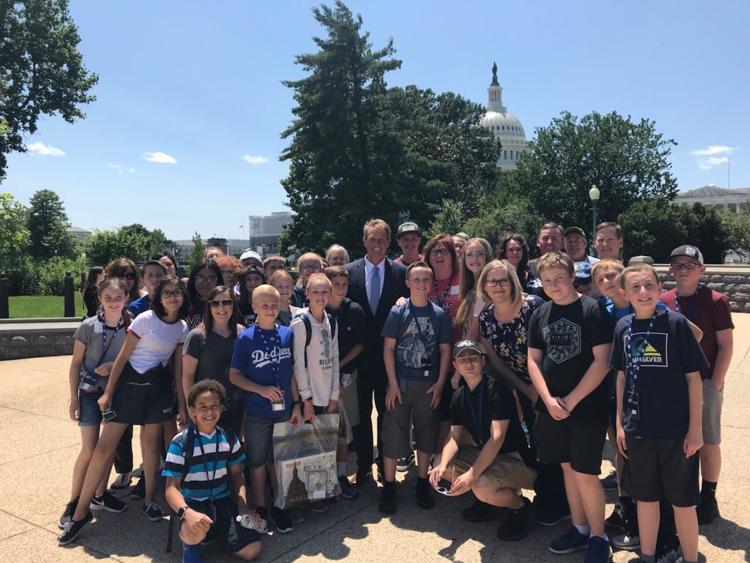 "Everyone was overwhelmed with the experience," recalls Caldwell. "Being at the WWII Memorial and seeing the Honor Flight was very moving and patriotic."
"We had beautiful weather and the kids were so moved and grateful," says Caldwell. "As a teacher you want your kids to really understand history and there is no better place than Washington D.C."
A teacher in the district for the last 15 years, Caldwell was aware of the summer youth tours that had been organized by social studies teacher Blane Jarvis.
"When Mr. Jarvis asked me to take over the Snowflake-Taylor summer youth tour, I wasn't sure there would even be enough interest," says Caldwell. "As it turns out, there was overwhelming interest from the kids and their families! There were even parents and grandparents, some of which had been to Washington D.C. with Mr. Jarvis when they attended junior high school in Snowflake 20 years ago."
Sixth, seventh and eighth grade students in the Snowflake-Taylor school district were invited on the tour many months in advance.
"Fourth grade teacher Tracy Greedlove went on the tour and was a huge help, along with the family members," says Caldwell who began organizing the trip in March 2018.
The Washington D.C. tour is not a school-sponsored event; it's a Snowflake-Taylor community trip which costs about $1,800 per person. That includes airfare, busing, hotel, tour guides and meals. There are also discounts for signing up early.
Caldwell has already committed to the next Washington D.C. trip and the informational meetings will be announced in January 2020 to plan for a May 2021 trip. "We are going to do this every other year so kids have time to earn the money to go," says Caldwell.
The trip was booked through EF Explore America, a company that specializes in booking customized, guided youth tours all over the US.