PINETOP-LAKESIDE – September is a good month for Tucson photographer John Vermette who spends his summers in the White Mountains. John is the Arizona Highways 2020 annual photo contest grand prize winner whose work will be displayed in the September issue. He is also High Country Art Gallery's September Artist of the Month.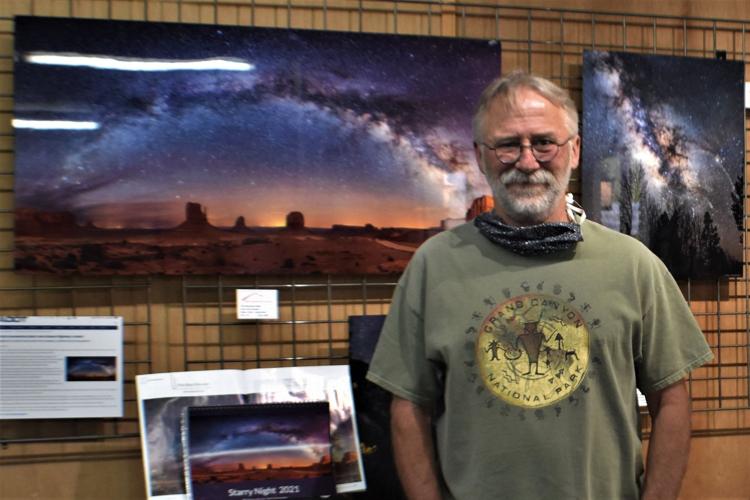 A transplant from Rhode Island to Arizona, Vermette and his family moved to Tucson in 1964. Though he had a life-long passion for the cosmos, after school his chosen career path was that of a general contractor. But, in 2010, you might say his passion became a reality. He delved into astrophotography and built an observatory in his backyard. Two years later he says the hobby was transformed into an obsession for the night skies.
With no formal photography education, and with the telescope no longer offering enough of what John wanted to image, he said he chose a wide angle, very fast lens to capture the Milky Way along with the foreground. The results gave him an insatiable appetite for more and he and his wife Stephanie began traveling the Southwest looking for clear skies.
Vermette's work has been featured in many magazines such as Sky & Telescope, NASA Astronomy Photo of the Day, Arizona Highways Photo of the Day, Astronomy Photo of the Day, The Art of Planetary Science, Spacefest and now as grand prize winner for Arizona Highways 2020 photo contest.
Vermette's submission for the Arizona Highways contest was that of the Milky Way arching over Monument Valley. The contest rules dictated that the photo must be made in Arizona and fit into one of two categories: landscape and macro photography.
According to a May 22 press release in ADOT News, "Entries were judged on composition, framing, light and overall 'wow' factor." There were a total of 3,950 entries by amateur and professional photographers.
As the grand prize winner of the magazine's 12th annual contest, Vermette won an in-state photo workshop valued at $2,500. Arizona Highways is published by the Arizona Department of Transportation and is known world-wide for its amazing scenic photographs.
Vermette said, "People often aren't sure of what they are looking at when viewing my work. They think it is the same photo from a different angle. No."
Vermette said he has arrived at his technique through a lot of trial and error and help from other people.
"My hope after they see my work is that they think about light pollution and what they can do to minimize it."
High Country Art Gallery held a public reception on Friday, Aug. 28 featuring Vermette's photography. John was available to explain his technique. His work will remain on display at the gallery Tuesday through Saturday in September from 11 a.m. to 4 p.m. The gallery is located across the street from Safeway in Pinetop at 13A East White Mountain Boulevard.