SHOW LOW — As of 9:37 a.m. on Dec. 16, Summit Healthcare Regional Medical Center reported a total of 1,157 positive COVID-19 tests. This count is as of March. Summit reports the number of positive tests bi-weekly, on Wednesdays.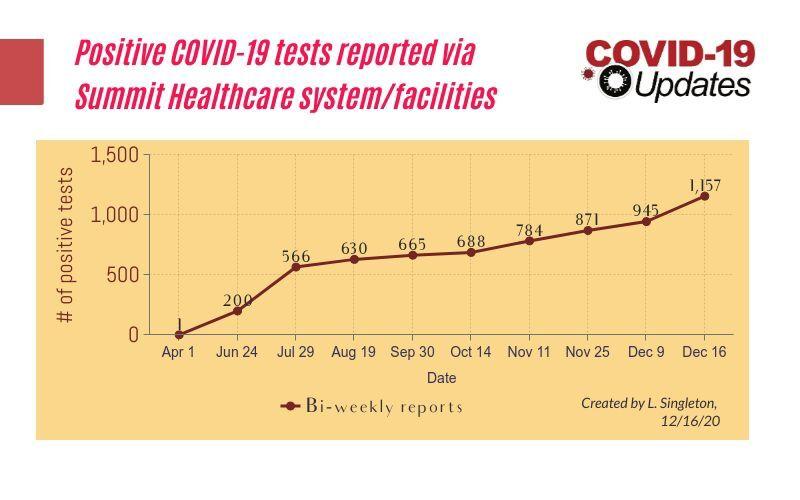 The number of positive tests for a two-week period is based on tests results coming through all of Summit Healthcare's facilities. This means all Summit walk-in clinics, provider offices, outpatient surgery and the hospital. The number of cases is a running total from April to Dec. 16.
The increase in positive tests reported by Summit reflects an increase in cases which is in line with the cases reported by Apache County Public Health, Navajo County Public Health and the Arizona Department of Health Services for the state.
As of early Dec. 16, the Summit Healthcare providers had performed 8,798 COVID-19 tests.
The numbers reported by Summit Healthcare have steadily increased since April. Numbers were relatively low at that time.
In July, Summit reported 566 positive tests. In August positive tests increased by 64, for a new running total of 630.
September saw fewer new positive tests with only 35 new positives, for a new running total of 665. October was similar to September with only 23 new positive tests, for a new running total of 688.
Then, from October to November, positive tests jumped from 688 to 784 on Nov. 11. That equals 96 new positive tests before November was even halfway through.
As of Nov. 25, Summit reported a new running total of 871 which is an increase of 87 new positive tests. As of Dec. 9, Summit reported 74 new positive tests, bringing the running total to 945.
As of Dec. 16, Summit reported 212 new positive tests, bringing the running total to 1,157. Again, this number is positive tests only; it does not equal the number of people admitted to the hospital for treatment of coronavirus.
Also as of Dec. 16, Summit has tested 8,798 people. Of those tests, 7,641 were negative and 1,157 were positive.
Summit Healthcare's bed capacity changes rapidly — and sometimes even hourly. As of Wednesday, December 16 at 9:37 a.m., Summit's bed capacity was as follows: 72 out of the 90 inpatient beds at Summit Healthcare are full of patients. 35 of the 72 patients are COVID-19 positive or suspected patients.
"Summit Healthcare continues to care for our patients throughout the communities we serve," said Summit Healthcare Chief Marketing and Development Officer Angie Fabian, MBA.