UPDATED: Friday, Oct. 23, 2020
HOLBROOK — A Sun Valley woman is dead and a Sun Valley man is fighting for his life after allegedly being shot by 22-year-old Sun Valley resident, Brandon Toney.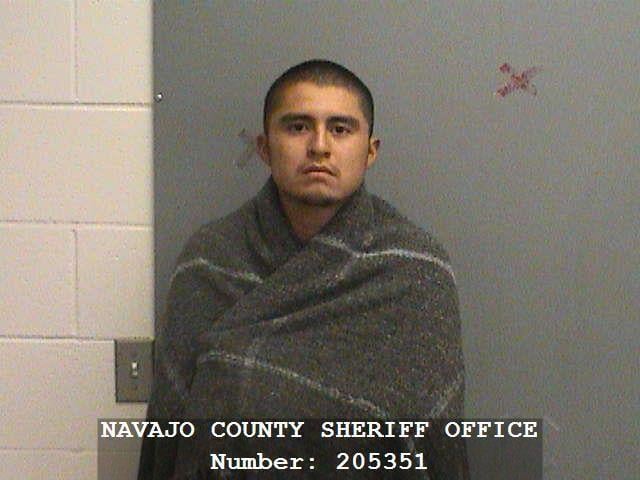 Toney is charged with second degree murder, attempted murder and three counts of aggravated assault.
He was booked into the Navajo County Jail in Holbrook on those charges after being apprehended by Holbrook Police just minutes after the first calls to 911 came in.
As of Friday, Oct. 23 Toney was still being held in the Navajo County Jail with no bond.
The 49-year-old woman was pronounced dead at the scene of the shootings and a 48-year-old man was taken by air to the Flagstaff Medical Center for treatment of critical gunshot wounds.
As of Thursday evening he was in critical, but stable condition in the Flagstaff hospital.
The names of the victims have not been released.
A press release from Navajo County Sheriff's Office Public Information Officer Tori Gorman on the double shooting that occurred Thursday, Oct. 22 at approximately 10:16 a.m. at a residence in Sun Valley (just outside Holbrook) stated that 911 operators started getting calls from people about shots fired around that time.
"A Navajo County Sheriff's Auxiliary Volunteer was on routine patrol, headed towards the Sun Valley area, when the SAV saw a vehicle matching the description given for the suspect (Toney). The SAV advised the Holbrook Police Department, who initiated a traffic stop and apprehended (Toney) south of Holbrook on State Route 77," Gorman stated in the press release.
The still ongoing investigation is being handled by the NCSO Criminal Investigations Unit.
"On behalf of the Sheriff's Office I would like to offer our sincere condolences to the family who lost so much today. Domestic violence situations have always been some of the most critical calls we respond to and today was such an incident that will affect many lives. I also would like to thank my deputies and other L.E. agencies who responded so quickly to render aid and investigate this crime. A big recognition to our SAV who was vigilant in his patrols today and located the suspect within minutes of the first 911 call. This is an example of local agencies who work closely with one another and having a dispatch center tying it all together," NCSO Sheriff David Clouse is quoted in the press release.