It's available everywhere!
No shot involved! No side effects!
Well, actually — what they have are multi-layered cloth masks.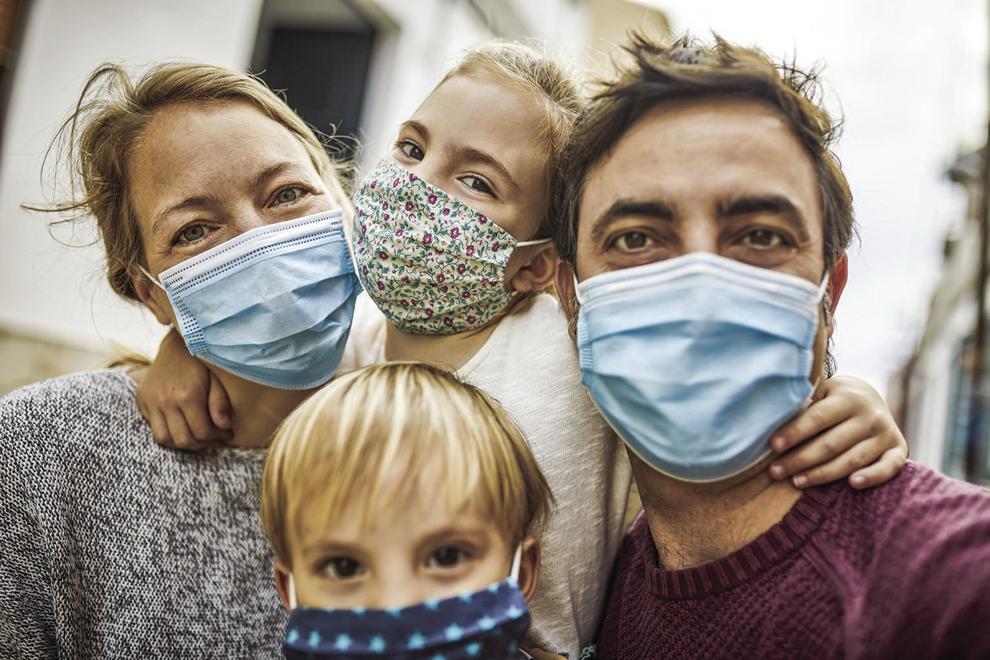 But here's the thing. Masks work almost as well as the hoped for vaccine — which won't be widely distributed until early next year.
The federal Food and Drug Administration says it would license any safe vaccine that prevented 50% of COVID 19 cases.
But the consistent use of face masks in public can likely reduce infections by 70%, according to a growing body of research. As a bonus, masks will also reduce spread of the flu this winter, with the healthcare system already struggling.
Laboratory studies, carefully designed experiments and large-scale analysis all have demonstrated that most cloth masks block about 80% of viral particles and when widely used prevent perhaps 70% of infections. Even when they don't prevent an infection, masks can reduce the severity of the disease by reducing the dose of the virus inhaled.
Early in the pandemic, groups like the federal Centers for Disease Control and the World Health Organization were reluctant to recommend universal mask wearing, partly for lack of evidence of effectiveness and partly to protect the supply of N-95 surgical masks for doctors and nurses. But subsequent research demonstrated that the virus spreads mostly through the air in close quarters when people are speaking, singing, shouting or just breathing. Both organizations now strongly recommend mask mandates and universal mask wearing in any area where the virus has not been contained.
"SARS-CoV-2 infection is transmitted predominately by respiratory droplets generated when people cough, sneeze, sing, talk or breathe," concluded the CDC. "CDC recommends community use of masks, specifically non-valved multi-layer cloth masks, to prevent the transmission of SARS-CoV-2."
Arizona Gov. Doug Ducey insists he doesn't have the constitutional authority to issue a mask mandate, leaving it up to local officials to issue any mandate, since they employ police officers and deputies who could enforce such mandate. Mixed messages from politicians as well as persistent misinformation spread by social media have made mask wearing controversial for some, despite the near-universal consensus now by epidemiologists.
Many other states have issued mask mandates as the virus has surged heading into the winter. Republican governors in Utah, North Dakota, West Virginia and other states in the past two weeks have issued mask mandates as cases have surged.
Arizona State Superintendent of Education Kathy Hoffman this week appealed to the governor as well as counties and towns to issue mask mandates in hopes of preventing the spread of the virus from shutting down recently reopened school districts.
Payson issued a mask mandate early in the pandemic, but then revoked it when the number of new cases declined. In the meantime, schools have reopened locally — although Rim Country Middle School shut down this week after a student who tested positive exposed so many other students and teachers that the district didn't have enough substitute teachers to fill in for the teachers who had to quarantine.
Schools have struggled to enforce masking requirements, especially at athletic events and when students gather off-campus. The Arizona Athletic Association has recommended suspending winter sports as the virus surges.
The virus is now "widespread" in most of the state, with especially high rates in rural areas like Gila, Apache and Navajo counties.
New cases in Arizona have increased 83% on an average daily basis in the past two weeks — matching the increase nationally. The statewide daily average in the past week is 32.4 new cases per, compared to 43 per 100,000 in Navajo County, 53.9 in Apache County and 52.4 in Gila County.
So given the deadly surge, what's the evidence that face masks can slow the spread of the virus until we get a safe, effective vaccine in the spring?
Here's a summary of the evidence from the federal Centers for Disease Control, which on its website offered a summary of the following, peer-reviewed scientific studies.
• Multi-layer cloth masks block 50—70% of fine droplets and particles produced in human speech and limit how far the particles that escape the mask can spread. Laboratory studies routinely demonstrate 80% blockage with well-fitted, multi-layer cloth masks -similar to the result with surgical masks.
• Masks also protect the wearer. Multiple layer cloth masks with high thread count or the addition of a silk layer or a polypropylene layer block half of even tiny particles less than 1 micron in size. Polypropylene adds a static charge that traps more particles and silk repels moist droplets, making the mask more comfortable.
• A study of 124 households in China after at least one family member tested positive found that wearing masks reduced secondary infections by 80%.
• A study involving 1,000 people exposed to the virus through a close contact in Thailand found that consistent mask wearing reduced infections by 70%.
• Seven studies in a hospital system, a German City, a US State, a panel of 15 US states, Canada and national US data all concluded that mask mandates significantly slowed the spread of the virus and lowered the subsequent death rate.
• An economic model estimated that increasing masking by 15% would prevent the need for lockdowns and reduce financial losses by $1 trillion – adding 5% to the gross domestic product. Roughly half of Americans say they consistently wear a mask in public, up from about 20% in April.
The scientific journal Nature also recently published the results of a wide array of studies demonstrating the value of masks when it comes to slowing the spread of the virus. Here as some of the study results cited in that article:
• Wearing a mask actually makes people more likely to also following social distancing recommendations and prevents them from touching their face, nose and mouth as often – enhancing the benefits of mask wearing. Doctors had originally worried masks might make people more likely to gather in large groups or engage in other risky activities.
• Weekly increases in per-capita mortality were four times lower in places where masks were widely worn than in other, comparable areas.
• U.S. and state mask mandates in April and May reduced the growth of COVID-19 by 2% per day – averting 450,000 infections even after controlling for other measures like stay-at-home orders and social distancing.
• A mask-like cloth barrier in the laboratory was used to separate two groups of hamsters, who were then exposed to the virus in the air supply. About 25% of the "masked" hamsters got infected compared to 75% of those not protected. The masked hamsters that did get infected were less sick than their neighbors.
• The virus itself is only about a third of a micron in size, but travels in droplets of moisture that are mostly 1-10 microns in size. A human hair is about 80 microns in width. A well-fitted, multi-layer cloth mask blocks the great majority of droplets in the 1-10 micron range. N95 respirators used by doctors filters out about 90% of the particles down to 0.3 microns in size. Comparable cloth masks catch about 67% of particles that small – which are much smaller than most of the infectious droplets carrying the coronavirus.
• Face shields without a mask and the stretchable spandex neck gaiters probably don't provide anywhere close to the protection of a multi-layer cloth mask, according to sometimes inconclusive studies.