LAKESIDE — A White Mountain landmark was lost last week.
It wasn't a building — it was a horse.
Ginger, was the old white horse who lived in the pasture located at the site of the old Rhoton family homestead near the junction of White Mountain Boulevard and Penrod Road. She was a familiar sight to both visitors and locals even if they didn't know her name.
The mare had been a part the Rhoton family for most of her 33 years, so when she died last week, it was like losing a family member.
Chickie and Tim Rhoton owned the mare, which they bought after the death of the patriarch and rancher in the family, W. Dow Rhoton. The Rhotons are one of the pioneer families in the area, related to the Shumway and Penrod families.
"After he died, we bought them for our kids," explained Chickie, speaking of Ginger and another horse, Kisser, who passed on a few years ago.
The horse had been suffering from lameness for a long time, and Chickie said she hadn't been ridden for about 15 years.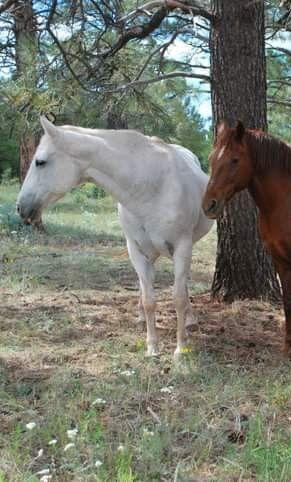 Tim would walk out to feed Ginger twice a day, and give her supplements, strolling out to check on the horses with the family dog, Precious.
"We lost our 16 year-old dog in June and now we've lost Ginger," Chickie said sadly.
In her retirement, Ginger enjoyed getting carrots. Chickie bought carrots by the 5-pound bag and Ginger even had visitors who brought her carrots, too.
"She kind of had a sassy streak. She would turn her head unless you had carrots," Chickie said.
Amber Lopez, a niece of Chickie and Tim's, remembers riding Ginger as a kid, and confirmed the horse's sassy personality. Ginger was one of the horses the family used during spring branding and fall round-ups of her grandfather's cattle.
"She's ornery, she was always ornery. She was alright riding out from the barn, but when you turned around, oh my gosh, you better hold on!" she said.
Still, Ginger was family. Amber said her kids would always want to get their pictures taken with Ginger for events like Homecoming, which they did earlier this fall.
After the W. Dow Rhoton died, the family sold all of the cattle that belonged to him. Ginger was the last of the livestock, the last animal linked to the family's ranching past.
Amber remembered that even after her grandfather had a stroke, not long before he died, he still came out to watch the branding. Ginger would come running when she saw his red truck approaching the pasture near Pinon, where the family still keeps an 80-acre parcel that was part of the ranch.
"He was so connected to those animals," she said. "Losing Ginger is like losing a piece of my grampa."
And while the old horse has special meaning for the Rhoton family, she also meant something to the people who saw her everyday as they drove by her pasture on White Mountain Boulevard. Her picturesque presence was a reminder of a simpler time.
When Ginger was put down last Friday, an outpouring of concern and comments was posted on social media.
"It's amazing how many people feel a connection to her … everybody knew that horse. They cared," Amber said.